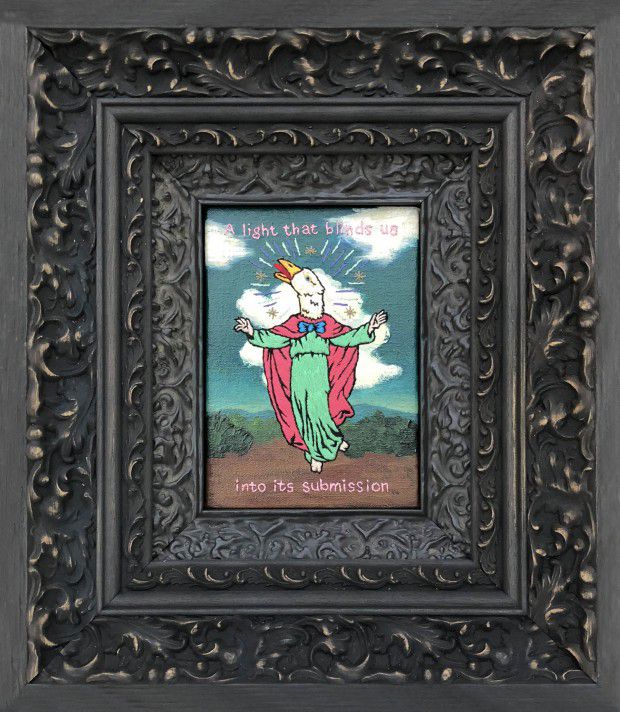 高木耕一郎の個展「This is the secret everyone knows」をGALLERY TARGETにて開催する。
東京で生まれ、サンフランシコのアートスクールを卒業後しばらくNYを制作拠点にして帰国した高木はペインティングから刺繍まで作風の幅は広いが、幅広い表現方法において一貫して言えるのは彼の作品はある種の居心地の悪さや矛盾を内包しており、モチーフに「人」がほとんど出て来ることがないことである。モチーフは多くの場合、動物や擬人化された動物達であり、その表情は時にかわいらしく、時に牙をこちらに向け鑑賞者を睨みつけている。そこには動物を主人公にした作品だからこその匿名性と神秘性が内包され、親近感と違和感が混在する奇妙な居心地の悪さを生む。
高木の作品に頻繁に登場する動物たちは複数の目があったり、牙を剥いたり、アホ面だったり、そこからは強い違和感を感じる。
その動物たちを神と言うのは異様かもしれない。しかしその動物たちは高木にとっての神々なのである。他人の言う神を盲目的に信じていいのか?ここで彼が言う「神」とは象徴であり、その先にある何かを意味する記号。価値観は1つでなく我々1人1人にそれぞれに意見がありルールがあり思想があり、私たちにはそれぞれの神がいて真理があることが示されている。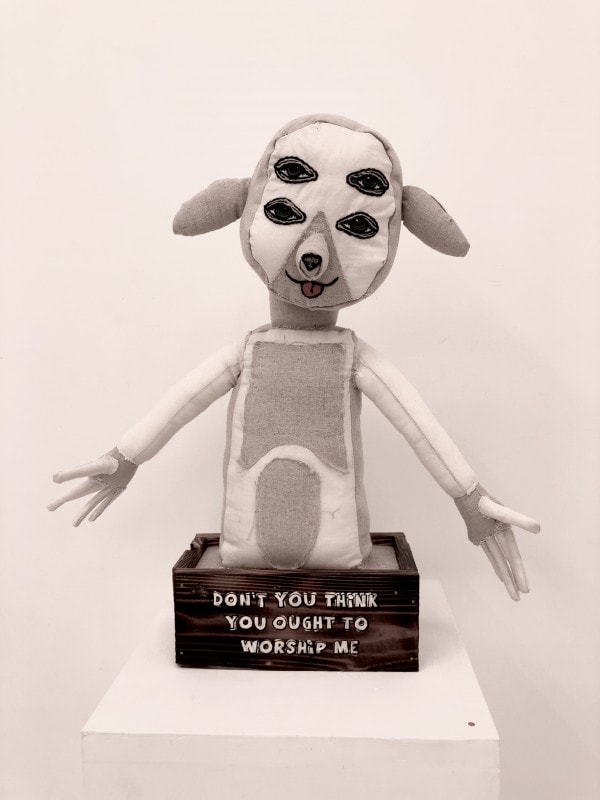 「This is the secret everyone knows」by Koichiro Takagi
6月14日(木) – 6月30日(土)
Open 12-7 pm (日・祝休廊)
GALLERY TARGET
渋谷区神宮前2-32-10
T:03 3402 4575
www.gallery-target.com


Where do gods exist? Is it a secret?
They probably exit in ourselves and we ourselves are the gods.
Takagi often depict animals with more than two eyes, showing fangs and making goofy expressions which brings some sense of discomfort to viewers. Calling them gods is bit anomaly but for Takagi, they are his gods.
When someone says this is the god, should we blindly believe it?
For Takagi, god is one of a symbol showing whats ahead of this.
Each one of us have own concept of values., rules, thoughts and we all have our own gods and verity.


"This is the secret everyone knows" by Koichiro Takagi
June 14th (thur) – 30th (sat)
* Opening reception on June 14th (thur) from 7-9 pm
* Artist will be at the gallery
Open 12-7 pm (closed on Sundays and holidays)
GALLERY TARGET
2-32-10 Jingumae, Shibuya-ku, Tokyo
T:03 3402 4575
www.gallery-target.com


Koichiro Takagi
Artist based in Tokyo.
Takagi learned silk-screen printing in San Francisco then he moved to New York after graduation from school, and started his career as a painter. Takag's usage of medium varies from painting to embroidery but the theme consists in "uncomfortableness".He creates the bright colored mystic world by distorting and patchworking of the present and the past, the reality and the fantasy.