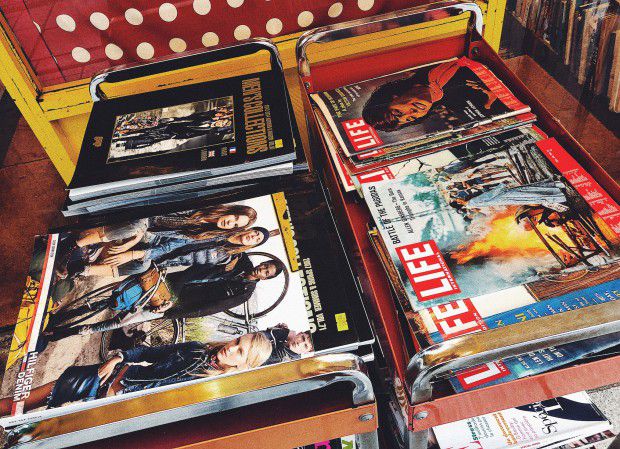 神保町にてヴィンテージのファッション雑誌を扱う書店、magnif。50年代から90年代に到るまでの様々なファッション誌やカルチャー誌が並ぶmagnifは、多くのファンをもち、ファッション好きならば東京で必ず訪れるべき場所となっている。オーナー・中武康法に、彼が目にしてきたトレンドの変遷についてなどを語ってもらった。


magnif is a vintage fashion book shop located in Jinbocho. It is loved by its customers and has been a must-go place for fashion lovers in Tokyo. Various fashion and cultural magazines from the 50s to the 90s can be found here. Here we have the owner of the book shop, sharing his experience as he witnesses the trend changing within this world.


――magnifが設立されたのはいつですか。創設されたきっかけは?


magnif「2009年です。神保町古書店街の中でもちょうどいいロケーションの店舗が空いたからです。ファッション雑誌というものは時代の鏡のような特性があり、それらを集めた古書店ができれば面白いだろうと考えていました」


——When did you start out magnif and why did you decide to do so?


magnif: Back in 2009. There was a vacant spot at Jinbocho where all the vintage book stores are located. Fashion magazines are like mirrors reflecting their own time. I thought that it would be interesting to gather them in a vintage magazines bookshop.





――書店を作ったのはどうしてでしょう?


magnif「楽しみながら生活費を稼ぐためです」


——Why did you decide to open a bookshop?


magnif: Because I wanted to make a living while enjoying the job itself.


――ヴィンテージ雑誌はどのように集めていますか?セレクトの基準は?


magnif「基本的にお客様からの買取です。ファッション雑誌を中心に選択しています」


——How did you manage to collect all the vintage magazines? Is there a particular way you select them?


magnif: I bought most of them from the customers. I would choose to keep those fashion related magazines.


――ヴィンテージ本屋のオーナーとして、楽しい部分は?


magnif「ファッション雑誌の多くは、古書としての市場価値が確立されていないものが多いので、手探りのような感覚があります。そんな中で、お客さんに陳列の意図や価格などを理解してもらえたりすると嬉しいです」


——What do you find most interesting and intriguing being the owner of the bookshop?


magnif: The vintage fashion magazines have their values in the market even though that is not established. I enjoyed the feeling of searching for them and it really is surprisingly exciting to see how the customers understand the value and my intention.


――お客さまの会話はどのようなものでしょう? どんな方がよくいらっしゃいますか?


magnif「神保町は観光地のような所ですので、毎日様々なお客様がいらっしゃいます。探されている雑誌や本のタイトルがはっきりしていない場合も多いので、満足いく商品が見つかるよう接客しております」


——Do you usually talk to your customers? What kind of customer would visit the bookshop?


magnif: Jinbocho is like a must-go place in Tokyo right now. All kinds of customers come into magnif everyday. There are times that they ask for specific orders of the magazines and I am more than glad to offer them the best service.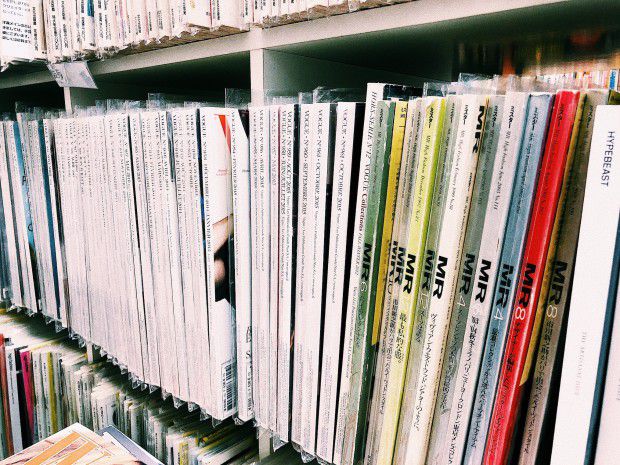 ――magnifでの興味深いエピソードがあれば教えてください。


magnif「当店はファッション雑誌を中心に扱っていますが、そのジャンルは『モード』『ストリート』『トラッド』など幅広いです。内容としても、『誰が見てもお洒落』というものより、寧ろ『今ではもうダサい』という感じのものに注目しています。なぜなら、流行は少なからずループしており、『ダサい』が『かっこいい』に変わる瞬間を度々見てきたから。
例えば、80年代のケバケバしい色づかいの雑誌たちは、しばらくの間多くの人々から敬遠されていたのですが、それがここ数年、探し求めるお客様が絶えません。いつしかマスコミ等から「80年代ブーム」という言葉が聞こえてくるようになりましたが、当店ではその前からその胎動を感じていました」


——Would you tell us an interesting episode happened at the magnif?


magnif: There are many genres existing under the title of fashion, such as mode, street and trend. And the content ranges from those that are fashionable no matter who sees it to those that are hard to be appreciated even now. I see the trend circulating when the fashionable and unfashionable items changes. For example, the monochrome magazines were kept away from most of the people back in the 80s, however, there are customers searching for them right now after all these years. I have seen it from the media that the 80s is trending again now. As the owner of magnif, I feel like I have witnessed the moment even before that.
101-0051 東京都千代田区神田神保町1-17
TEL&FAX : 03-5280-5911
OPEN:11:00~19:00(定休日:不定休)
http://www.magnif.jp/
Instagram:https://www.instagram.com/magnif_zinebocho/


photography & text Baihe Sun