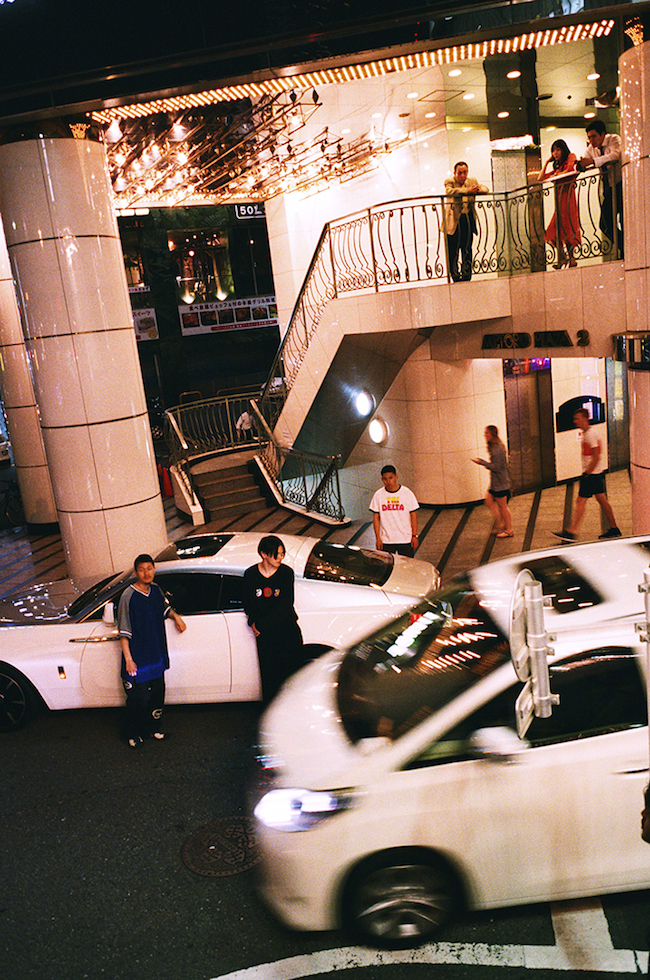 Dos Monos is a hip hop unit comprised of three musicians; Zo Zhit, TAITAN MAN and Botsu. Before releasing a physical album, they somehow managed to sign a contract with LA based record label 'Deathbomb Arc', which gained them recognition and anticipation for their newly released full album: Dos city.The word 'recognition' doesn't quite underpin their existence because the mystery or their presence continues. It is prevalent from the structure and the flow of the album that there is something 'hard to grasp' about it. The societal divisions between reality and make believe, the conscious and the unconscious, what's right and what's wrong are blurred in the world that they create. Their songs resemble classic pop melodies yet the beat is inconsistent and a little restless, making the album yet again feel as if it is ' hard to grasp'; leaving it up to the listeners to make it out for themselves. There is no doubt that the three artists have interpreted the album differently, creating an unprecedented world with their music. What they believe to be the true definition of independency is yet to be known.


—This is the first full album that Dos Monos has released. Can you tell us the process and what it took to create this body of work?


Zo Zhit : In my opinion, there is a conservative side to this album that follows the context and the history of previous rap albums. This is because we wanted to pass the greatness of these predecessors to the next generation. But then there is a revolutionary side in which there is a sense of freedom that we followed with just our instincts. In our modern society, I think we can say that the first is figurative and the latter is abstract, and for us we wanted to make a crystal like treasure that would break the border between those two sides. So for me my goal was to create music that was revolutionary whilst still being able to tie it to its roots. If it is too abstract, then it becomes too easy to predict and consequently too boring. On the other hand, if it is too figurative then it becomes too honest and very average in a sense. So I wanted to land right in the middle of those lines. A new sense of balance was what I was looking for. you know. Every era has something special about it and I hope that someday even if it's not this generation, a bunch of people will see the beauty and the humor in our music. We came across the strangest type of music during our teens but the more we listened to it, the more we found the beauty in it. So we know that nothing is as it seems the first time you encounter it, and I hope that Dos Monos's album could be like this too. We were able to listen to the album from a listeners point of view and therefore we were able to make a body of work like this.


Botsu : I don't completely agree with Zo Zhit because I find myself going both ways. I can't speak with logic like him because I have a more abstract approach to life. And when I say abstract, I mean like a blurred dirty kind of abstract. What the world sees as abstract, sometimes I see as figurative but because I have these two different sides to me, I am able to coincide with Dos Monos.


TAINTAN MAN : For me, the way I live life is similar to that of 没. I find that I don't have a certain destination that I want to reach in life and a lot of other people don't understand when I say this but I make work with instinct and that is what makes sense to me the most. I don't want to be that rapper who tells you how to live your life in society, I feel like Dos Monos should give a sense of utopia to our listeners and we really concentrated on this effect when we were creating our lines.


— What is utopia for you three?


TAITAN MAN: Dos Monos is a playground and a place where I can feel the most free, so in a way, it is my utopia. When the album was released to the general public, it might be interpreted as a circus, whereas it might be interpreted as something completely different. We want not only ourselves to be free but also our listeners to be able to listen to our music, without being tied to anything. Saying that, what we spoke about earlier is our opinions as three individuals about that topic and not a unified perception from Dos Monos I guess.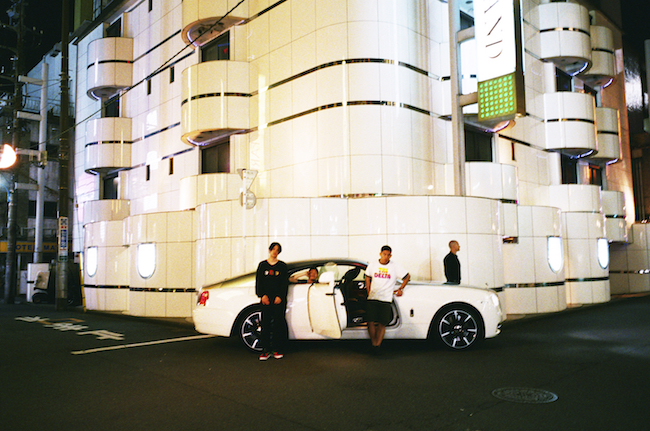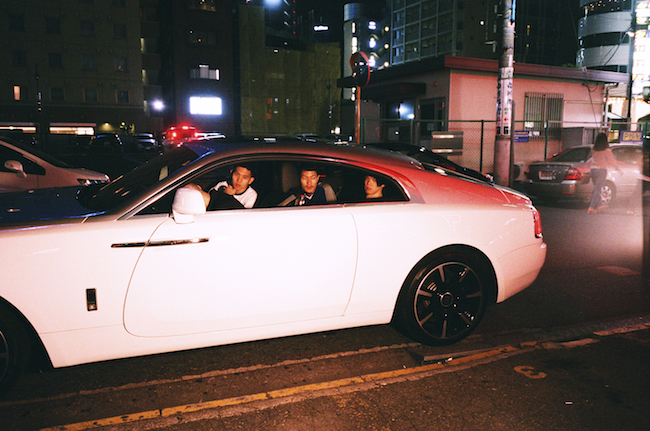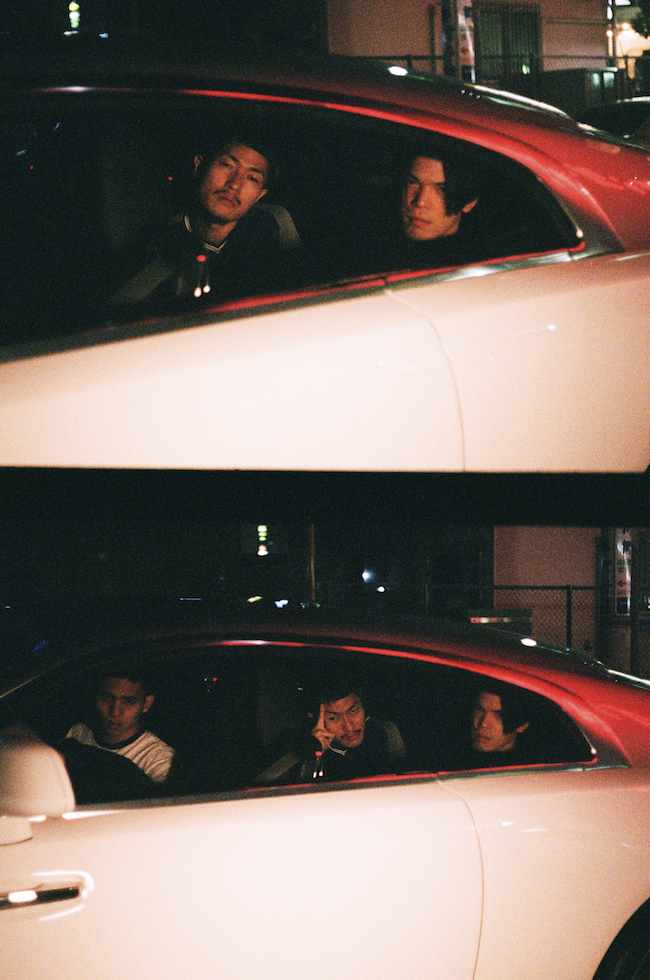 ――In this month's issue, we are taking on the topic of 'freedom' and we would like to ask you some questions on behalf of this topic. In your new album I felt that the idea of being free from structures and societal systems was a recurring topic in your songs on your new album.
You named one of your songs after the greek god Bacchus aka Dynius who was known to be a representative figure of creation and tardiness that fought against the greek god Apolos who believed in rules and strict ordering. You have another song called Schizodian but also in your song 'EPH' you rap " Zo Zhit is a Schizo-kids relative" and this word was indeed taken from the book Schizo and the parano by Akira Asada. This topic can not be discussed without mentioning Gilles Deleuze who put emphasis on the importance of being unsettled and not unified, which really left an impression as the album being very anti systematic or post systematic which I guess leads to independence.


Zo Zhit : I feel like in order to live independently, you need to be systematic in some areas. Being attached to certain social structures and relying on it is much easier to live I think. But in order to be independent, you have to create a system of your own that fits yourself. Take, for example, the western philosophist, Delida. He was very critical about western philosophy but in reality he interpreted the traditional sense of western philosophy in a very different way. This is where I think the problems that have been occuring about hip hop sampling comes into play. For me 'sampling' means to take songs that have been created by the greats that played freestyle jazz and mix it up in the most playful way possible. In this way, you have to be dependent on music in order to create something new from the old. That's why in order to be independent, you need to be situated in a highly systematic society to create a new system that is yet to be created. I do believe that Dos Monos has the elements of independence and that the three of us are enlisting a new way to be free from the system. Most of all, I think in our society there are alot of artists that say they are independent and aren't attached to any strings while they sit on their asses and depend on the already created systems of society. Like their behavior and their beliefs are completely contradicting. But chance the rapper, is definitely doing something independent. I am sure of that.


Botsu : Like us, Chance the Rapper is able to do what he does because of the others around him so I wouldn't say that he or us are completely free from anyone and anything though. We want to think that our mindset is free.


TAITAN MAN : Chance the Rapper did nefarious things like stick the middle finger up to major record labels. But I guess he is a rare case because it's still immensely hard to emerge as an artist from a completely isolated area and succeed in this industry.


—- with that being said, although he isn't tied to a record label, he is relying on major streaming platforms and is being supported by other relatively big companies so I guess he is going against the traditional way of making music and releasing an album- which was always through a record label.


Zo Zhit : When he did stick that middle finger up to those record labels, it was a major deal and caused controversy for sure but being signed to a record label isn't ethically wrong. The fact that an artist that isn't tied to a major record label saying something like that was just taken as provocative. I think he needed to address to the public that there are other ways to do business in the industry and not just put emphasis on the issue of freedom in his narrative.


— What do you think you guys would do if a major label approached you with an offer?


Botsu : Just yesterday, we got a direct message via instagram from an international record label that said they were 'interested' in us.


TAITAN MAN : I had gotten that message about a week ago and kind of forgot about it. I finally told them that we had gotten an offer from them yesterday. Probably not the ideal way to handle the situation but we don't even know if the person who contacted us is from that label anyway so…


Botsu : GUCCIMAZE and Nicki Minaj's converstaion kickstarted via social media and there are alot of similar cases. It feels like everything is settled on social media these days. So I mean there is a possibility that they might be the real deal, but whether or not they will actually sign us is, well a different story.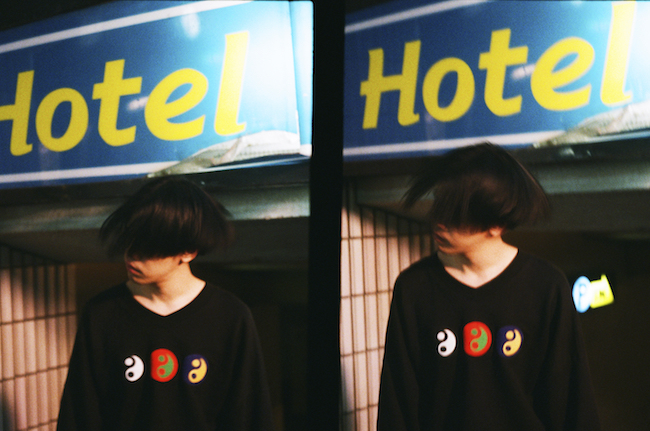 —-The overall structure and the sound of this album really reminded me of the album, 'The Anticipation' by Illicit Tsuboi, but do you have anything to say about this?


Botsu : He was a big influence for sure. We kind of cut and pasted parts of the melody and added them to other parts of the melody where they did not originally belong to.


Zo Zhit : Even though we did do this, he never told us to stop and drop everything what we were doing. The structures and the overall feel of the songs haven't changed that drastically. In the end I think we just tweaked some parts to make it sound in a way that the song was supposed to, by adding more chaos to the music.


— From the beginning, the music was never organised and never intended to sound clean but what were your initial intentions?


Botsu : I actually didn't like it in the beginning because I felt it sounded a bit too organized for me. I like music that leaves room for mistakes and keeps the noise so I felt like the original was disinfecting the music a bit too much.


Zo Zhit : I think some people will feel that our album is crazy whilst others will feel as if it is super organized and neat. I feel like there is a mysterious balance to our music, that we have not been able to grasp ourselves.I draw inspiration from people like Frank Zappa and progressive music and I feel like the tracks convey that a lot. In other words, I listen to music that is minimally structured and has a consistent beat but I don't necessary want to make that sort of music. I want to make destructive music kind of like the music Leos Carax had used in his movie 'Pola X' which has a scene where the orchestra is playing in a very inorganic manner.


— The way the three of you interpret rap is so different too. Not just the flow but the way you all structure and play out the lyrics are so different.


Zo Zhit : We are intentionally trying to portray different characters but the words we choose are entirely up to us as individuals. As for the flow, 没 is a dedicated music listener so he tends to position himself along the lines of very good rappers such as Organized Konfusion.


Botsu : It is however, impossible to trace back the music to exactly how it was originally. My style of rap doesn't necessarily fit into a certain category, it started from trying to sound like someone else but during that process my sound started shifting and that's how I found my style. I draw inspiration for my rap flow from the beats though. And then I have to take it for a spin from there.


――Take it for a spin ?


Botsu : Music becomes way more interesting,when rap is incorporated into the beat. That's a win win situation for me. For Dos Monos we don't particularly put emphasis on the words, if someone can move to our music, we are satisfied. I feel like I can remain this kind of character because I have these two.


Zo Zhit : We sort of figured out our own style of rap by listening to each other so its natural for us to make a differentiation between our styles.


TAITAN MAN : For me, I feel like I gathered whatever elements that felt natural to me and tried to reach a certain end point from there. That's how I found my style. Even now though, I feel like my rhymes are sort of rigid and I still feel a little awkward when it comes to introducing myself as a rapper. I calculate backwards because this vibe provides a sort of safety net that I can rest on and I'm just inputting lyrics into there. I am definitely not a born rapper in any way but I like to disguise as one.


Zo Zhit : It is possible for a feminist to fall in love with a masochist. What we strongly support can contradict what we sexually long for.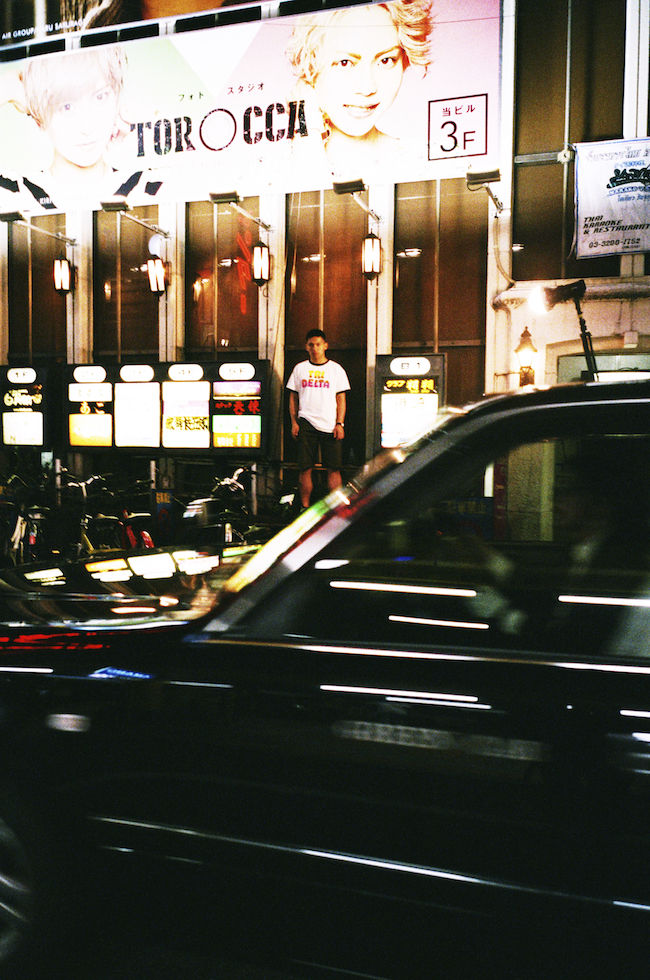 —- It connects with the topic of independence; being without context. HIP HOP culture derives from the techniques of sampling, so there is a playfulness to its context but in other parts of our culture, I feel like this is also becoming mainstream and it is being played out like a game nowadays.


TAITAN MAN : A lot of the rich play with the world of songs and lyrics. But just that is tiring. Dos Monos exists as the only platform for me to escape from this world.


— True. You referenced Schizodian and YMO as some examples, but they are revealing it rather than sinking it and the game of context is being used in another way in this sense. Why did you react to 80s culture in this way and what made you guys want to engage with it more ?


Zo Zhit : The utopian feel of the 80s, the lightness and the feeling of having a million possibilities in front of you was what made it fascinating. Everything happened before we were born so we can only learn from what we hear from our parents generation. So in reality we haven't experienced any of it but we admire that era because it's so different to the era we are living in now. Nothing was actually left behind as a backdrop from that era so I don't want to necessary have a revival either. Just the energy that people gave off in that era is something I want to soak up. That and the darkness and the grunge that the new evangelion and the band nirvana sparked off in the 90s. I want to combine the darkness of the 90s and the free spiritedness of the 80s. Saying this,I grew up in the 00s so I should be able to relate to the 10s era more easily but…


— This relates to the word utopia you used to describe independence, but I felt like this album takes influence from society but also hides from it simultaneously and that created a sort of calmness to the music.


TAITAN MAN : I understand how you might have sensed a sort of calmness to it. We feel as if we had made some scars to the world whilst we stopped time and then when a genius one day travels back in time and finds out about what happened and tries to analyze it all, we will probably be the ones laughing hysterically from the sky above.


Zo Zhit : Amongst the three of us, we talk a lot about Hiroki Azuma these days…


TAITAN MAN : We read the article called 『HEISEI TO IU NA NO YAMAI』by the writer Hiroki Azuma and thought it best described us


Zo Zhit : In his article it said that if he were to wrap up Heisei, the 90s was the era of revolution, the 00s hit the reset button and the 10s was the era of celebration and the dispersion of it. As a person with a sead of talent planted into him, he as a philosopher as well as a critic felt as if he was not needed in the era of heisei and that he felt useless because he could not leave a big mark on society in this generation. The article ended with him giving up and realizing that he wanted to follow the rules of utopia from then on. For a person who was known for constantly questioning how philosophy and criticism could influence society, to just come to the conclusion that the only way to live is to do what you love the most, drives us to find out answers about ourselves as well.


— and what kind of answers would that be?


Zo Zhit : Simply said, we intend on not making the same mistakes. But in order for us to do that, we have to think carefully about the possibilities that might be embedded in our mistakes. Like from the moment I started to use this stage name I wanted to create something for society as a person who had fulfilled his purpose. It has been an ongoing topic for me from the start of my career.


TAITAN MAN : But that does not speak for Dos Monos as a group. That is what Zoo Zhits thinks and I don't really believe in that necessarily. I just thought the writer was interesting to be honest.


Zo Zhit :But TAITAN MAN was saying he wanted to leave something behind for society as well


Botsu : Yeah, I want to change it too.


TAITAN MAN : I don't want to be that guy who acts as if our world is at peace and lives life not confronting anything though. As a rapper in Dos Monos I said that I don't want to be that rapper that tells people how to live their lives but as a 25 years old man living in Tokyo, I want to take on what I think is fucking ridiculous in this society with my bare two hands and be able to change it. With that in mind, creating our own utopia and showing our style of free spiritedness, I want people to realize that what we are doing is very much practical and attainable in this era.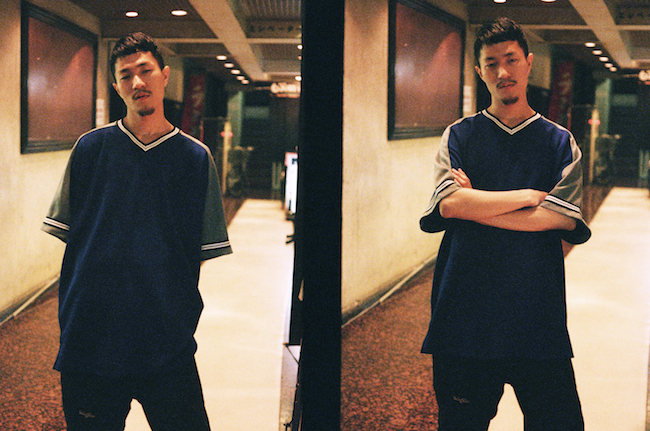 —-TAITAN MAN, you are the person who was responsible for creating the ad for Kendrick Lamar's upcoming performance at Fuji Rock Festival that stood out for its use of censorship. This was criticized because Japan has a history of censoring specific topics during the post- war period. Can you tell us a little about this side of you?


TAITAN MAN : Yes. As a person who raps but is also is in charge of PR, I feel like it's hard for me to draw the line between these two professions and it comes off as uncool, but that ad created a sensational amount of press because it got politics involved and that always creates controversy. For me I just want to create an alternative solution for occurences in life that I find are fucking crazy you know. I don't want to live on the edge that much.


Botsu : I don't have an urge to take my career in that direction at all, but whilst we are here on earth we will influence our culture in some way, whether we like it or not so I think that we might as well join the table and start discussing while we can. And if someone can find humor in what we stand for, then our job is done I guess.


TAITAN MAN: More like something a panda would do isn't it (chuckles)?


Botsu : Even if we give a 'I don't give a fuck' attitude in life that doesn't necessary mean we are independent. All we can do is make a living for ourselves so we can survive another day in this life (chuckles)


— I guess, because all of you have different perspectives, an album like this was able to form.


TAITAN MAN : Yeah. Dos Monos stands for when we all have different opinions as individuals but for some reason they all correlate in a way.


Botsu : I like that you included me in to this group and you two think that it was a good decision.


Zo Zhit : What are you saying all of a sudden? Of course it's better when you are here. You are the hulk in our avengers. The part that got me the most in that movie was when all of the superheros started to work together even though they all believed in something different. I think it resembles friendship. I think with friends from work it might not last but when it comes to friends from childhood, there's this sense of necessity to them. And I'm not talking about your typical friends, I have friends who debate on everything and sometimes I can't stand them but I can't seem to erase them completely. Dos Monos was my last hope when I thought I wanted to end human relationships in general. I want to find a specific reason as to why we have to be together and do the job we are doing today.


TAITAN MAN : That's why when people ask me what kind of album this is to you, I always say a graduation soundtrack to my childhood. It means that if I were to create a body of work that represented my growth, then it would be this. We often say that Dos Monos is the school in like a ghetto where there's only 10 students who graduate every year. But you know it's memorable!


Zo Zhit : Like this is it, whats left is whats left


TAITAN MAN : And if we graduate, then there would be no one left


――What is next for you all?


Zo Zhit : I am thinking of releasing a solo album. After that I feel like I will be able to make great work with Dos Monos again because I feel like we are never really finished. I have a feeling the next ones going to be as good as this one.


Botsu : I have a different side to me that I don't show when I'm in this group, so I'm trying to make that work in a more creative matter.


TAITAN MAN : I want to go see the world. I want to live in the States even though I can't speak English. At first I thought this album would only be popular to people in japan but looking at our subscriptions on Youtube made me realize that so many different communities are listening to our music and I felt a sense of relief. In my head I thought that there would be a possibility that people around the world would listen to our music but for it to actually happen, that's another sensation. The possibilities in this generation are endless and that makes me excited every day. I hope we can perform at music festivals around the world and increase our fan base.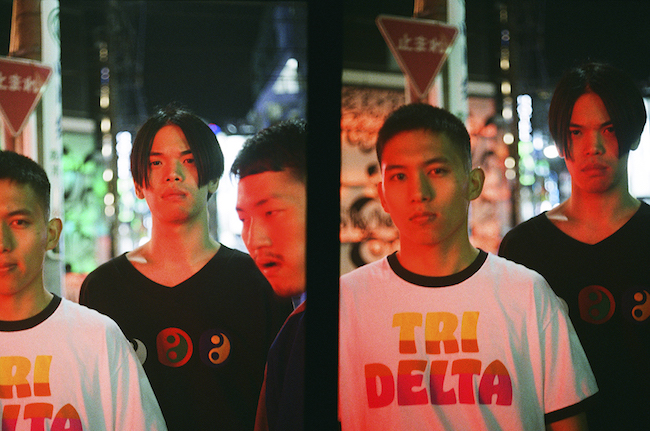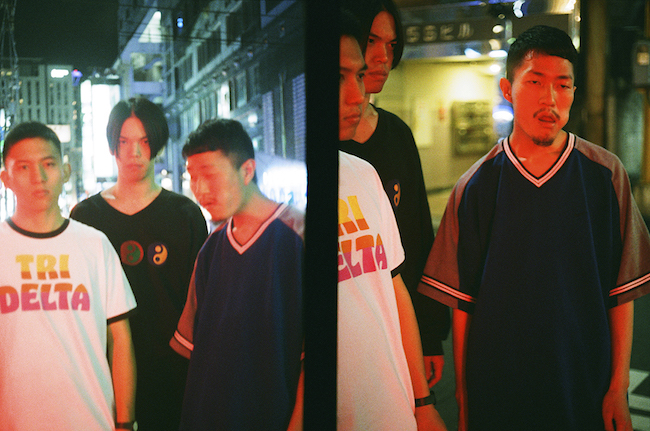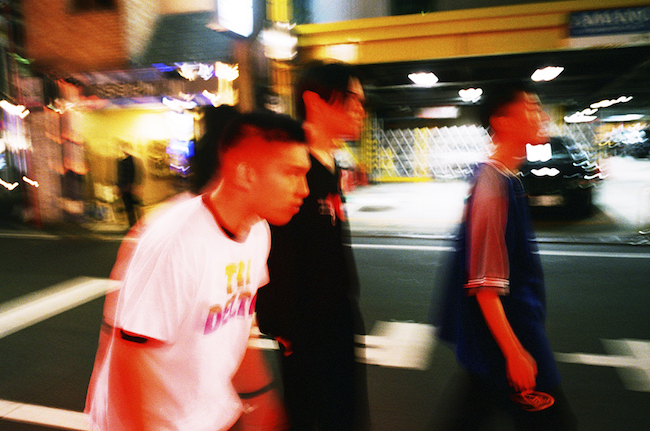 photography Ryosuke Yuasa
text Shinichiro "JET" Takagi
edit Ryoko Kuwahara
special thanks LUXURY CARD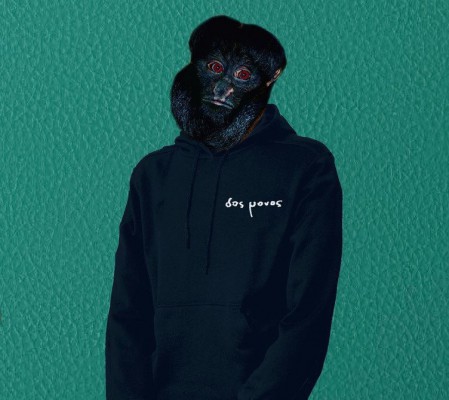 Dos Monos
『Dos City』
(Dos Monos/bpm tokyo)
2,500Yen(without Tax)
Now On Sale
https://itunes.apple.com/jp/artist/dos-monos/1442949389
https://www.amazon.co.jp/Dos-City-Monos/dp/B07KY14L7Q
https://open.spotify.com/album/5IC7y5jvM9AI7I7fjFCuq9