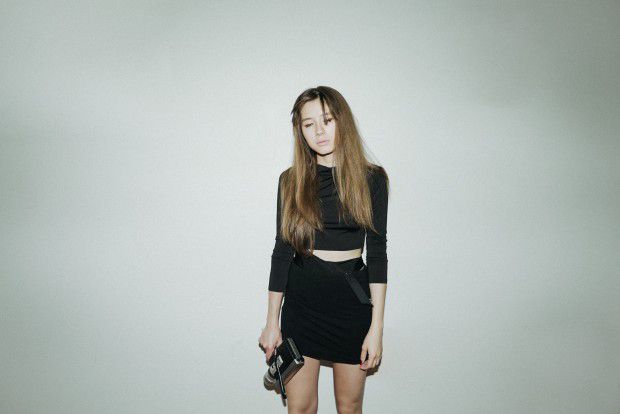 –Can you tell us about yourself?


I live in NYC for almost seven years. I studied in my hometown Moscow and then in New York City. I can say I am lucky to experience this wonderful and difficult journey. I'm currently located in the Lower East Side and lucky to witness magnificent changes in the oldest and coolest area of the city.
This is very inspiring: you can really feel the city with its sounds, smells, skaters, pigeons, galleries surrounded by trash, Chinatown etc. I live in the area that was built for immigrants by the immigrants.


– Can you tell us about your Movie?


*I included a short article written by Kentucker Audley. I think it describes my film very well!
The film tells about four stages of relationships.
Shot in New York, L.A., Moscow, and Paris, this portrait of the young and free is an appealingly raw glimpse into the joys and struggles of love. The mixed-format filming keeps the visuals fresh and the perspective deeply personal.
Structured around four stages of a relationship — the meeting, the first date, the relationship itself, and the aftermath — the film moves quickly through the birth and vanishing of love. The wispy narratives are held together by poetic voiceover letting us into the characters expressions. They speak Spanish or Russian or French, but their sentiments intertwine. They speak of spontaneity, togetherness, comfort, aiming to fill the void without really knowing how.
Characterized by a vivid restlessness, always on to the next place or feeling or person, director Nadia Bedzhanova is in search of real moments, real smiles, real intimacy, and her characters reveal themselves generously while the mix-tape background injects instant nostalgia, fading up then disappearing before you know what hits you.



THINGS I LIKE ABOUT YOU / Trailer from Nadia Bedzhanova on Vimeo.


–What was your inspiration? I thought that the blue shade used in the videos made your works distinctive. Were you influenced by any pieces of work that you like, such as pictures? What lead you to using that tone of color?


I like Picassos' Blue Period, but I wasn't thinking about it at all.
Maybe unconsciously, not initially I have a motif of blue shades, because it's cold like Moscow, like NYC in winter and like people's hearts.
My forever inspirations: Man Ray, Marcel Duchamp, Egon Schiele, Pink Floyd, Maya Deren.


– Were you conscious of using that color during the shooting process?
Or do you usually make the color adjustments during the editing session?


Not conscious. I think more about the atmosphere of the shot, relationships between characters, what they feel: are they comfortable? what are they thinking? etc. how they behave with each other? Afterwards I decide if it should be warm or cold, bright or desaturate. I also like to mix format, like digital and 8mm film, or Red and iphone.
I love my actors to improvise and do whatever they want in the shot. It's a double-sided game, where I always a little bit ahead.
I really enjoy the editing process, this is when your special relationships with a film get truly developed. Filmmaking brings me the biggest joy.


WASTELAND / Trailer from Nadia Bedzhanova on Vimeo.


– A lot of the works are like documentaries, but are there scripts for all if them?


I try to create a natural environment for my subject, even if it's an actor or a street cast, like a natural habitat where we both build a relationship within the camera. Things I like about you was born in the editing. I randomly filmed Paris (without the monologue part) and Moscow chapters. Afterwards I decided to make a short film. I shot NYC part about the beginning of relationships – the opposite to the Moscow "relationship" story. Then I filmed LA, and at the end – this sincere and soulful monologue of Ariel for the last chapter (dialogue with Junior the dog).
There were no script, but there was a scheme created inside, that changed during the process and depended on my personal journey.
– How do you arrange and think out the characters to the scripts when there are scripts?


I put myself on a place of everyone of my characters. I live and try to think how they think. And then I have conversations with them, from their personalities. Like in my film Headlong, that just flowed in my head naturally. Of course you make adjustments afterwards and edit trying to throw a couple of jokes.


– All of your works have a peculiar pause, and I think that further emphasises how dramatic it is. Can you tell me your perspective on the importance of the pauses?


First of all I think it's more important to show than to tell. We watch movies not to listen to the endless dialogues, but to look at them and all other things.
Sometimes I love ambience, even the glitch of the phone microphone.
And sometimes it's nothing yet to say…



Headlong / Глубже Short Film from Nadia Bedzhanova on Vimeo.


– Your works shadow evanescence. Are you attracted to evanescence? – fragility


I like insecurity and shame, like the girls from Headlong. Sometimes it makes the characters fragile.
Although in my new work I'm trying to create a strong female character, a nowadays hero.


– A lot of your works pick up youth, but was that done intentionally or unintentionally?


Youth interested me very much, especially youth in Russia and post-soviet countries. They don't associate or look towards WEST anymore, they have their own identity. It's a different generation, extremely talented and inspired by the life they have.


– What is an element and attraction you look for in an object?


I don't have anything specific. It's a feeling when I see him or her, a contact between us.


– I How do you usually find the models (Muse) for your movie? Hair&make up? Who does Styling?


I like collaborate with talented friends. And muses… they just come across, especially in New York City. Sometimes through friends, sometimes through social media.


– Who is your favorite photographer?


Larry Clark
Ren Hang
Zhenya and Tanya Posternak (my friends from Ukraine)


– What kind of Music you listen to? Name of Band/Artist?


Good artists. The last guys I was enjoying listening were Geju, electronic "chillrave" duo from Moscow.


– What's your favorite Youtube?


Boiler Room
SOLNTSEKRES // СОЛНЦЕКРЕС from Nadia Bedzhanova on Vimeo.


– Were you always into Movie? Why you make?


Making movies makes me feel alive. Also living through the characters lives I could never possibly experienced physically is amazing. It's crazy how all your dreams become alive in front of your eyes. And then people trust you on this, and you BREATHE THE SAME with actors and crew when you make the movie. I remember my first set, and it was incredible. "Better than orgasm".


– What is "Movie" to you?


It's an analytical work on an important issue. Or a beautiful piece of art representing culture and history of contemporary time. Or just stupid bullshit that huge companies are feeding us with. For me, it's a mix of first two.


– Do you want to film stories eventually? Or would you rather film sights that are as beautiful as a dream?


I do want to explore an issue. I love documentaries and I love narration, based on reality or near future. I want to make useful piece of work, that is also visually pleasant. The stuff that makes you feel. I don't want to put limits with the genres. It can be a mix, and I'm always opened to collaborate.


– Are you thinking of filming movies in the future? What kind of films do you want to make?


Feature film and TV- or web-shows. I want to move from the short genres and commerce.


– What do you think you will be doing in 5 years? Near future?


Movies! Always. But it's not canceling love and fun.


– Any news, or highlight you want us to note about? The latest News on your movie?


My film Things I Like About You took the Grand Jury price at Brooklyn Short Film Festival this week!
I will think about it. But what's coming next is still a secret:) Stay tuned!



TEYANA TAYLOR FOR PAPER MAGAZINE from Nadia Bedzhanova on Vimeo.