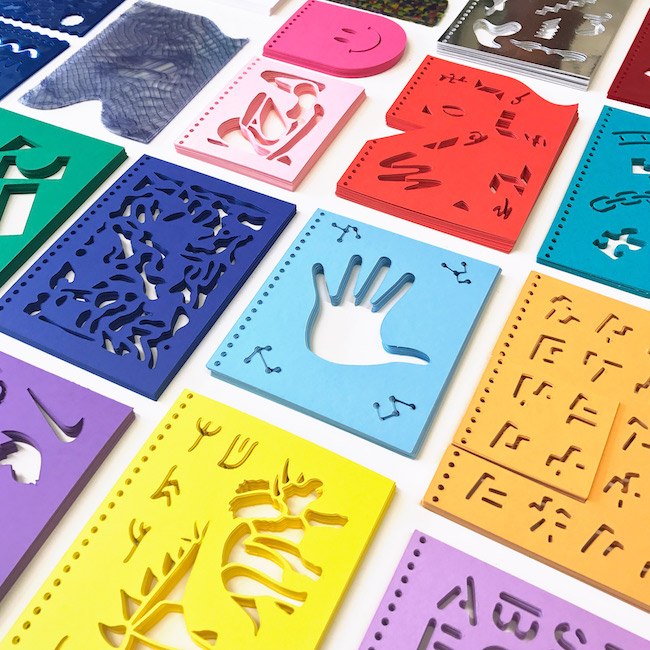 ーーCould you tell us what made you want to start your creations?


Extra Vitamins : Extra Vitamins began as a collaborative art project by the two of us (Julia Belamarich and Kyle Warfield) in 2016. It was an outlet for us to freely create experimental collage-based works, blend artistic styles and explore a wide array of materials. We wanted to inspire new ways of thinking and seeing with every book, t-shirt and object. All our work is concept-driven, and lately the focus has been various forms of Earth positivity and self evolution.


ーーCould you tell us the story behind the creation of the Stencil Book?


Extra Vitamins : "As It Is" was one of our first art books that went beyond the digitally-printed, saddle-stitched zine. With a lot of our work the driving idea is oriented around a material or production-related goal. In this case, we sought to make a book that relied on the subtractive approach of page cut-outs, rather than the additive process of printing.


ーーFrom ideation to when it is published as well as the cutouts, could you take us through the whole creation process, start to finish?


Extra Vitamins : After the production method was established, we bought a desktop plotter and began experimenting with various complexities of cut-out illustrations and different kinds of paper. The book became an exploration of stencilized symbols and the effects of their juxtaposition. We dug through the internet and gathered a vast collection of stencil graphics throughout time. We then redrew and digitized our favorites and arranged them into individual pages. Each illustration acts as a window, so the previous and following pages are opportunities for discovery. Some of the layering creates intentional alignment and synchrony, while others are left to chance harmonies of complex patterns. The cutting process was very slow, as the machine can only cut about 6 pages at a time. Once everything was cut we spiral bound each book by hand. We ultimately made about 60 copies of the book.


ーーHow did you acquire the knowledge and the craft that is needed to create the stencil book?


Extra Vitamins : We both had experience using a laser-cutter at our previous job, so transitioning to the plotter was fairly easy. We have a lot of general experience working with diverse materials and construction methods. Julia has a background in sculptural art and Kyle has a background in sign making. Most of the time we learn as we go, through experimentation and play. It's important for us to be close to the means up production and maintain a DIY spirit.


ーーWhat was one of the first things you made? Looking back, what kind of advice would you give yourself?


Extra Vitamins : Our first drawings were scribbles. We say, keep scribbling. Some of the most interesting art comes from a place with no ego and no rules.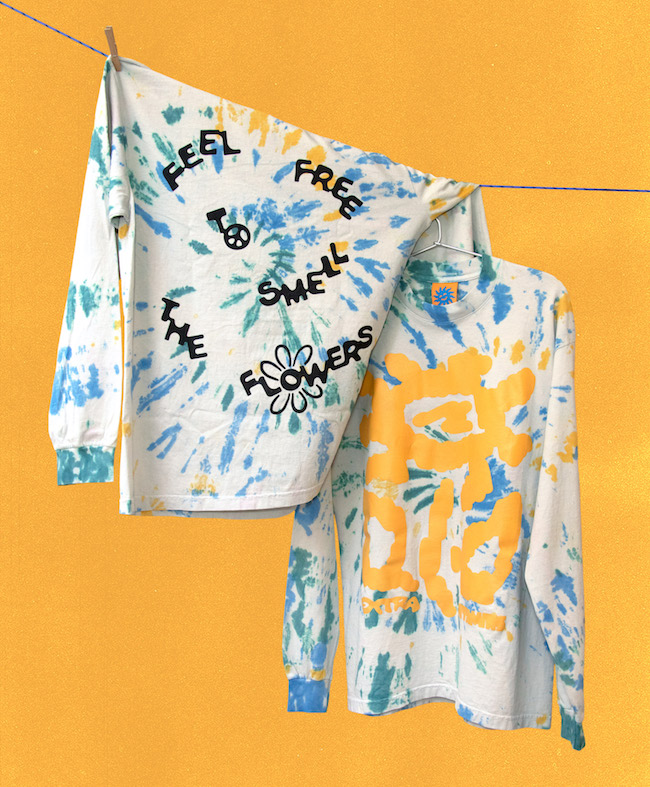 ーーHow do you personally express your core/personality/values through your work?


Extra Vitamins : Lately, we've been working hard to express our eco-friendly values by using ethically produced, USA made, 100% cotton garments. We've designed a new packaging system using recyclable paper and hand-stamped stickers. We also donate $1 to One Tree Planted for every item purchased on our website. So far we've raised about $800 to help plant trees and grow forests. We create positive and imaginative graphics with simple messages to inspire people to think and act in a similar way. Personally, we express our values by eating vegetarian, biking, recycling and being kind.


ーーCould you take us through the process you underwent to build that core/personality/value ?


Extra Vitamins : Earth is hurting and humans are suffering. Now more than ever we need to come together to treat our world and fellow humans better. We are all connected. Many small changes can make a real difference.


ーーThe titles, Plant Power, Cloud Watcher and Cosmic Dreaming are all related to nature. Could you tell us why?


Extra Vitamins : Nature is one of our biggest inspirations. We want to make books about the importance of reconnecting with the earth and ourselves.


ーーWhere do you get your inspiration from?


Extra Vitamins : With a psychedelic perspective, inspiration comes from everywhere. The world is full of accidental beauty. And of course, art and design movements throughout history are rich sources of inspiration.


ーーWhat kind of Stencil Book would you like to create for the next one?


Extra Vitamins : We're working on a new spiral bound book that will also feature page cut-outs and unconventional use of paper. This book will be larger and experiment with a variety of material and printing techniques in more depth.


ーーTo a person just starting out, what kind of advice would you give them, skills wise and regarding mentality?


Extra Vitamins : Don't rush the process. But don't be too precious. The more work you make, the better it will get. Don't worry about refining your "style". Read about art and design history. But don't follow rules. Figure out what you want to say. Try to stay authentic. Don't worry too much what people think. Don't lean on trends. You can learn almost any skill on the internet. But the most valuable skills are learned through firsthand experience. Mistakes create new possibilities. Have fun 🙂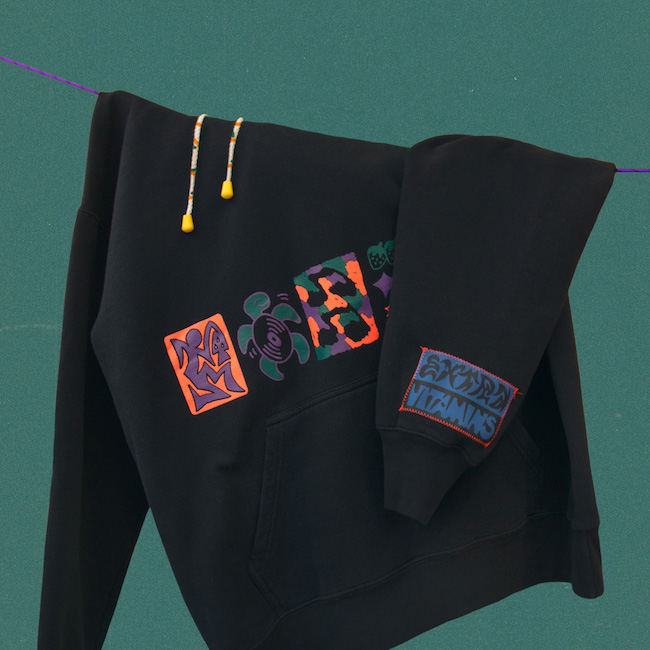 ーーHow has the spread of coronavirus effect your lifestyle and creative activities?


Extra Vitamins : We do more work from home now. We're trying to be more resourceful and make use of materials we have on hand. Because of social distancing it's difficult to work with other people. So we're starting to do most production tasks ourselves in our studio—like tie-dyeing, sewing labels into shirts, binding books, etc.


ーーDo you have anything you want to challenge yourself on?


Extra Vitamins : We're challenging ourselves to make more apparel that goes beyond screen-printed graphics. In the same way we experiment with materials and special effects in our books, we'd like to continue pushing the boundaries of psychedelic streetwear.


ーーAfter the coronavirus converges and the situation gets better, what would you like to do?


Extra Vitamins : Spend time with our families and friends. We'd like to reconnect with our creative community IRL.


ーーAny news or something up and coming that you would like to share with us?


Extra Vitamins : New summer collection is dropping in June. We also have some collabs dropping soon.
Follow us on Instagram to stay updated!




Julia Belamarich and Kyle Warfield(Extra Vitamins)