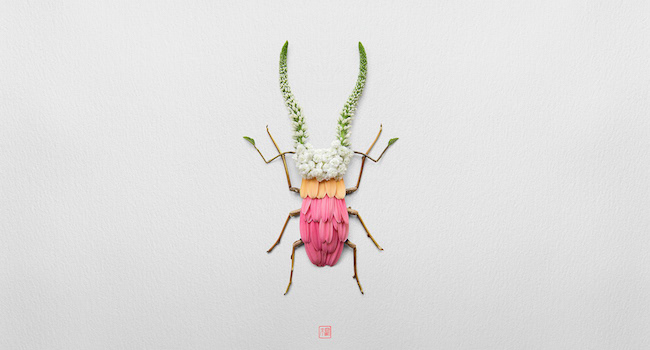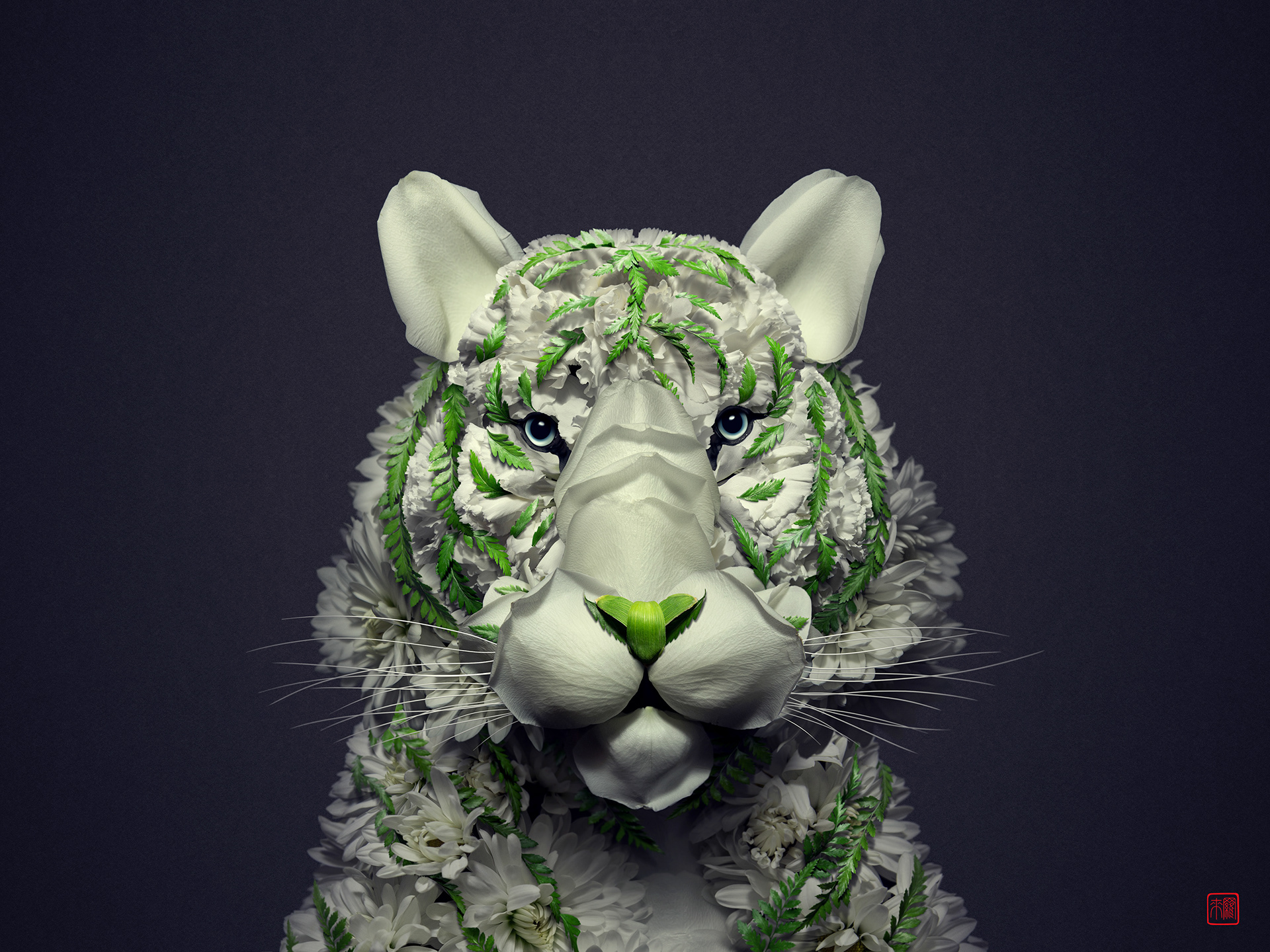 ーーWhat made you want to start creating pieces with plants and flowres?


Raku : One day, it was winding a lot and the fragile petals of roses in my backyard were blown off to the ground. I picked them up and made my first floral insect: a small beetle. The fascination for the crawly creatures is something that goes back to the childhood growing up in Japan where I used to catch Kabutomushi with my grandmother. I also remember spending wonderful time inside encyclopedias feeding the child's curiosity and learning about many things that exist on this planet including plants and insects. So, after all, I think it was only natural that I am finding myself gravitating towards these subjects for inspirations.


ーーWhy did you stick with the materials that you use currently for your works?


Raku : I just love working with organic materials. Being that they are ephemeral, it is a challenge to successfully work with but the final results really capture the freshness of the materials. It also makes me feel in tune with nature…like I am in harmony with my surrounding..it is a very liberating feeling.


ーーFrom sharping, colouring to molding , how did you acquire the necessary basic knowledge and skills for your creations?


Raku : I learned the basic skills in art classes but most of what I know now was learnt from outside school. I was very curious and constantly experimenting with different technics and venturing out of my comfort zone.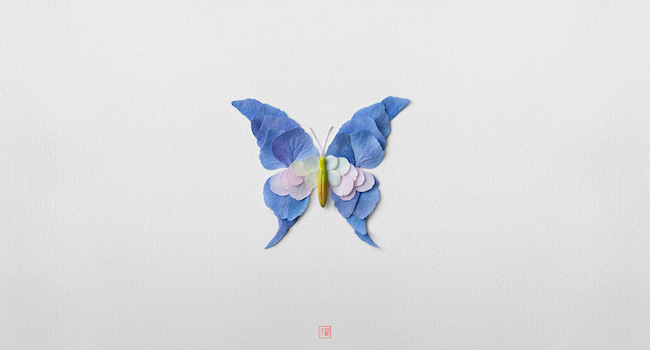 ーーWhat was one of the first things you made? Looking back, what kind of advice would you give yourself?


Raku : A dragonfly I made using mint leaves and flowers was among the first floral insects I have ever made. This flying insects has always been a symbolic creature to me: Every summer my grandmother would open the windows and a dragonfly would fly inside the house. My grandmother always said that it was a reincarnation of her deceased life-partner visiting us and letting us know that he was watching over us. I can't really think of a specific advice to give to myself since making floral insects was not something I planned in advance. I am just very grateful that things turned out this way.


ーーHow do you personally express your core/personality/values through your work?


Raku : It depends on what I am creating and the message I am trying to convey if any. Making art without any meanings and deeper message is totally fine and can be tremendously therapeutic. When I create a more meaningful piece, I try to avoid overthinking the whole concept. I try to keep it simple with a clear message and a visual to accompany.


ーーCould you take us through the process you underwent to build that core/personality/value ?


Raku : Hmm this is a very hard question to answer in few paragraphs…for me, the process is a life-time journey and things that you stand up for can change with time.
So I would answer that simply living life and learn from it. Many years ago in my young adult days, I have travelled back to Japan as a self-searching journey and it had a huge impact on my value. I have had the chance to work in a potato and corn farm in Hokkaido and there, I have learnt to appreciate the hard work of a farmer-life. Being outdoor under the sun and with the fresh breeze of the early morning. I never felt in tune and in harmony with my surrounding: nature.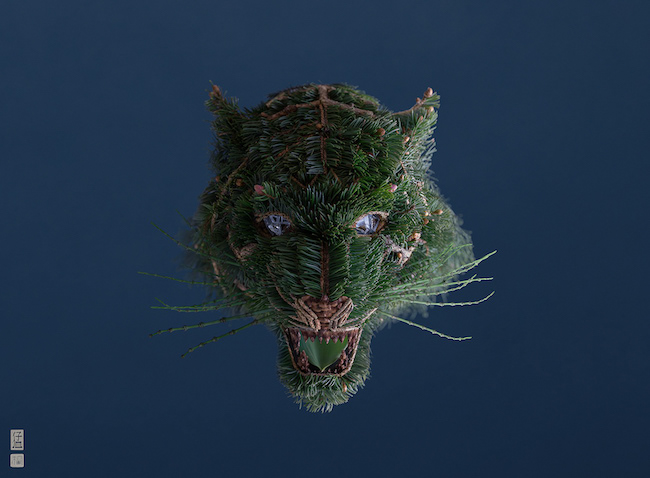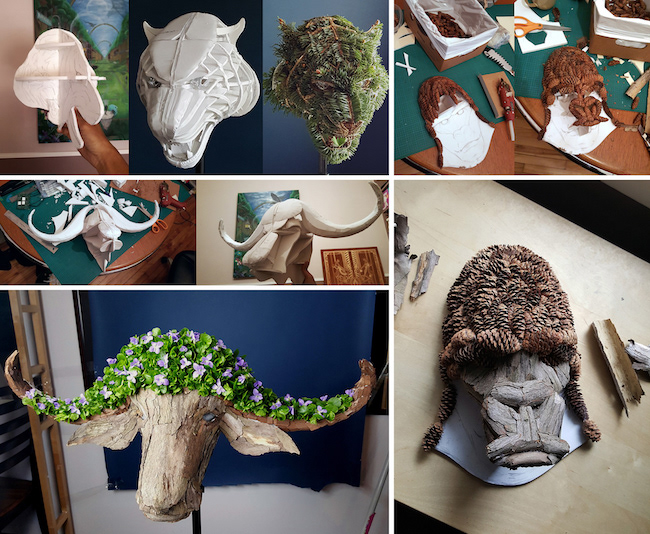 ーーComparing the nature and especially the plants in Montreal and Japan(Hiroshima), what are you some differences that you have come across?


Raku : Comparing to the hot and humid summer of Japan, The summer here in Montreal is just nice and warm. It took 2 summers after I have moved here from Japan before I started actually sweating. I remember that Japan has many mountains covered with pine trees, The land in the eastern Canada is much more flat and during autumn the colours of the tree leaves changes from green to red and orange. The Laurentians is particularly popular for tourists during this seasons.


ーーYou shifted from graphics and clay to creating sculptures with plants. Can you tell us how that shift occurred and how you were also able to apply the knowledge and the skills from graphics and clay to what you do today?


Raku : With clay I was able to see a subject in 3D and gave me a deeper understanding in term of lights and shadows. Before this, it was a challenge for me to draw anything in 3D. It was also very helpful understanding laws of perspectives as well. Graphic designs was one of the most valuable knowledge that I have acquired in school. Sense of graphics can be applied everywhere and all art forms can benefit from it. It's about understanding the structure and their mechanics in relation with the audience. Very fascinating subject indeed.


ーー I have read that you get inspiration from Origami and Ikebana. How did these inspirations develop and how were they applied to your own works?


Raku : My aunt used to be an Ikabana and a tea ceremony teacher. I remember seeing her display her skills and techniques to make flowers appeal very beautiful and elegant. Even if I couldn't put it down in writing back then, I was very much fascinated. With origami, you need a sense of anticipation…Choosing the right type of paper with the right colour and the right texture with the thickness appropriate for the project is crucial. Each step is important and the success of the current step is mandatory for the next following step. It is the same basics with the art of ikebana: Choosing the right materials and amply them to turn them into an artwork.


ーーThe colour palette in use amonget your works is very uniquel as well. In terms of colour, in your opinion how would you define balance?


Raku : This is something that I don't really have a say on. I try to keep my ownership on the control of the project in check. In other words, I like to let the materials shine rather than me trying to adjust everything into perfection. Therefore, the colours, shapes and subjects..these are all the factors that are suggested to me by the materials itself and what's available for me to use. The creation that I make during summer is different from winter because of what I can find during these two seasons are completely different and this gives a sense of seasonality.


ーーYou do not use any artificial colouring and only use natural materials in your works.Do you observe the flowers and plants first and decide what to create or -choose the subject of your creation first and then start gathering materials for it? Can you take us through your creative process?


Raku : When foraging for materials, I always try to put the ingredients first and the subjects in second and I don't really have a set template. Sometime, its the ingredients that are going to suggest the subject and other time, I might have a specific message I wish to incorporate into the artwork. The most important aspect of this for me is to have the freedom of doing things as it presents to me. Its like searching for an inspiration..it's not something I can force..I can only be receptive and remain sensitive to my surroundings.


ーーFrom ideation to when it is released as well as the Natura Insect could you take us through the whole creation process, start to finish?


Raku : I start by searching the materials and at the same time, I would start thinking about an interesting subject. After this, it's a back and forth between what's available in term of materials and my creative vision. Similarly to solving a jigsaw puzzle, it's all about finding the right piece for the right place and rinse and repeat until completion.


ーーWhat was the most difficult part of it ?


Raku : These Natura Insects were never meant to be difficult. I have always found that making these floral creations was like a therapy to me. Just like Ikebana, there are challenges or course but the whole concept of the art is to be in tune with the nature and taking in all the benefits while expressing it in a personalized manner so that others can enjoy as well.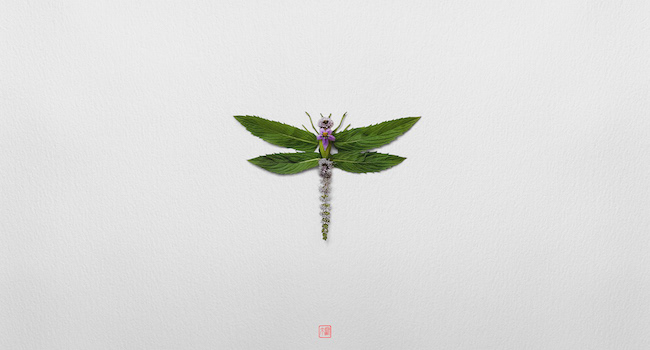 ーーYou create structure digitally, create your own compost and make a lot of effort to make sure that natural materials are never abandoned. Can you tell us some other ways we can take care of our nature materials properly?


Raku : There are many ways to take care of nature. In fact, anything you can do is better than nothing. Growing your own plants, flowers and even vegetable can benefit you and your community in a big way. Reducing toxic wastes and limiting unnecessary consumption will also help.


ーーFor people just starting out with Ikebana or trying to create something with the materials they have at hand, what kind of advice would you give them mentality and technically?


Raku : If you are just starting out, think about the basics. Flowers are varied and they have many different ways to maintain their livelihood. Study them and respect your ingredients. After you have learned to give the ingredients the respects it deserves, you can think about your ideas and techniques and how to apply them onto your creations.


ーーIf you have any online shops/makers that sell or provide materials and tools that you would recommend, please share them.


Raku : Any local flower shop would do but nearly all of my supplies can be found throughout nature. Just go outside and see what you can find. Remember, its about how you use the materials that are available to you rather than running after the things you don't have. From this perspective, we learn to adapt to the situations and we become more flexible in term of creative processes.


ーーHow has the spread of coronavirus effect your lifestyle and creative activities?


Raku : Fortunately, not too many changes regarding to how things were pre-quarantine. Few clients did undergo radical changes but it seems that many of them was successfully able to go online for the time being. Those that are going to adapt will be the ones that will survive these hard times.


ーーDo you have anything you want to challenge yourself on?


Raku : It would be to take thing easier this summer. Usually, I would be very busy with work around this time of the year but with the whole situation right now, I try to reset my priorities. Taking the time to live and being mindful of the present is something I am trying very hard to do.


ーーAfter the coronavirus converges and the situation gets better, what would you like to do?


Raku : We are planning a roadtrip east Montreal in the countryside. It's out yearly tradition and not being able to do that is very painful. There so much to see and experience out there and we can't wait to go on our little adventure.


ーーAny news or something up and coming that you would like to share with us?


Raku : Recently, I have worked with Fool Magazine, a food magazine with a very strong artistic and design sense. Their next issue is themed about Japan and its culinary world. In it, I will be illustrating the text from three world famous chefs: Sean Brock, Andoni Luis Aduriz and last by not least, Thomas Frebel which is the head-chef at Inua in Tokyo. They all wrote about their admiration of Japanese food and culture and I feel very honoured to be able to illustrate their texts. This was also a great debut for myself into the culinary world. For a long time, I have been wanting to illustrate artwork that reflects these chef's love for cooking and the respect they hold for the ingredients. When I really think about it, their affinity towards their art runs parallel to mine: Graciously accepting what nature offers us and interpreting them in a personalized manner so that others can enjoy.


Raku Inoue
Multidisciplinary artist


www.reikancreations.com
https://www.instagram.com/reikan_creations/