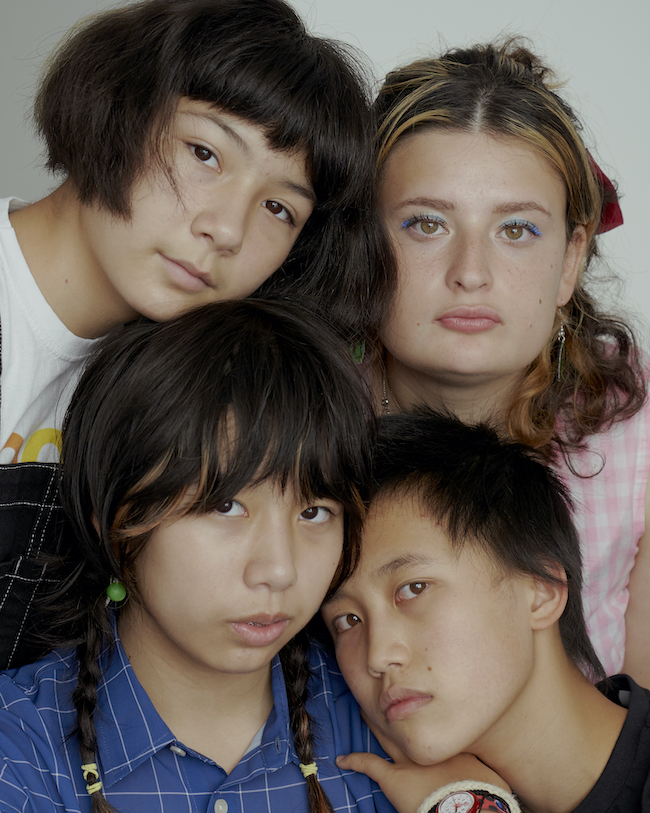 ――Welcome to Japan! Is this your first time?


All: Yes!


――What are some of the highlights so far?


Bela Salazar: We went to a cat cafe for Mila's birthday (Mila turned 12 few days before this interview.) And I went shopping a lot in Harajuku.


Mila de la Garza: We also went to Tokyo Hands and got a lot of stationaries.


Lucia de la Garza: We went to Tower Records. And then yesterday, we went to Disney Sea.


Eloise Wong: I bought myself two pens!


Lucia: We ate a lot of food


Bela: We've been eating a lot.


――I'm glad you guys are having fun. So you guys are two sisters, a cousin and a friend who all grew up together, right? Why did you decide to start a band?


Eloise: Kristin Kontrol from Dum Dum Girls invited us and a bunch of other inexperienced kids to perform with her at an event called Girlschool LA. So for that, we learned five covers in like two weeks. They were not perfect at all, but it was still really fun and that's what mattered. For that show, Kristin Kontrol played with us, too, and so did Bethany and Bob from Best Coast. They played a song with us and so did Karen O, which was really amazing.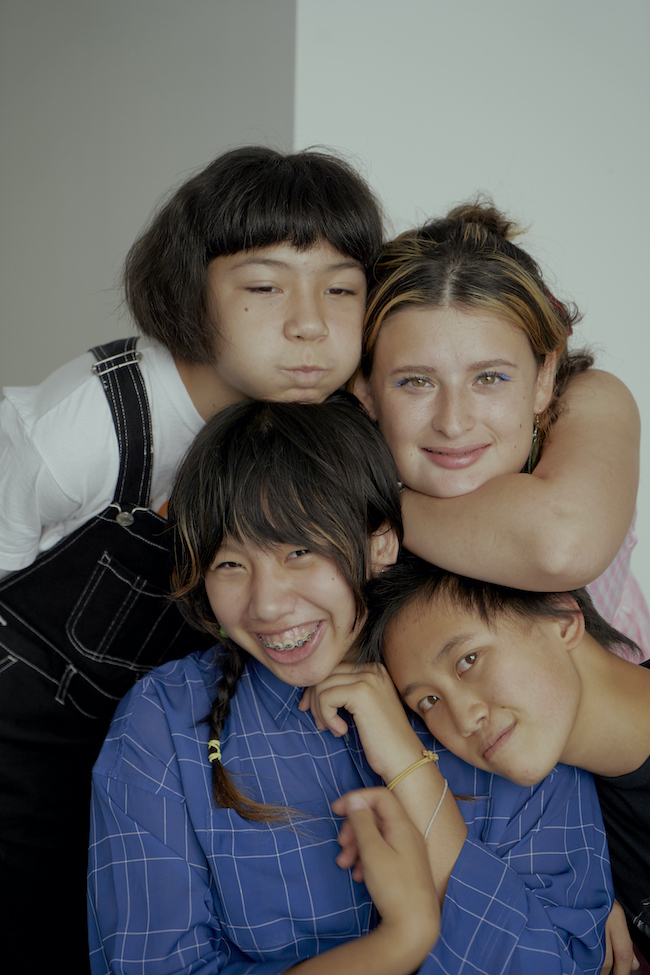 ――That's amazing. When was it?


Lucia: That was February 2018.


Mila: Then that summer, Bela invited the rest of us to back her up at a show that her friends invited her to play at. At that time, we didn't have a name. We were just "Bela and Friends" for that show.


Lucia: But then after that show, I feel like we kind of discovered how you could make mistakes on stage and you could learn really not-so-great covers of songs, but still have fun on stage and create a kind of energy that we were just really drawn to.


――Did you grow up playing music?


Lucia: We grew up around music and playing piano.


Bela: I played classical guitar.


Lucia: We always really liked music, but I don't think we really thought that it could be something that we could do until we were older, maybe.





――It feels weird asking because you guys are still growing up, but what did you listening to growing up? Were you always into punk?


Bela: I wasn't listening to punk until I got a lot older. I was listening to a lot of 80s rock because you listen to what your parents listen to when you were kids. So it was a lot of Talking Heads and that kind of stuff.


Lucia: In our household, we got a lot of Yeah Yeah Yeahs, a lot of Sleater-Kinney…


Eloise: For me, I kind of grew up around punk. We were constantly going to shows, making mixtapes and listening to records. I would listen to Adolescents, the Weirdos, the Germs, Alice Bag… Just a lot of stuff like that.


Bella: Also, we all listen to the Go-Go's.


Lucia: That's why it's so amazing that we were able to like play with Gina Schock.


Eloise: Yeah, that was mind-blowing for all of us, and our parents [laughs.]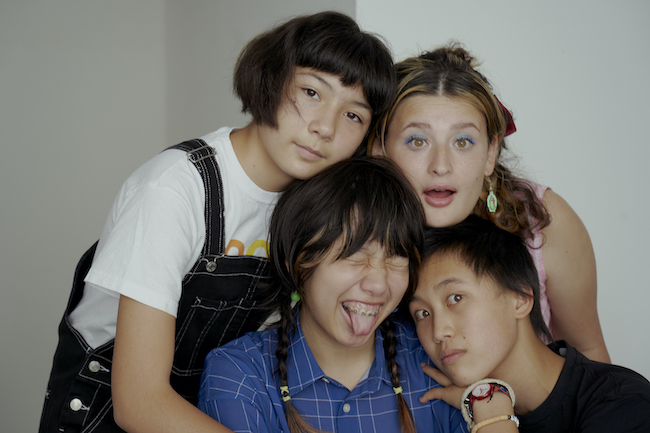 ――Why did you decide to call yourselves the Linda Lindas?


Eloise: Of course, the song by the Blue Hearts, but how we first discovered that was this Japanese indie movie called "Linda Linda Linda." That was kind of how we were introduced to it. So now, we're named after the movie and the song.


――You started the band in 2018, and I read that you opened for Bikini Kill in the following year?


Lucia: That was so cool.


Bela: I think Kathleen Hanna saw a video of us covering "Rebel Girl."


Lucia: That's kind of it! We don't really know how it happened, but she took a chance on us. We were like, OK, what are we going to do? We're going to work really hard to make sure that the show is really good.


Bela: Lucia's dad is a man of few words when it comes to if we did good or whatever. And that was one thing that he was very impressed. I don't know how we did it, but I remember that we were tight.


Lucia: That's definitely one of the first times that we were like, "Whoa, we are able to do this, we've made progress." That was just really cool because we were able to do that after being in a band for less than a year, really.





――A lot of people discovered you when that video of your performance of "Racist, Sexist Boy" at the Los Angeles Public Library went viral. How did you feel when you found out?


Bela: I was in history class and my phone kept buzzing, and my teacher was getting really annoyed with me because I had it on my desk. He was like, "You know what? Just check in case it's an emergency." And I checked and I got like a million texts. And I was looking through my Instagram feed, and my whole feed was the same video clip of us. I was like, what the heck!? So weird!


Lucia: Mila and I were in remote learning and I was busy not paying attention to science class [laughs.]


Mila: I was sitting at my desk in the other room, and our dad kept coming in like, "You guys are going viral!"


Lucia: I seriously thought that meant like we got 50 new followers or something [laughs.]


Mila: We didn't know that millions of people had watched our video.


Lucia: It was mind-blowing!


Eloise: I was also on Zoom for school and Mila emailed me. She was like, "We're going viral!" I was like, what? Viral? We've got COVID or something!? But I was working on a school project, so my parents didn't tell me anything. I didn't know until the next day, really, when I was done with the project. And they were like, "Surprise!" The project turned out well, though.


Lucia: We had three interviews on the next day. That was the first time we started doing interviews and stuff.


Bela: It's so awesome that we're getting to travel again. Because for a long time, we didn't really see the people behind it. A lot of it was virtual and stuff, so we never really got to see it. I feel like the first time that I really understood what was going on was when we played this venue called the Troubadour in LA. About 500 of our fan were in a room, and they all knew the song and would sing the song. It was just the weirdest thing. But finally, I could see what we've been through.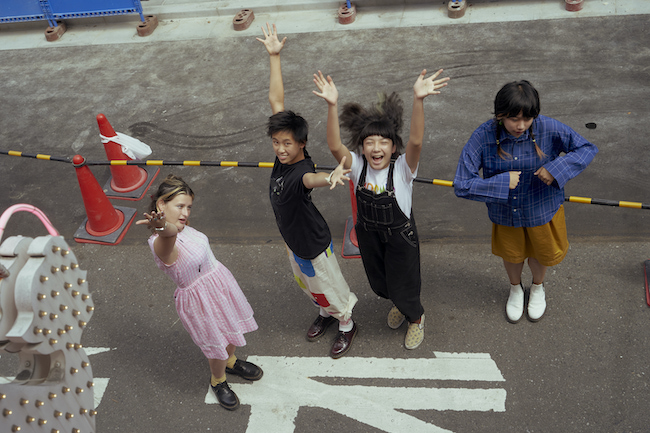 ――Listening to your songs, It's really refreshing to see how you have your own perspectives on the world and the society at such young ages. What are some of the inspirations when writing songs?


Bela: I feel like we're at an age where we just see a lot of things. And I feel like at least kids are a little bit more alert and they say what they're thinking. So it's a lot of what we're processing at the moment.


Eloise: I think that a lot of my thoughts come from intense emotions. Sometimes I feel something a lot, like angry or something, and I just need a way to get it out. So songs are kind of my outlet to do that. Whenever I write a song, it's like, oh, I need to write a song or else, I'm going to explode!


――Is that why you are appealed to punk music?


Eloise: I think that punk music is, it's the freedom in it and you do what you want. And also, the attitude of it, like, who cares what people think. As long as you're doing something that matters to you, then who cares? As long as you're surrounding yourself with people that you love, and as long as you love what you do, then that's all that matters. Punk is like a mental state, you know? I think that what's cool about punk is that it's cool to be weird.


Bela: It's a lot of people that feel like they're different, and it's more of a safe place for people to share what they are feeling.


Eloise: Yeah, if you feel like you're different and you don't have a community, then you build a community around you, and build something that you're proud of. I think the drive in punk is just doing it for the sake of do it yourself. If no one else is going to do it, then you better do it! I think that energy is really special.





――You released your first album in April. Why did you name it "Growing Up"?


Lucia: I was against it at first, honestly [laughs.]


Bela: Even though there are all these different topics on this album, it's really interesting because when they're put together, they sound cohesive. It's kind of weird, because we didn't write these songs together for the most part. We wrote them separately during the pandemic, when we couldn't see each other. So it's really cool that it all kind of makes sense. And I think that was the best name that embodied what we were feeling.


Lucia: Yeah, growing up is about learning more about yourself. And I think through the process of songwriting, we did.


Eloise: I think our songs are just like a reflection of the world around us and what's going in our mind, and we just happen to be growing up right now. I mean, everyone's always growing up, you know? So that's just kind of what made sense.


――How do you feel like growing up and making music during the pandemic?


Lucia: The pandemic kind of gave us a space to learn about who we are individually without distractions from the world. After we "blew up", all that time for self-reflection really helped us learn how to process it and become okay with all the emotions that we were going through, because it was really scary. But it was also really, really fun and we felt really empowered that we could make a difference and do something.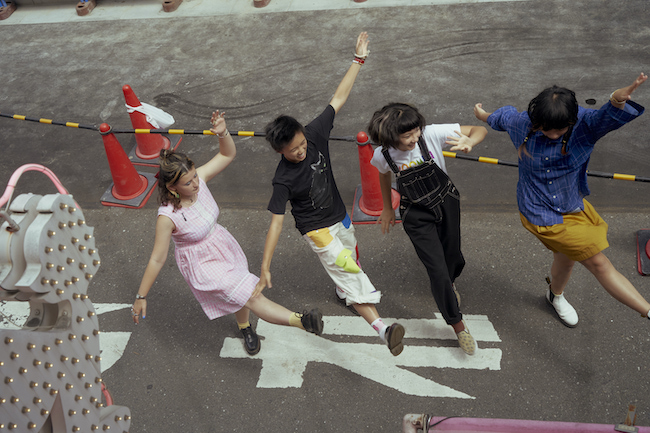 ――What do you think is the craziest thing that happened to you after you guys blew up with that video?


Bela: We got to come here!


Lucia: In every interview, they always ask, "What is something that you want to do in the future?" And we always say we want to go to Japan.


Eloise: It's funny because our parents go around with us wherever we go. So they get to go to Japan because we're playing Summer Sonic, and they got to go to Europe because we were playing a bunch of festivals. I think it's cool that after our parents raising us and doing so much for us, we get to give back to them and let them go on so many adventures.


――I read that Bela designs costumes for the band. What else are you guys into other than music?


Bela: Yeah, I did for Tokyo and Osaka. I also love photography. I went to Nakano and bought a bunch of cameras. They were really cheap so I got some rare cameras that we can't buy at home.


Lucia: Eloise makes art for our merch and stuff. There is going to be a special shirt for the festival that we made that she drew. We are excited about that. It's a pretty good shirt.


Eloise: Lucia and Mila are very good dancers. Lucia is so graceful. I feel like even when she walks, she dances.


Bela: And Mila likes Sharpies.


Eloise: Also, she's a cartwheeler. She cartwheels very well. And she is good at jump-roping.


Mila: So, Eloise does visual art, Bela does photography and fashion, Lucia is a dancer, and I do cartwheels.


Bela: That's us [laughs.]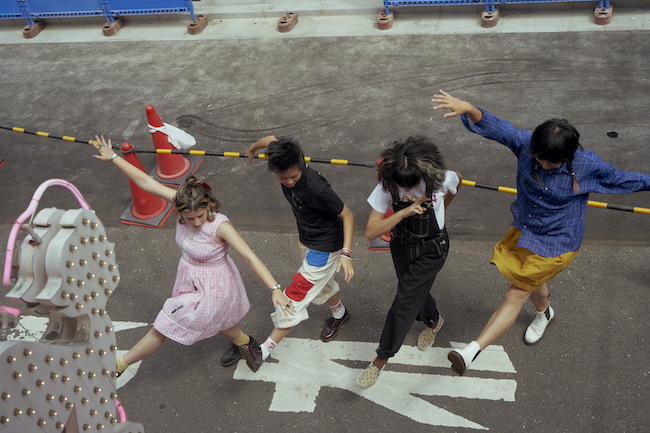 ――What's next for you? Are you guys are going back to school?


Bela: They are, I'm not.


Eloise: Bela graduated!


――Congratulations! That's such a big accomplishment. Are you going to focus on music from now on?


Bela: I am for a little bit. I want to go to college to see what it's like. I'm taking this semester off and then I'm going to start in January.


――Are you going to keep making music?


Eloise: Hopefully!


Bela: Most definitely, yes, for as many years as we can.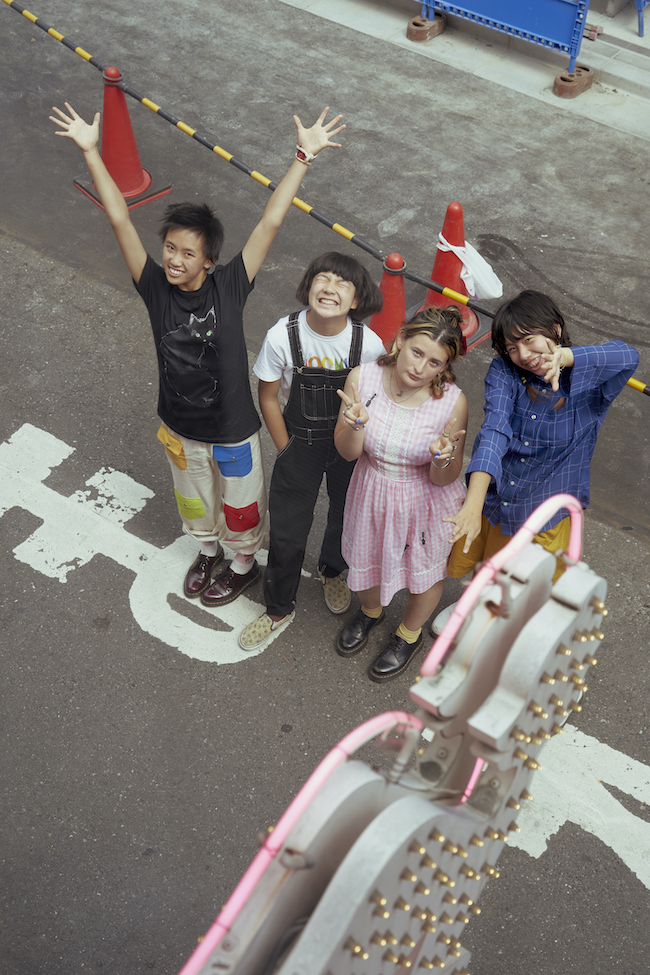 photography Satomi Yamauchi(IG)
text nao machida