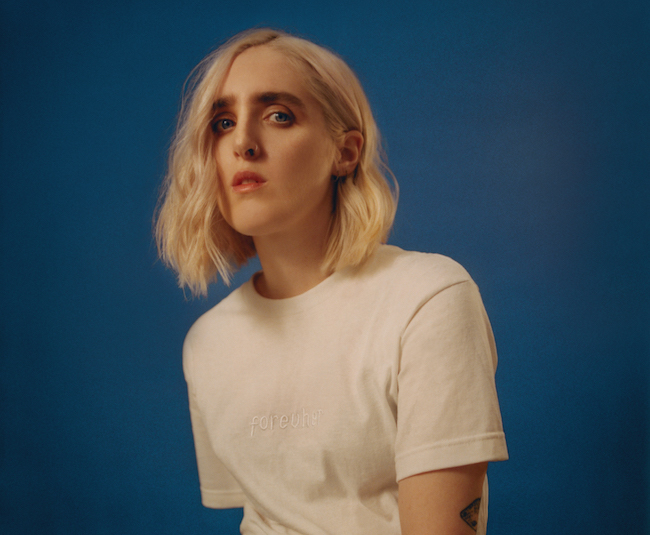 ——Since this is our first time to have a chance to interview you, we would like to ask you several basic questions, in addition to questions about your new album『Forevher』.It has been 3 years since you released your debut album. As your new album『Forevher』 will be released from , can you please tell us the story about how you came to work with new label, how working with them has affected your production or your feeling, and your impressions towards ?


Shura : I've been in touch with Secretly Canadian ever since I released my first song Touch. I have always been a huge fan of the record label and a lot of the artists they work with are musicians I hugely admire. When I was dropped by Universal after my first album they got in touch saying that they'd like to work with me on my next record and it just felt like a very natural and exciting next step in my career.


——Your debut album 『Nothing's Real』was critically acclaimed internationally, what kind of impression do you have NOW toward your debut album? Releasing this album must have changed your life significantly. Can you please talk about what kind of moments from the life of Shura, or the life of Alexandra Lilah Denton, are recorded on this album?


Shura : I love my first record! I am very proud of it. I listened to it again in January when I had finished forevher and it made me very emotional to listen to it again. After releasing Touch I had to make that record under the microscope so it's fun to listen back to it. A lot of it is obviously about a break up but it also deals with the pressure I was experiencing from suddenly having a lot of attention. I named the album after a song about a panic attack I experienced not long after signing a record deal for the first time.


——Let's start talking about your new album 『Forevher』. Love / romance seems to be a main theme of this album, as it expresses your personal relationship with your lover, along with dating apps, skype chat, or SNSs oriented modern love stories. What kind of idea did you have when you first started working on this album?


Shura : I didn't have a concept to begin with, I was just feeling very inspired to write about these emotions that were new to me, or that I'd certainly not felt in a while. It was exciting to be able to use positive experiences as fuel as in the past I've always found it much easier to write when I've been sad. About halfway through the writing process I realised that this was going to be an album about my experience of falling in love and that's when I began to shape it and pull together exactly what songs I wanted to record.


——Because of the way you described LOVE in various different forms, you successfully combined your own private view point and objective viewpoint of the world today. It also gave me the impression of that artistic aesthetics and critical spirit are existing together in brilliant balance. What did you find the most important or the most difficult building up a narrative of this album?


Shura : I think that I really wanted to explore the idea of forever. The idea that when we fall in love we talk about it as if it will last forever even though most of us know nothing lasts forever. I love the naivety of that emotion. The biggest challenge I supposed was to thread the different ideas of distance in that narrative. For instance the distance between my partner, who lived in NYC and I… or the distance between 'Tommy' and his wife who had passed away. The distance that separates the living and the dead. It's something I explore in Princess Leia too. I felt like the theme of distance helped to cement the idea of longing/eternity, which I hope is also reflected in the artwork and the shades of blue.


——Discussions and environments over gender and sexuality issues have changed a lot in past three years. While "#Metoo" has activated movement for women's empowerment, there are also many backlashes seen at the same time. Do you think those changes in social awareness have influenced this album in any ways?


Shura : I think that discussions around gender and sexuality have changed a lot. It's amazing to see how much has changed between released my first album and forevher. I don't know if those movements have necessarily influenced the album because in many ways it's a musical documentary of three years in my life. Obviously falling in love in America has been interesting because the political climate has changed so much. In many ways America is a much more frightening place and yet it's the backdrop to this queer love story.





——In the context of previous question, "Touch" from your last album and its music video were such an epoch-making piece that strongly impressed presence of Shura as an artist. In regard to this, if you picked up sequel song to "Touch" from your new album, which song would that be?


Shura : That's difficult. I always thought of Touch as being the heart of Nothing's Real. In the same way I think the song Religion is the beating heart of Forever. Of course they're very different songs with very different videos. That being said I think that Princess Leia is probably my favourite song on the new album. Musically and lyrically it's the piece I'm probably most proud of.


——Please tell us about sound production of this album. Joel Pott was invited as co-producer this time. What were you two sharing about ideas, concepts, and song-writing / production approaches of this album?


Shura : Joel and I worked on most of the first album together. We have a really great relationship and we understand each other very well. It almost feels like being in a band. That's how much love and care he put's into making records with me. We also wrote most of this album together and so we were constantly sharing ideas and thoughts. I think we realised very quickly that the sonic palette we wanted to use on this album was going to be a step in a different direction. It was very important to me to work with real instruments being played live by incredible musicians. I also really wanted to use tape and recording techniques from the past.


——Compared to your previous album, this album has nuance of quiet/intimate, and deep atmosphere of chill/ambient. In terms of the sound of this album, are there any things, any artists or any records which inspired you in a good way upon producing this album?(Personally, there were moments in this album that reminded me of Elizabeth Frazer produced by ARTHUR RUSSEL or Tracey Thorn produced by BLOOD ORANGE) Or, even if there were NO direct influences, in terms of reference/relevancy, if you are to publish a playlist following this album, what songs of which artists would that playlist include?


Shura : I have a playlist on spotify called inspiration fm which has a lot of the music that inspired me or that I was listening to whilst making this record and Arthur Russel is most definitely on there! Tracey Thorn is also a huge hero of mine. I grew up listening to EBTG. I was also listening to a lot of Joni Mitchell (River), The Beach Boys (Surf's Up), Minnie Riperton (Baby, This Love I Have), Prince and Paul Simon (American Tune). So I guess a lot of the classics!


——There are several artists listed as a contributor for this album. Especially, Jono Ma from JAGWAR MA and Will Miller from WHITNEY drew my attention. Can you talk about how they came to work with you?


Shura : I met Jono in Australia when Stella from Warpaint invited us to go climbing in the rainforest to see a Waterfall. I remember on the way back we played Jono's edit of the Jurassic Park theme tune really loud in the car. I knew he was living and working in London so we decided to try working on some stuff together. I had played him a track I had started writing with my guitarist and he just started playing all these crazy synth parts over it. I'd love to work with him more but he's now in Australia so I'll have to wait till I next visit. Will was actually introduced to me by the label – I was a huge fan of Whitney's first record and really wanted a horn arrangement on Princess Leia because in the second verse I'm singing about a fallen soldier being taken out of the plane I was on and there was a brass band playing as it happened. I sent him the track and he agreed to do it and send me a bunch of takes. I was so excited when he sent me those tracks.





——I personally like the song "princess leia" which reminded me of Laura Nyro. Can you please share any episodes about this song?


Shura : So I guess I covered this a little in the last question but this song is written about a series of events that happened to me in or around planes and airports. The first verse deals with me discovering that Carrie Fisher, a hero of mine, had died whilst I was flying to Australia. I was devastated. The second verse deals with the body of a dead American soldier being carried on a plane I was taking to El Paso, Texas. I remember it took a while to work out the lyrics for the chorus. One day I sang the line 'death is served just like a soda, coca cola, didn't even want it but it's complimentary' and I sent it to Joel and he text me back immediately to say he loved it. I was thinking about how on an airplane you get given free drinks and even if you're not thirsty you say yes because it's free which is kind of how I feel about death. I don't want to die but it's going to happen, because I'm alive. It's part of the deal.


——White jacket you are wearing in a music video of "religion (u can lay your hands on me)" seemed to be under the same concept with what you were wearing for your Glastonbury performance this year.
You should be able to change your visual image such as your outfit, your make-up.etc, when to release new album. Did you have any visual concepts or visual ideas of this album?


Shura : I absolutely loved being a pope in the video for religion. It made me not want to wear normal clothes ever again! Obviously that would be expensive, but it's definitely fun for me to be able to play around with what I wear on stage, That's one of the fun aspects of being a musician. You get to play around. I'd love to expand my tour wardrobe as it definitely helps you feel confident on stage.


——Do you have any faiths? Do any religions or any faiths play important role on defining Shura or your music?


Shura : I'm an atheist but I've always been fascinated by different religions. I guess I find it interesting that every culture has some form of it. I nearly studied theology at university until I realised that most of the people who studied theology were training to become priests.


——Can you please talk about why you titled your album as 『Forevher』?


Shura : It's a mix of 'for her', 'forever' and 'forever her'. I had written the song forever and really loved the idea of playing around with this word for the title. Especially as I was using gender pronouns for the first time in my music.


——Last question. What do you think is the best love song? It can be any pieces expressing love. It does not need to be music, it can be film, tv-drama, literature, or anything you can recommend to us.


Shura : I think 'The Most Beautiful Girl in the World' by Prince or 'Kissing You' by Des'ree. Those are probably my favourite. They are incredibly romantic. I think the way the latter was used in Romeo and Juliet helps! Also I love 'Never Too Much' by Luther Vandross.





text Junnosuke Amai
edit Ryoko Kuwahara