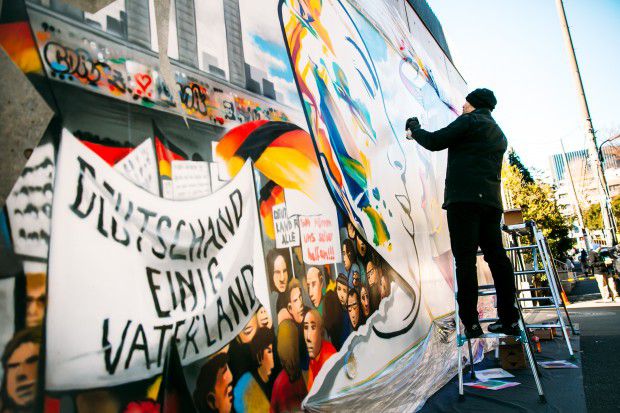 冷戦の象徴であったベルリンの壁は1961年8月13日から1989年11月9日まで10,316日の間存在していた。壁が崩壊してからちょうど10,316日となる2018年2月6日、 これを記念してドイツ大使館は、日独の二名のグラフィティアーチスト、ユストゥス・"COR"・ベッカーとイマワンに、 このテーマでの壁画の創作を依頼。ポジティヴな歴史の変化を描くことで、現在克服し難い政治的問題に直面している人々へも希望の曙光となること、そして平和へのメッセージを示した。今回のプロジェクトに参加したユストゥスに話を聞いた。 この作品は2018年いっぱいドイツ大使館の外壁で見ることができるので、ぜひ実物を見に訪れてほしい。


——最初にこの作品のコンセプトを教えてください。


Justus「ベルリンの壁が崩壊して28年間経ち、壁によって東西ドイツが分断されていた時間と同等になりました。私が担当した壁の左側にはこれまでの歴史、右のImaoneが担当した壁には未来が描かれています。私が描いた有名な政治家二人のキス(旧ソ連レオニード・ブレジネフ書記長と旧東ドイツのエーリッヒ・ホーネッカーのキスのオマージュ)はあまり良い印象がもたれていないけれど、それをあえてメインにすることで、より良い未来に向かっているというポジティヴな表現にしているのです」


——I'd like to know the concept of this whole piece, from your point of view.


Justus: We wanted to show the 28 years of the wall the separation of Germany, and now it's 28 years of the unity of Germany. So we wanted to show that in the painting so the left side's kind of the historical part with the separated Germany and it comes up to like the future of the now and the future on the right side, which is more abstract from the future that's not written yet. And it references an historical piece, over there with the brother's kiss with the two politicians. But it's like a bad image because it was from some politicians. And now we reinvented this kiss in a positive and new version, a more artsy version. Something like this.


ーー今回はImaoneさんとの共作になりますが、コラボレーションしてみた感想は?


Justus「まず一緒にやってストレスも問題もなかったのが素晴らしい(笑)。一緒にひとつの作品を作り上げられて楽しかったです」


——How was it working with Imaone collaborating on this piece?


Justus: It was cool. I mean, we have our own sides so we were not too much in stress if it's going to work or not, so it was really nice.


——10,316日という壁が存在していた時間に関して、個人的に思うことはありますか?


Justus「この壁画は人々が自由と改革のために立ち上がった瞬間を表現しているのですが、そのような改革が暴力的ではなく平和に行われたというのは世界的に見てもとても稀有です。それを描けたのはとても意義があることですよね」


——So this project is about 10,316 days before the Berlin Wall falls, do you feel something typically about the number of days that have passed by? About that whole concept.


Justus: I like showing like the special moment in German history when the people rise up for freedom and change something for the better, you know? And it's all peacefully, there were not riots or anything, so it was a peaceful revolution. So it's kind of rare in the world. So it's cool to show that.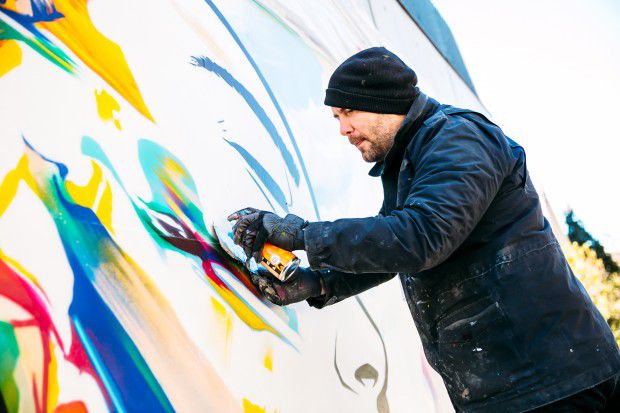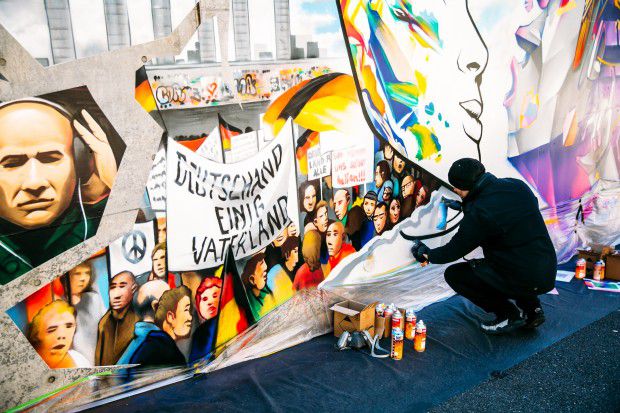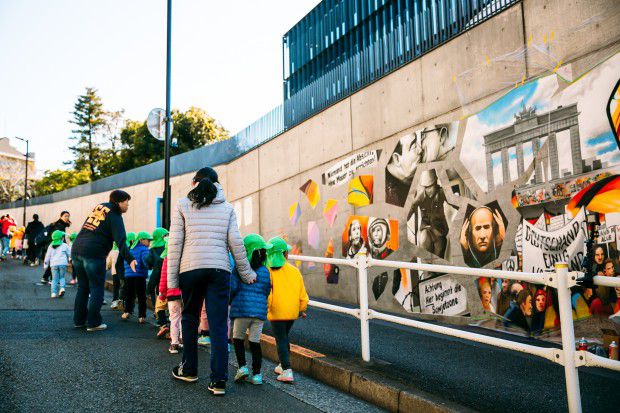 ——昔から絵を描くことが好きで、グラフィティをやり始めた頃はよく警察に追いかけ回されたりもしていたそうですね。それがファインアートとして認めれて今に至るわけですが、その変化に対してどう感じていますか。


Justus「正直、当時のスリルを懐かしむことも多いです(笑)。しかし今だからこそできることもあたくさんあって、世界中の面白いところに行くこともできるし、新しい冒険を楽しんでいます」


——I looked at your website, I know your brief history of how you used to do street graffiti and how you sometimes were in a situation where you were kind of chased by the police and such, but now that you've come to a place where try to, not try to, but you actually do fine art, how do you feel about that whole changing?


Justus: It's kind of evolving you know, sometimes I miss like being out in the night times, and then you get new adventures. For example, traveling to some crazy places in the world and you get new adventures so, if I were to be in a regular job, I would more miss the old days but I have like events, new adventures for myself.


——あなたの作風についてですが、リアルな写真を基にしたような作品を描き出したのは何かきっかけがあるのでしょうか?


Justus「斬新でユニークな手法だからです。私の実力をあからさまに示すこともできるし、イメージをパワフルにすることもできます。写実的でありながら、自分なりのアブストラクトな色使いを織り交ぜることでオリジナルなものにしています」


—— What was the reason that you started doing your art based on realistic art pieces and photos?


Justus: Because that's my style. it was important to have like some powerful image. I started doing photorealistic because it was new and unique, you know? It was to show my skills. That I'm better than others. That I was able to do something photorealistic in times where it was not possible. And after photorealism, I started changing up with like color, more abstract colors, like remixing the photorealism.


——他にもトライしようとしている技術やスタイルはありますか?


Justus「いつも新しいことにトライしようと考えていますよ。まだ今は明確に話せる段階じゃないのですが、ARのようなデジタルの技術を活かしながらのインスタレーションにも挑戦しようとしているところです」


——Are there like any other new styles that you tried to do? Other than this?


Justus: Well, I'm working on new ideas all the time. Mix it with installation and digital stuff. Like the AR. But it can't really tell what's gonna happen.


——難民へのドネーションプロジェクトも行われていますが、アートと社会の関係をどう捉えていますか。


Jusus「そもそも特に表現したいものがなければスタジオの中でこじんまりとやっている方がいいわけで。それをこうやって公共の場でアートをやっている時点で、自分の声を世の中に出していくことが大切だし、意味があると思ってやっているということなのです。私はアートを通して世界を変えられるわけではないかもしれないけれど、考えるきっかけや世の中が良い方向に向かうきっかけになればいいと思っています」


— You don't have to answer this if you don't want to since it's kind of related to politics, a little bit, but, the question is, so I'll ask you and you can decide whether you want to say it or not, so a lot of the work that you do, like the donations to refugees and other several things, but in the current state of the world where a lot of places are divided, how do you feel about the current way the world is?


Justus: Big question. But I think that if you make work in the urban public, and you have nothing to say about society or the world, you should just go into a studio and paint. So painting out in the public is already forcing you to have your own personal opinion of what war is. Because there's so many people who does, and I would not say like art is gonna change it, but it make people start thinking about stuff or argue and discuss something, yeah. You should lift up your voice when you want to say something about society or… If you have something to say you should do it.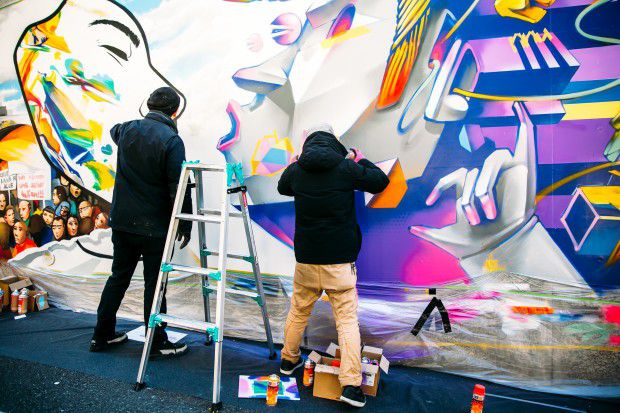 http://iamcor.com/


German Embassy Berlin Wall Project
https://www.tokyodex.com


photography Layla Shibukawa
interview Ryoko Kuwahara