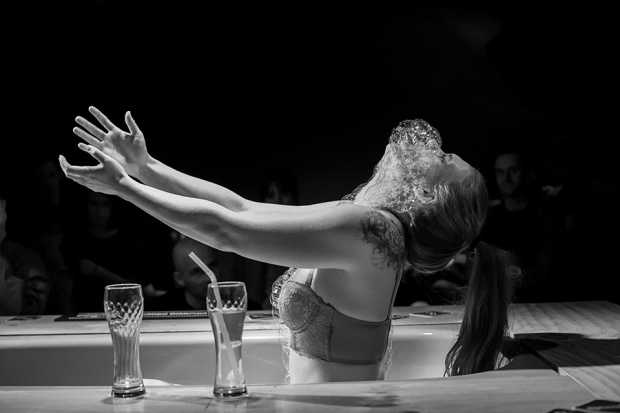 Photo by Iris Bergman


Confronting social norms is what The Performance Bar does best by functioning as not only a bar but a space where borders between different artistic mediums become blurred, allowing materials and institutions to move fluidly between each other. This is not the first time that founders of this bar -Daniel van den Broeke and Florian Borstlap- made heads turn however; previously making headlines in newspapers for their wild parties that allowed the public to take a breather within their hectic modern life schedules. It is safe to say that the Performance Bar has grown into a vital space for society to have a drink, put their phones down and let loose. Daniel talks to me about the last four years they've had since its establishment and taking their presence online. (→ in English)


-Confronting social norms is what you guys do best by combining theatre, art, clubbing and entertainment but how did this concept of a bar that also functions as a place for theatre and entertainment come about?


Daniel: Florian and I were at a festival where we had the opportunity to run a tent there for 6 days.The name of the tent was cafe Ik, but it didn't have a bar so we got enthusiastic to make one. We had no budget which is why we went to look on the internet to find things that we could get for free. The first thing we saw was a bathtub and an musical organ so we decided to build a bar around it. People started talking about this crazy little tent where these weird things would happen all the time. Never the same thing happened because we were improvising everyday. After that week, we realized how much we loved it. When we took it apart, we couldn't put it back together again because the wood was low quality so we decided to start a crowd funding campaign to make a 2.0 version made out of wood and steel. When it was finished, by coincidence, I was talking to the director of WORM. He told me that he had a new space which he showed me and I said to him, 'Wow, I think I have a really good concept for this space.' I told him about the bar and he asked me to send him a proposal. That was the moment when we realized that it was actually something that could become reality. We got a three months trial period and then it extended to a year. Now it has been four years.


– You have a strict no phone policy. How has this changed the way people behave in the performance bar compared to other bars do you think?


Daniel: I see that it makes all of the difference. At The Performance Bar, you don't see people looking down, staring at a screen. When people are looking at their phones, they cannot be fully immersed in the atmosphere of the space so in a sense we are forcing people to be 'in the moment'. When people feel uncomfortable, you make them go through that feeling because they cannot revert to anything else. People tend to stay longer and interact with each other more as well. When you are in a bar and look at instagram, you always feel like there is something better going on somewhere else you know? Another thing is, some people just filmed the performances without looking at them properly. I think that's a real pity because when that happens, you think 'I'm filming it so I don't have to look at it now.' We put a poll on facebook whether or not we should ban phones in the bar and about 90% said yes so that's what we did and it has been like that ever since.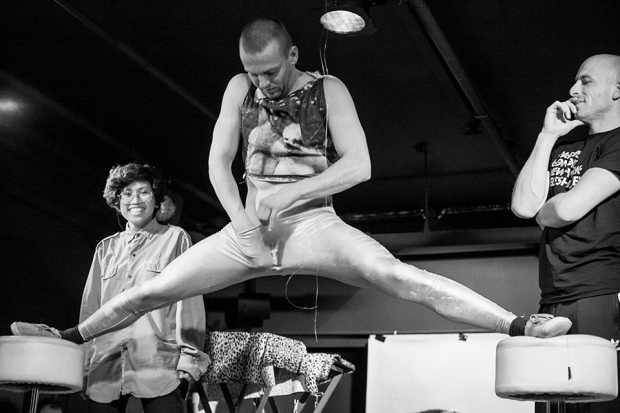 Photo by Iris Bergman


-People can sign up through the website if they want to perform at the Performance Bar. Anybody who completely blew you away and gave an outstanding performance you had not expected?


Daniel: This is almost every week. Sometimes you see people do things for the first time. It is a beautiful experience to be in a bar where everyone carries the same tension together and puts their energy towards the performance happening in front of them. People stand around the stage and you are not only a spectator examining but also involved in the view of others.
A really beautiful moment was when one of our guests, who then became a volunteer turned into the performer of the night. She was really excited about it and her friends were there to support her. To me, when someone can finally express something that is bottled up inside them, is really beautiful. There is no faking here. You need to be real to be able to stand on that stage. We get a certain kind of performer who really feels the urge to be on our specific stage.


-Could you elaborate on what you mean by a certain performer?


Daniel: I think the performers who want to stand on our stage are looking for a very social experience. There are a bunch of reasons but you have really direct contact with the people. Because of the entourage, it is also less serious here. It is not a white cube. So you can really get more responses from the viewers who feel more free in this kind of surrounding.




Photo by Iris Bergman


-The Performance Bar believes strongly in non conformity. As nonconformity becomes the norm in the performance bar, how do you think the bar is helping the real world in breaking boundaries and social structures?


Daniel: Me being a child of the baby boomer generation in the eighties, I really had a lot of free influences. The childrens tv programs were super artistic and weird in those days. I really feel like people with crazy and weird ideas were raised with this medium. So it really did influence me. In a sense, I was already confronting social norms from a very young age.

We describe this bar as sort of a massage for the mind. We get people who have serious jobs that appreciate having a place they can come and relax on a Friday. We try to influence the outside world, in that sense. We have a party called Pas de Pantalon which is a party where everyone needs to come in their underwear or even naked. It's a really big success and it is always sold out. People tell me that it is really liberating to be in a space where one can be more sensual without being harassed. We have a super high standard so we double check everyone for the reason why they want to come to this party. If people are made to feel uncomfortable by someone, we talk about it right away and get things straight. I am really happy that we can do this. This bubble that we create is not something that not only brews here but people can take their inspiration somewhere else and so it spreads. It is very real, things that happen here.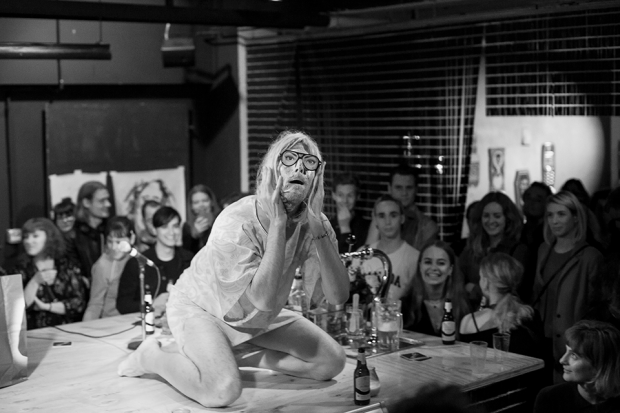 Photo by Iris Bergman


-The Performance Bar is an initiative under the art institution WORM. How did you think WORM has shaped Rotterdam as it plays a major role in the current avant garde art scene here?


Daniel: I know WORM from the start. I think it plays a huge role as of now but it started with supporting the weirdo arts and culture scene here. There were some really clever people who were good at showing that it was important and pushed to get some subsidy for the initiative. Gradually, it became a space where that is inclusive for artists that might otherwise not find a place. There are many people who are excluded from certain art venues, maybe because the rules are too stiff for them or the entourage is too much. WORM is a place where you can freely experiment and nowadays it is getting a lot of recognition for it. In a way, the experimental feeling of worm is like a treasure to the Performance Bar.


-I have heard that Rotterdam is known for its underground music scene and the art scene is less commercial than other cities in the Netherlands. However, some are concerned that the underground scene is slowly fading away as gentrification increases. Do you feel it yourself?


Daniel: The underground scene has definitely been fading away. But it also has been replaced with a lot of young spirited people who do interesting stuff with the same energy but operate less underground. I think this vibe in this city has been growing but the cultural scene is still being controlled very much old people by that have no real clue about what is actually going on here. It would be nice if the government would really acknowledge the quality more because they are talking about 'grassroots movements' but in the end the big institutes get all of the money.
The gentrification can be really ugly sometimes. I think the day we see a Mcdonalds here open on the streets where the Performance Bar is situated, will be the day when I cry.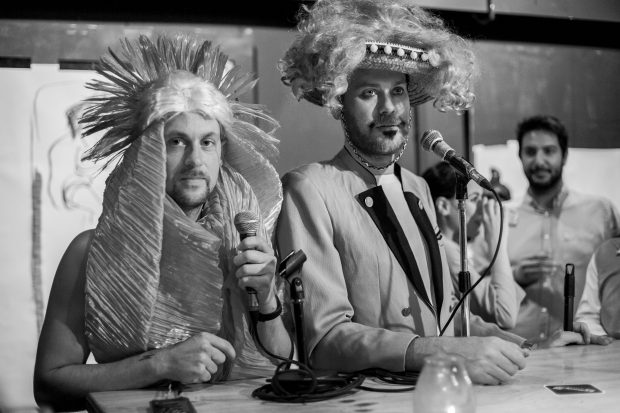 Photo by Iris Bergman


-What does The Performance Bar have in store for the future?


Daniel: The Pas de Pantalon has been planned. We are starting a two year program so we don't have a lot of events planned but we have our fourth year anniversary coming up. On this event, we will launch a virtual performance bar. A platform where performers will be able to create digital art/performances online. So it would be really cool if people from Japan could watch and create performances as well. We are making a showcase for this and hopefully build on it. It is going to be called the pre-formance bar. We have a passion for using this space for digital art, hopefully becoming a little spaceship one day and fly away.


text Ayana Waki


Performance Bar
This transformable stage/bar blurs the boundaries between café and theatre, bar and stage, artist and audience. The Performance Bar presents all kinds of acts that span across the categories of art and entertainment.
https://www.performancebar.org/
https://www.instagram.com/theperformancebar/