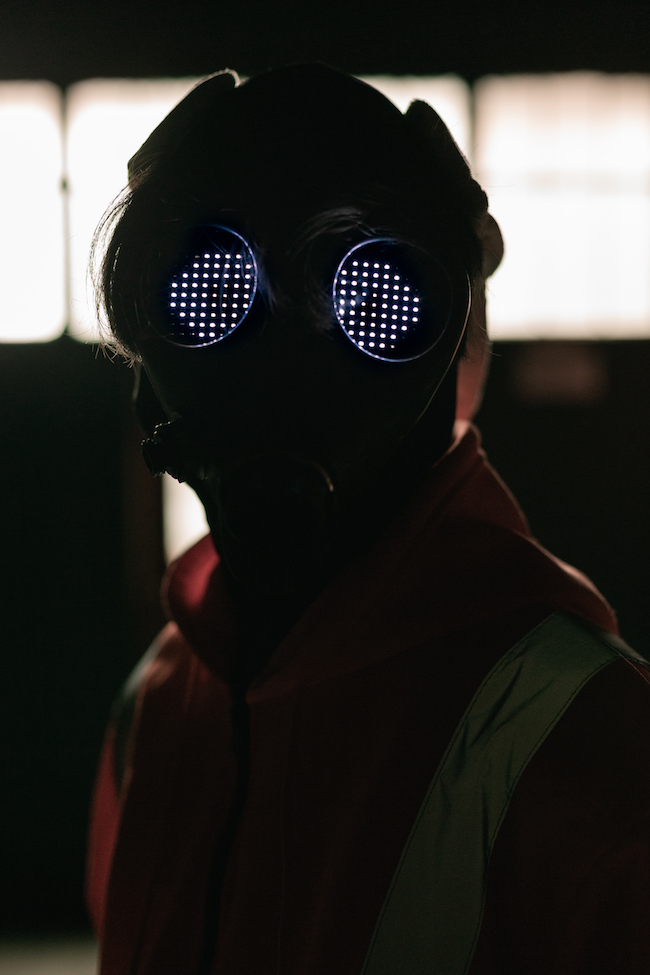 – How are you spending your time these days? Can you tell us something that you enjoy doing or supporting you and things that are going through your mind lately?


CSH: I've been trying to keep busy. I jumped right into trying to work on another project and I've been making music with my roommate. So I started to put together more pieces on that. I've got a pile of books in my living room that are half read. So I have been spending as much time as I can, going through those. Just keeping notes to myself, writing thoughts down as they occur. I feel like it is easy to lose track of time of what you are doing day to day so I kind of want a document of what I am thinking. Random ideas or whatever is occupying my thoughts, I try to write it down. Kind of a new thing, but I am trying it out.


-Your new album comes out in May. How do you feel right now?


CSH: I'm feeling good. We are pretty close now. I feel like a lot of the rockier passages have been cleared and we finally got it down and submitted. Our merch person just got hold of the vinyl today so she can start shipping stuff out soon. We are excited about that. I think more songs are going to come out and hopefully more people talking about it and listening to it. I am looking forward to the whole thing rolling out.





-Your records up until now were about complicated emotions and life events during adolescence, which were sung through dramatic storytelling and honest psychological descriptions. On the other hand, the album sings about unfortunate things like war and blood bleeding. I got the impression that you were conveying themes such as struggle, savior, death and regret through these things. Why do you think this style of your record changed this time?


CSH: I think my music has always had a dark side to it. I definitely was writing plenty about death earlier on. But I think it becomes more of a reality as I get older and I start thinking about it more seriously. I had a time of my life where I felt like I was younger than plenty of other people but not I'm inherently young anymore. I am past the stage where people say that I am too young to be doing this stuff and into the phase where I am just a normal person doing it like the rest of them. Coming to terms with that, is a lot of what the album is about.


-On the song 'hymn', the lyrics "my life marooned on trivial pursuits, If I give this up will I be saved? Will my life be spared, what will take its place." sung desperately, leaves a strong impression. Can you tell us how this song came about?


CSH: It was a very quick song. The quickest on the record that came about and we had been in the studio getting pretty stressed out about things. We had most of the record there but we had missing pieces that we were trying to fit in. We weren't getting anywhere with it and in the midst of that, crescendoing into a panic about it. I ended up pulling that song together in about a day or so. It captured the desperation that I was feeling at the time.


-The song 'famous', that seeks help singing "I need a break, I need a life that's right. I need to wait." also touches my heart. Can you tell us how this song was made?


CSH: That one was pieced together over a longer stretch of time but trying to keep a stream of consciousness and feel to it. The music came first and it was very chaotic and had these weird vocal samples throughout my own vocals. It felt like a very raw song musically so I wanted to capture that lyrically as well. Whatever I was
feeling that way or feeling like I can channel that emotion. I tried to write short little lines for the song that kept up this feeling of isolation, loneliness and desperation. It ended up still being a pretty simple and concise song but with thoughts that roam all over the place.





-I'd like to ask about the sound of this record. This was a collaboration between Car Seat Headrest and 1 Trait Danger which was a project by you and drummer Andrew Katz. Can you tell us why you decided to make the record with this new approach?


CSH: It was on my to-do list for a while. I had been playing with Andrew for four or five years now. I always knew that he was making his own music and producing his own stuff. When we went on tour, he would produce stuff and incorporate us into it and what he was working on became 1 Trait Danger. I was already involved in that so it was natural for me, when we were putting stuff together for this record, he would be involved in that and we would be going back and forth between the two projects. The personnel was the same between both of them.


-On the press release, it says that the band recorded the album twice. Once live with the band and once as 1 Trait Danger in a midi environment using purely synthesized sounds. Can you tell us the specific process of how you did this?


CSH: We went back and forth. There is no fully complete version of either end of it. There is no completely live version or synthed version. It was just starting it off on one leg and once it gathered enough material, if it had a chord progression or a tempo, some sort of structure that I could pass along to the band, I would take it to the band, and we would play it. Periodically, we would be going into the studio to play stuff live and really try to focus on what sounded best or better in the studio. See if we could pull anything to pull it, but ended up combining everything between the synths build up project and what we were recording live in the studio. We were adding stuff together as we went.





-What were some of the ideas, images and important things that you had in mind when actually making this record?


CSH: It definitely varied song to song. I would get a couple of ideas for each song and would want to build around that. I didn't have themes that I was consciously passing throughout the album. I think that always happens on an unconscious level. Consciously, I would just be working with a few ideas per song. On 'Can't Cool Me Down' for example, I'd been sick a few times and sick on tour. I started getting this idea of putting this song together that was about being ill, mentally or physically and being in a different state of mind. I wanted to not expand it from there but intensify it so the entire song is pervaded with that idea. So each song is an attempt to do that.


-On your official website, there is a statement that you wrote about this record. "If there is a new genre emerging in our times, it will come from new ways of listening to all types of music, of methods of creating music at an unprecedented level of affordability and personal freedom of new audiences to embrace the works." That part stuck with me. Does that mean this album came out of such change in the environment of surrounding music such as streaming services and how digital technology became widespread?


CSH: For sure. My listening habits change based on that. As soon as the internet really offered a way to listen to music, that was where I was because the alternative at the time were CDs which were more expensive and harder to get a wide collection of music going. First I got used to getting music online and illegally downloading stuff but then once streaming came along, it basically provided a legal option to do the same thing. So I have been doing that since streaming started getting its ground. It definitely changed the way we listen to things. It is a lot easier to jump from artist to artist, to discover artists and find individual songs that might have been buried in an album somewhere in previous eras that can get unearthed in its own right. I was definitely hopping from song to song and I think that influenced how I was thinking about the album and the songs as individual units instead of in album context.





-Two years ago, you covered Frank Ocean, Death Grips and Outkast at your shows. I can hear how you are influenced by hiphop music and black music from songs such as 'Hollywood' and 'Deadlines'. Are you consciously playing off these influences of hip hop and black music onto these songs?


CSR: I am conscious of it. It is interesting music and I listen to a lot of hip hop and the modern stuff that is going on right now has an appeal to it and sort of the history of it as well. It has got a very simple, unadorned power to it where it is just the beat and the rapper over that beat, conveying the energy. To me, that is a lot more appealing than something that is really built up into a pop spectacle but doesn't have so much weight to it on the performance side or singer/songwriter side. I wanted to challenge myself to create songs that worked on that level. Hopefully not directly ripping off that type of music but incorporating elements of it, into what I was already doing.


-Can you tell us some other music or records that became influences or inspirations for this album? If you were to release a playlist along with this album, what kind of songs would you choose?


CSH: I think there is a playlist on spotify. In terms of albums I fell in love with a couple of Miles Davis records making this one. I listened a lot to 'Get up with it' and 'Live-Evil'. They definitely influenced the process of putting this on vinyl because it is a different art; getting to understand a twenty minute side limit and crafting a record around that. So I was conscious of that, making it especially for vinyl. Other than that, it was a bunch of little stuff like making plans for Nigel and XTC is on the top of that playlist. I was listening to a lot of Doo-wop as well. There was a lot of Dion and the Belmonts influence under the record. Whatever I was exposed to at the time, I was trying to be open to and include whatever was good about it in my own work.


-On the press release you said that "Underneath all of these things, these may be folk songs because they can be played and sung in many different ways." Is there a chance that these songs on this album might be arranged and played live or recorded in different versions and released in the future?


CSH: Yeah, that is possible. I am actually preparing right now. Trying to practice on acoustic guitar and rearranging these songs so I can play them live. Since we are all stuck inside I might live stream stuff. But yes, that was one of my goals for this record so that if I wanted to, I could just pick up an acoustic guitar and play it all the way through. I think that is a mark of how strong the song is. If you can take it out of its original context and still make it work. I kind of see these studio versions and this album as sort of one rendition of the songs. They are renditions that I like because I spent so much time on them and we are releasing in that way. But there will definitely be alternative live versions and maybe alternative recorded versions eventually. Anything is possible.





-What is the message behind the title 'Making a Door Less Open' ?


CSH: In a way, it is meant to be ambiguous. Like the name Car Seat Headrest, I think I didn't invite interpretation off the bat. I wanted something that could be a little mysterious and sort of invite people to listen to the music. I also see it as a level of intimacy where the people inside the room and you can close the door and you can have a special time with whoever is inside of the room.


-This year marks the ten year anniversary for Car Seat Headrest since the band was formed and made its debut. Looking back, how have these past ten years reflected on yourself now?


CSH: I feel like I have lived a lifetime. I was in high school when that started and I went through college, recorded a bunch of music, left college, got signed with Matador and continued to make music. That stretch of time feels unimaginably long to me. At the same time, when I look at the music that I had made, I definitely see a connection right back from the start. Even earlier, I feel like in a lot of ways I have not changed that much and maybe the world hasn't changed that much either. There are things that changed but my goals haven't changed and I still want to make music and that feels significant to me. When I think about the span of ten years, I still want to do the same things that I did and I am still proud of what I have accomplished. At the time as well when I started Car Seat Headrest. I already felt pretty good about where I was as someone who could make music and I wanted to prove that to the world when I started this project.








text Junosuke Amai



Car Seat Headrest
『Making A Door Less Open』
(Matador / Beat Records)




2020/05/01 FRI ON SALE

¥2,200+税

BEATINK.COM:
http://www.beatink.com/products/detail.php?product_id=10884
Amazon: https://www.amazon.co.jp/dp/B0857CYYV5
TRACKLISTING
01. Weightlifters
02. Can't Cool Me Down
03. Hollywood
04. Martin
05. Hymn (Remix)
06. There Must Be More Than Blood

07. Deadlines
08. What's With You Lately
09. Life Worth Missing
10. Famous
11. Deadlines (Alternate Acoustic) [CD-Only Bonus Track]
12. Hollywood (Acoustic) [CD-Only Bonus Track]