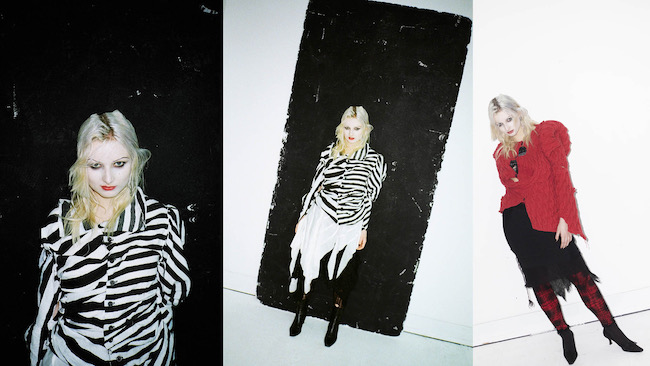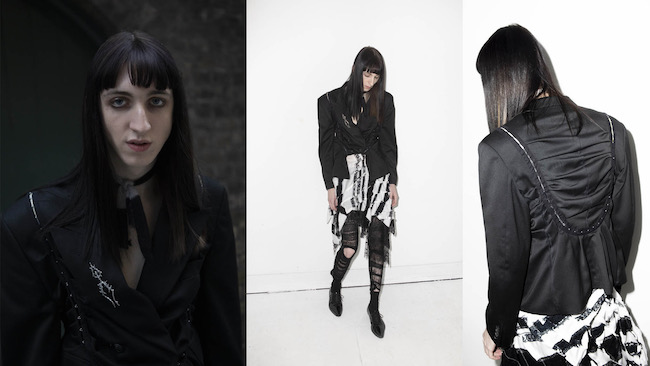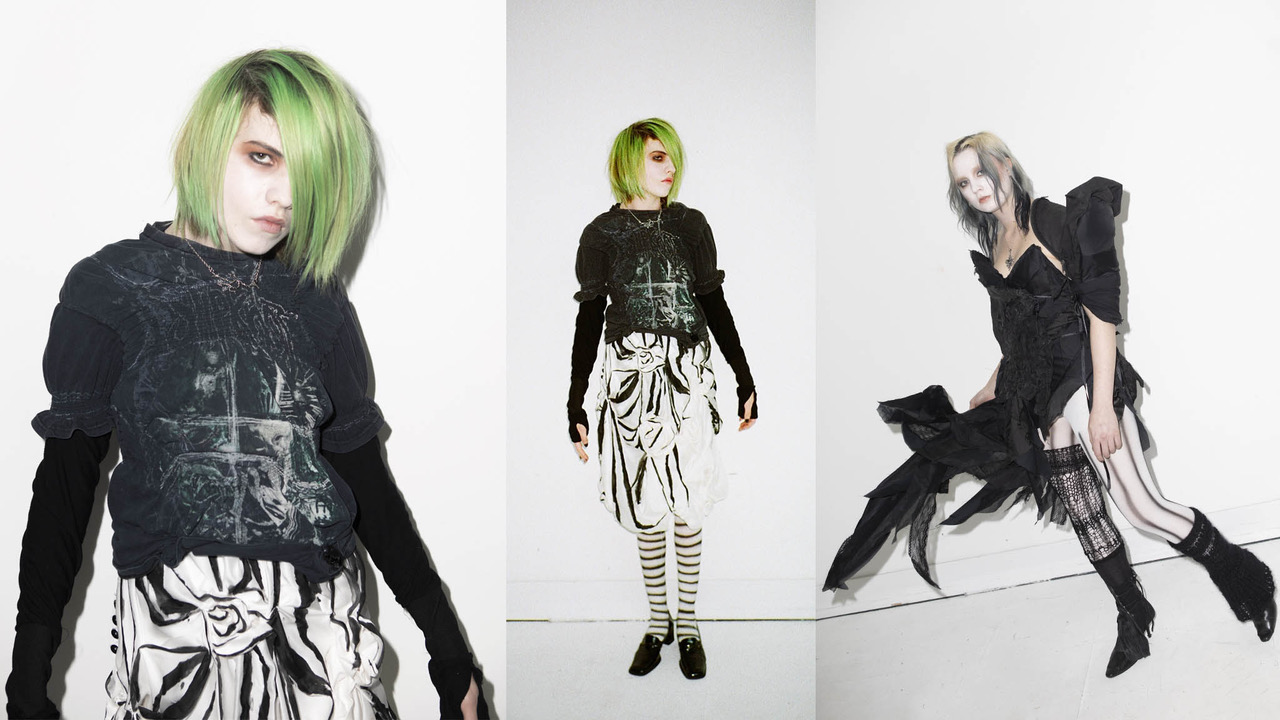 ―What was the reason you decided to take MA in fashion design?


Sarah : I decided to take an MA in fashion as I felt that I left my BA with a lot to still be explored creatively. Started my BA without the ability to sew and pattern cut, so focused on learning the skills. When I got onto the MA I was able to apply everything I learned to fully express my creative identity as a designer. I also chose to do my MA at CSM for the world-renowned reputation, and longstanding strong connections within the industry. Since I was very young, I have always felt that doing the MA in Fashion at CSM was my ultimate goal of personal achievement.


―Did you feel limited doing your final collection during the lockdown?


Sarah : This list is endless but I will try and state the most significant challenges!
Unfortunately, very much so. Some people saw the limitations as 'an exiting creative opportunity', but sadly I did not. I live at home still with my mother and 3 younger siblings, 2 of which are in high-school, so I didn't have the physical space or quietness to work to my best potential at home. I also couldn't afford proper machinery to sew or to pay for the technical help and seamstresses that we would normally get given in the CSM studio. We also didn't get first year helpers and assistants, which is part of both the MA and BA fashion courses every year, but this collaboration couldn't happen due to social distancing rules, this felt like another huge disadvantage.


I also found online fittings and tutorials for my collection really impractical and awkward, the tutors needed to see the clothes on a body in 3D to get a full impact, as did I to get sufficient feedback. It just didn't work!


Towards the end of my collection in January I felt I had no option but to my own studio out of my own funds, with no help from the university. I just didn't have an appropriate place for this level of manufacturing at home. The studio was freezing-cold and I still didn't have a proper cutting table, mannequin or industrial sewing machine, but I still managed to do my best to create a collection that I was very happy with using limited resources.


Having to organize our own video presentation and curate a digital space added extra work and challenges to the equation. With the physical show of previous years, models, hair, make-up, location and dressers would be largely organized for us, whereas this year we had to organize it all ourselves. I was incredibly lucky to find a fabulous team to help me!


There were also really basic things that I was limited with, like being able to visit fabric and yarn shops in person, most things had to be ordered online or via click and collect, which meant I could often not see them before I purchased and had less options.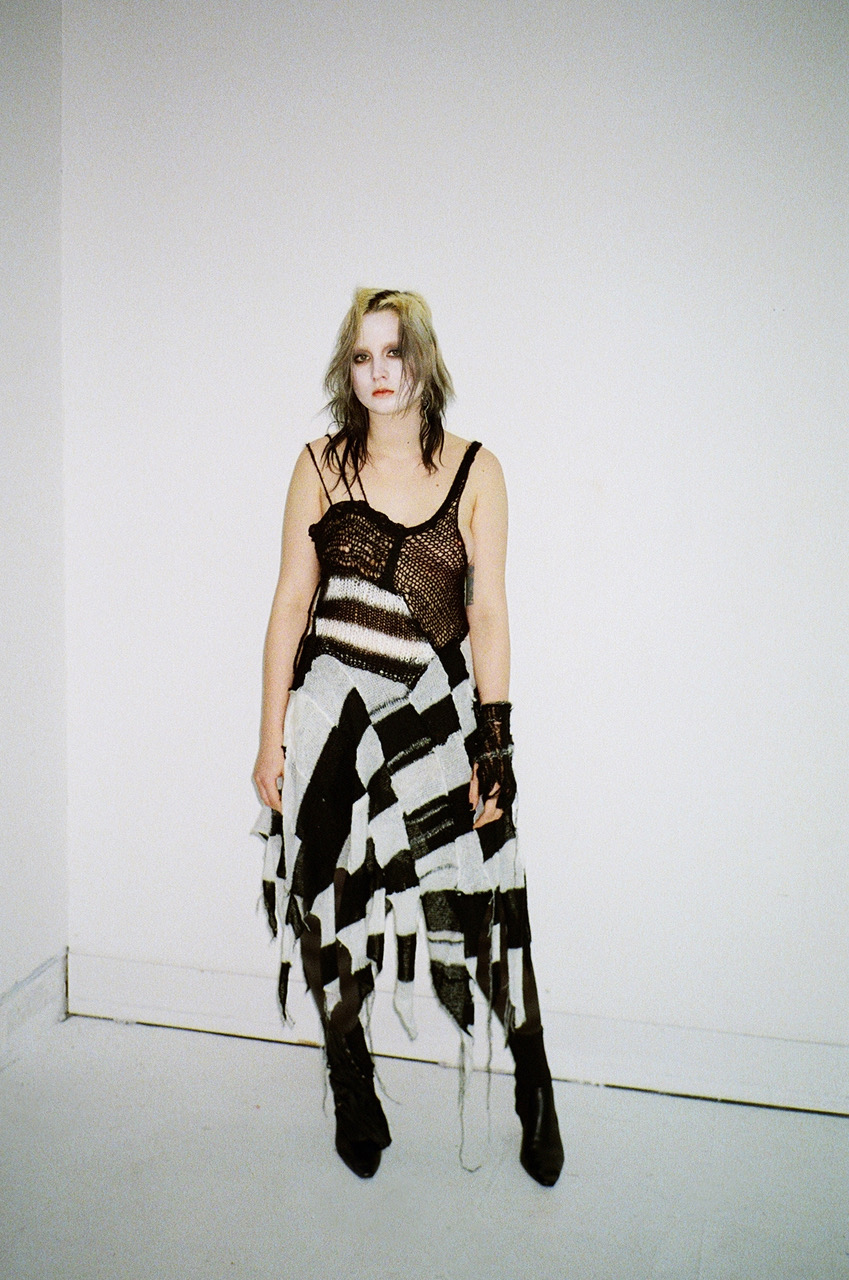 ― How do you think doing a MA course during the pandemic prepared you for the industry? Do you think your creative process changed throughout?


Sarah : Doing a MA course during the pandemic made me realize I can really design and make a collection on my own, with limited resources and very little money. Making a collection in the beautifully spacious, fully equipped studios at CSM is a limited privilege.It made me realize that the design skills come from within me, not fancy machinery or expensive materials, and whatever happens in my life I the future, I will still be able to create something wonderful with very little.


This has been great preparation for me thinking about how to approach challenges of how I would be able to start my own fashion brand. I think it has made the transition easier already being in a similar position, than going from an environment where I have a lot of faculties and help to being on my own with limited faculties.


In terms how my creative process has changed, I am much more resourceful and work more instinctively.
For example, due to the limited access I have had to materials, I have used a lot of fabrics that I already had, inherited from family and friends, and reworked garments. With my approach to pattern cutting, I found I was able to achieve the shapes and silhouettes I wanted to through draping straight onto the mannequin, instead of traditional flat-pattern cutting. This worked in my advantage as I didn't need the help from the pattern cutters we would get in the CSM studio to do this, I could resolve the pieces on my own this way, often with more interesting outcomes.


I invested a lot of time in the spring lockdown teaching myself to knit, something that I always wanted to learn to incorporate into my work but had previously felt I lacked the time to learn on my Womenswear pathway. After I mastered it, I fell in love with both hand and machine knitting, which came to be a significant part of my final collection.


―At Central Saint Martins, what were two classes that changed your design philosophy/ helpful for future jobs?


Sarah : I think 2 classes that really changed my design philosophy at CSM were, Fashion Context and Theory, led by Reba Maybury and the live industry brief that I had with Tod's.


During the classes with Reba, we explored conversations about representations of gender, race, sexuality, class, and the stereotypes surrounding these topics within the fashion industry.


These classes highlighted to be as a designer, we really need to be aware of where we sit culturally and politically within fashion, how we are representing ourselves and who we are representing. It's also essential to constantly question how is your work progressive and inclusive, which I feel it must be in this present day especially and not, how can it become so?


The final outcome for this unit was to write a Manifesto and a Rationale about the intent of our collection and ourselves as a designer. These classes really helped me to understand what I wanted to say and represent through my work and establish who my community and market level were.
I also took part in an industry project with Tod's, where I was asked to design a capsule collection of 5 shoes intended for their brand and market level. This really pushed me to think more commercially, learn how to adapt my design identity and creative process to suit a client, and produce more technical designs, with material specifications ready for manufacturing. I think as my graduate collection, is very creative and expressive, it strengthens my portfolio to have a project that is much more product focused too.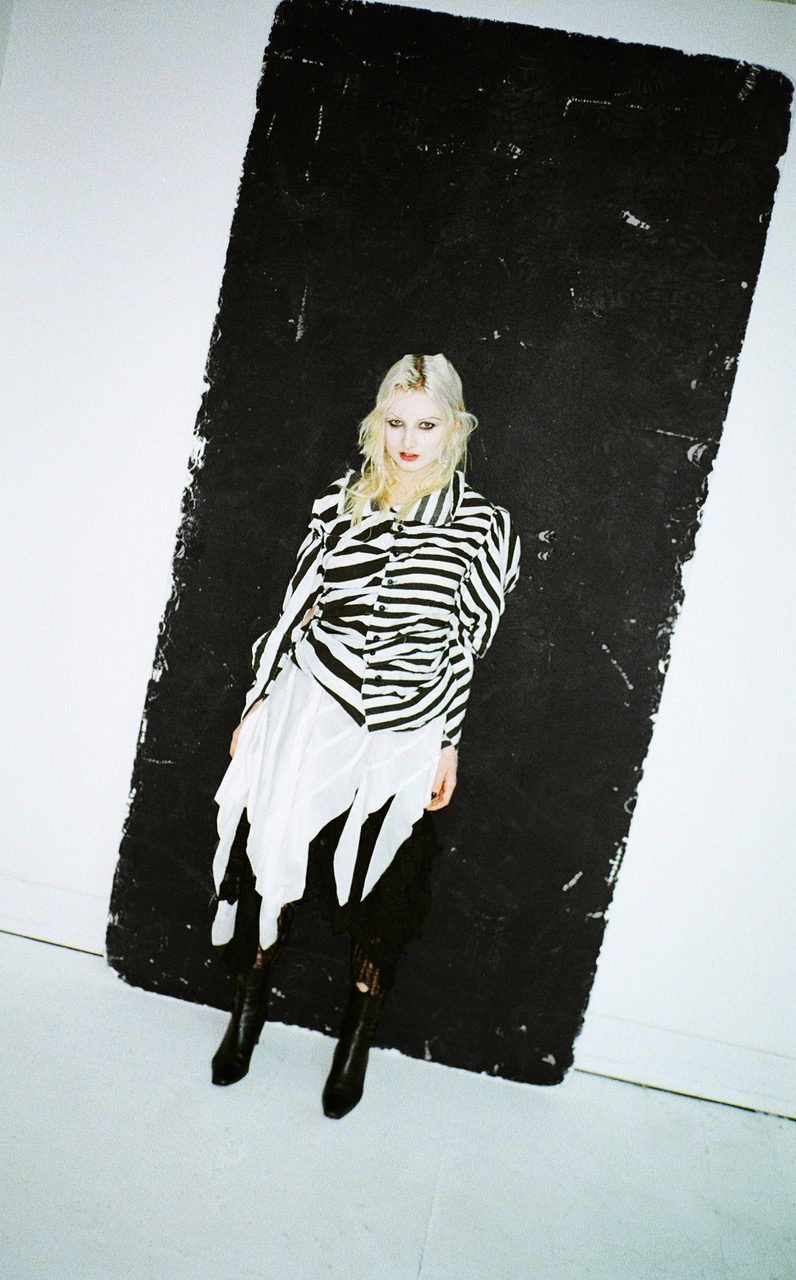 ―Can you briefly describe your graduate collection?


Sarah : An imperfect manifestation of beauty that feels tainted and slightly haunted.An honest expression of anger, pain and sadness.


My collection is purely an honest expression of self and style identity. Growing up as teenage goth, as a young adult I have enquired to unpick stylistic codes within the history of the subculture, break down pre-existing tribal conventions, and construct my own new codes.


I am rebellious not only in the overall 'look' and cultural context for my clothing, but also in my approach to cutting, making and textile development. Not using conventional patterns but going straight into instinctively draping with urgency, reworking found pieces of significance to me and hand-sewing in a strange juxtaposition of DIY and couture techniques.


Black and white stripe, one of the most defining features of my collection, which I have worked with in unusual ways as part of my design signature as it evolved over the past couple of years. Not only do I find stripes visually striking, but they also have strong prominence within subculture and horror movies, especially characterized by the visual world of Tim Burton, a creative I immensely admire, who has created their own complete vision of 'gothic' that is so recognisable.


―Do you think your work express your identity?


Sarah : Yes absolutely, my work is almost purely about exploring and expressing the most honest and true version of myself and my aesthetic world. It's almost painful personal at times, I can full fully exposed, but that's the beauty and rawness of it I feel.


―In your graduate collection, what did you want to show the most? (Concept, craftsmanship etc)


Sarah : The most important thing I wanted show within my collection was making a very clear statement to the industry and fashion audience what my brand identity was. I feel I have a very distinct style and wanted to make sure it was delivered in the most impactful way possible to cut through all the noise of new fashion graduates and young designers today, to stand out.Craftmanship is equally important to me, every piece is a one off and not easy to reproduce, using my own techniques that I developed. A lot of the pieces are hand knitted and sewn, the jewelry was sculped by my collaborator Kirsty and hand-cast in Glasgow. I utilized close up shots in my video presentation and lookbook to show of the craftmanship and intricate details.


―Where do you go for research or inspiration? (websites, books, places)


Sarah : The main areas I source inspiration are old street style journals such as early i-D, The Face, Nylon and Fruits, subculture documenters such as Derek Ridgers and Catherine Balet, 1990's and early 2000's coming of age films such as Doom Generation and Thirteen, Tim Burton Films and early books of short stories, horror anime such a Black Butler and Deathnote, Aubery Beardsley, Spilliaert, 90's Alexander McQueen, Galliano, Comme, Ann D and Olivier Theyskens, Tom Ford at Gucci, Victorian London and the clothing people wore there an then, visiting graveyards and churches, and very importantly my friends, how they dress now and how they dressed in their teens. I sometimes score old Facebook pictures for people during their 'Teen Goth Phase'. Youtube documentaries about goths in 80's-2000's. Old Music videos and interviews with Placebo or NIN for example. I can go on down internet rabbit hole!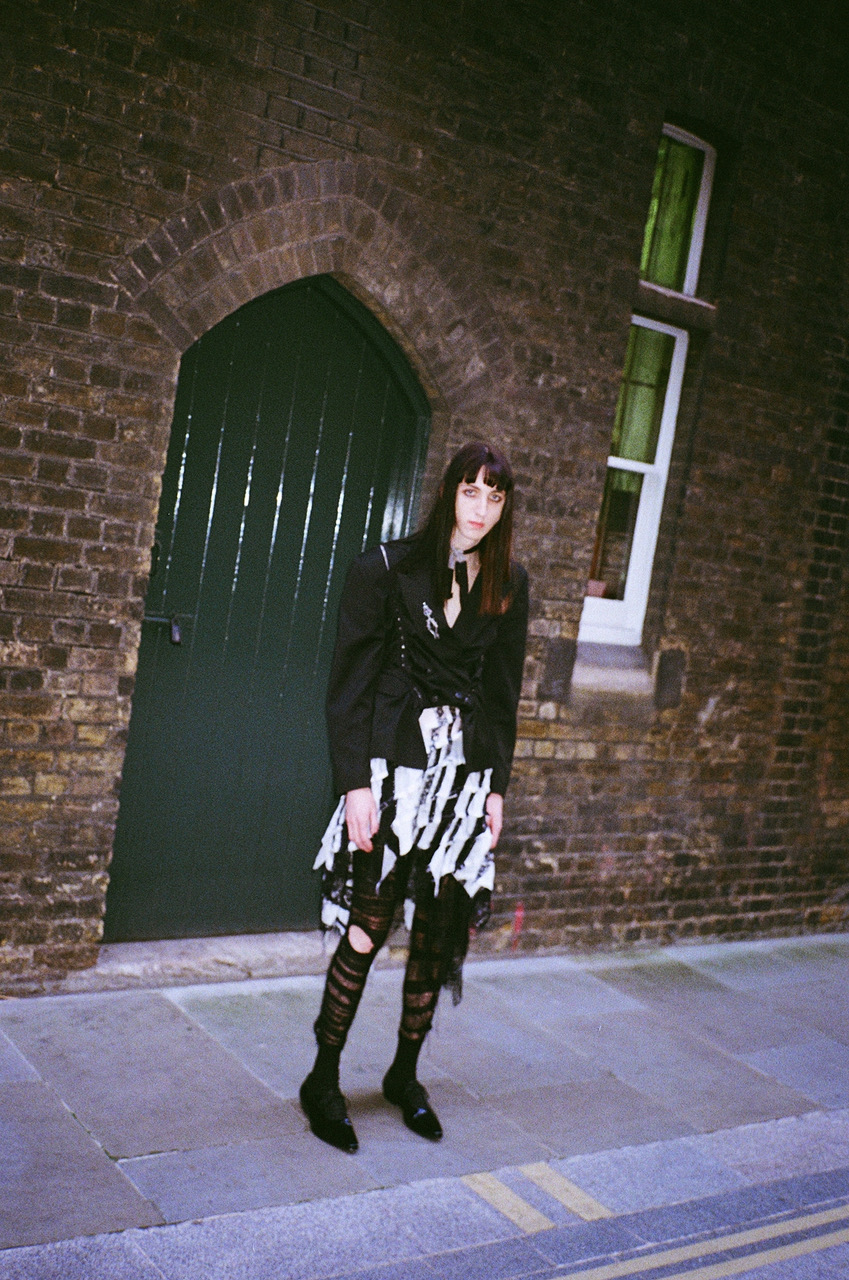 ―How do you think the fashion industry in UK, Europe will change, and how do you want it to change?


Sarah : I think the fashion industry has really slowed down it's ridiculous and damaging pace. A lot of designers have focused on producing just the core F/W and S/S collections rather than also having Resort and Pre-Fall, due to the pandemic and Brexit limiting supply and production chains. Collections also seem to be smaller, with some brands combining both men's and women's. Clothes also seem to be more focused on what is actually wearable, there is less pointless, ostentatious design.


I think this is a very good thing, not only is the pace and pressure really unhealthy for people within the industry, but it also creates so much waste and so many more c02 emissions through the huge quantity of production and resources used. 2 collections a year (per gender) from a brand I think is enough, most people in the developed world already possess enough clothes, buying new clothes each season is an indulgent luxury. the


Brands now combing genders within collections are also taking a step in the right direction, as conforming to gender conventions, roles and stereotypes has now become an outdated construct to many consumers, rightfully so I believe!


――Living in the UK midst of Brexit, do you feel the shift in politics and lifestyle? Are there changes in the British Fashion scene?


Sarah : Brexit has only been in action very recently in the UK and I live in London which is the most diverse and metropolitan city in the UK, so I haven't felt it hit just yet. Growing up, the UK has felt quite European to me culturally and in how we dress, it felt interconnected, however I am expecting a shift. There will probably be less imports coming in from Europe which may affect everything from how we eat, to how we dress to what cars we buy.
As someone of Polish decent I feel very disconnected from my heritage right now. I'm really hoping Brexit doesn't pave the way to British Nationalism, racism and discrimination.
I know that it now getting harder for Europeans to work and study in the UK. They now have to pay international Fees for CSM courses as opposed to the 'Home/EU' fee, which will make it inaccessible to many.


I'm personally worried Brexit would affect my ability to make connections and find work with European fashion houses.
I don't think there are changes in the 'scene' as of yet, but it may become more focused on British Heritage than European imports at bigger houses.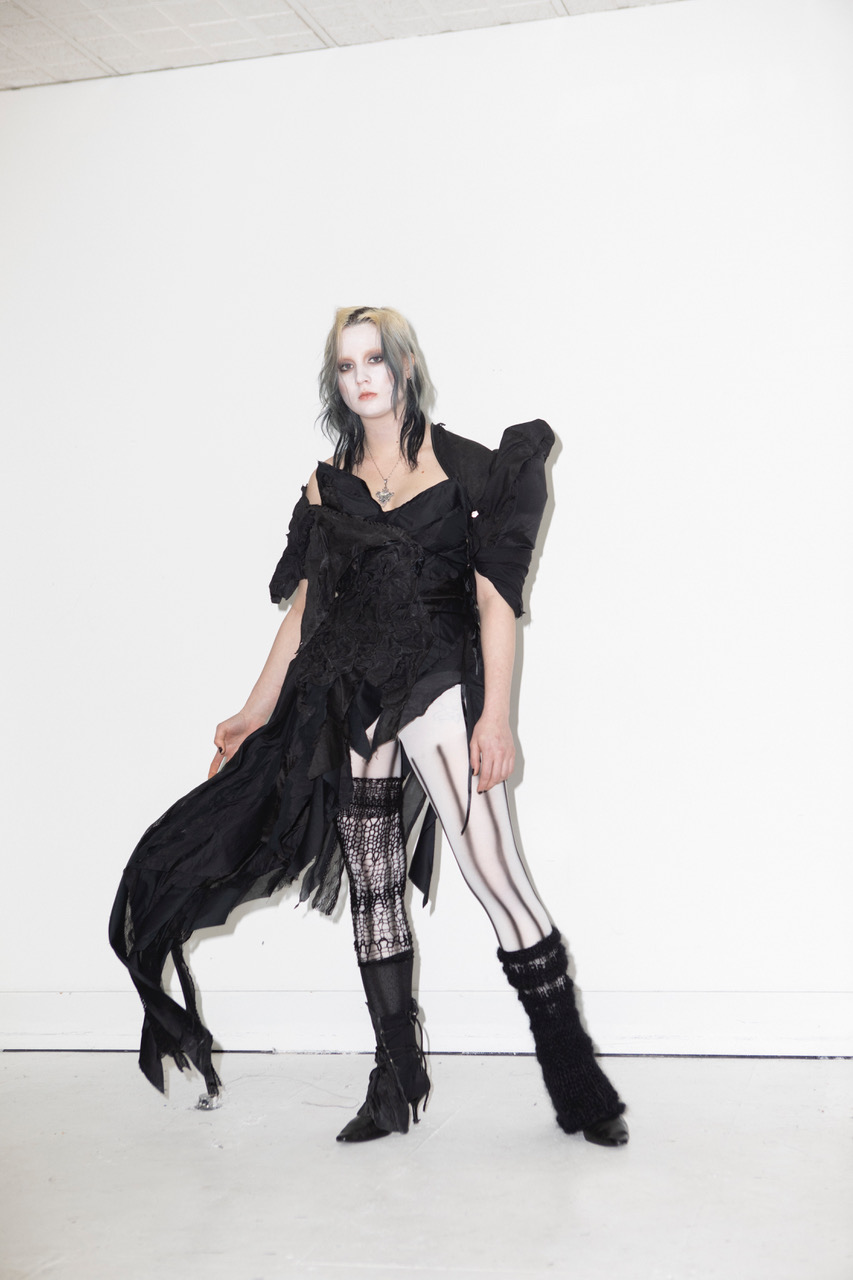 ーWhat do you think about the British Fashion scene, and the role of Central Saint Martins in that industry?


Sarah : I think the British fashion scene is very vibrant and experimental, also quite a close knit and supportive community. I think it welcomes people from all backgrounds, and we are very resourceful, with more emphasis on creativity than high luxury, which makes it more inclusive than other cities.


Support schemes for exiting new talent like Fashion East, seem quite excusive to London, or at least originated here. Many Fashion East Alumni go on to have a lasting global impact.
Central Saint Martins is definitely an essential driving force to keeping the British fashion scene alive, as it bridges the gap between new talent and established alumni, creating connections, support and career opportunities. CSM's connection with big houses and fashion press also helps build an invaluable platform to propel students and graduates forward.
I think its very important to say that there are many great fashion schools in the UK as well as CSM, for example: Westminster, RCA and Ravensbourne which are not to be overlooked.


―Sustainability has been a big theme in the fashion industry. As the second most polluting industry, what do you think the fashion industry can do?


Sarah : This is such a huge question, there are so many things the fashion industry could do, these are the most significant changes I can think of, obviously there are still many more:


-Less collections per year, focus on most important seasons.
-Focus on designing pieces with purpose, that will sell or be worn, if even in an artistic context
-Don't start a whole new fabric story each season, re-use as much from your archives as you can.
-Try as much as possible to source locally, aim to cut down on shipping and air miles within supply and production.
-Pay employees and interns a fair wage! No more exploitation, especially from big brands than can afford to do better!
-Don't dispose of production samples, have sample sales for people who love the brand but couldn't necessarily afford full price pieces.


I think it has been good that the pandemic has limited guests travelling to international fashion weeks and they are forced to watch it online, I think it should largely stay this way for the future of the planet. There is nothing wrong with a live audience at a fashion show, but people should think twice before they fly from New York to Milan just to watch 10-minute fashion shows.


Fast fashion is possibly the most unstainable area of the fashion industry, and most of the population can't afford designer clothing so it will never go away, but I think these companies produce way too much, at such a pace, in such horrific conditions with cheap materials which can't degrade or be easily recycled, they really need to rethink their entire infostructure. Fast fashion brands are so massive that even small changes could have a huge environmental and social impact.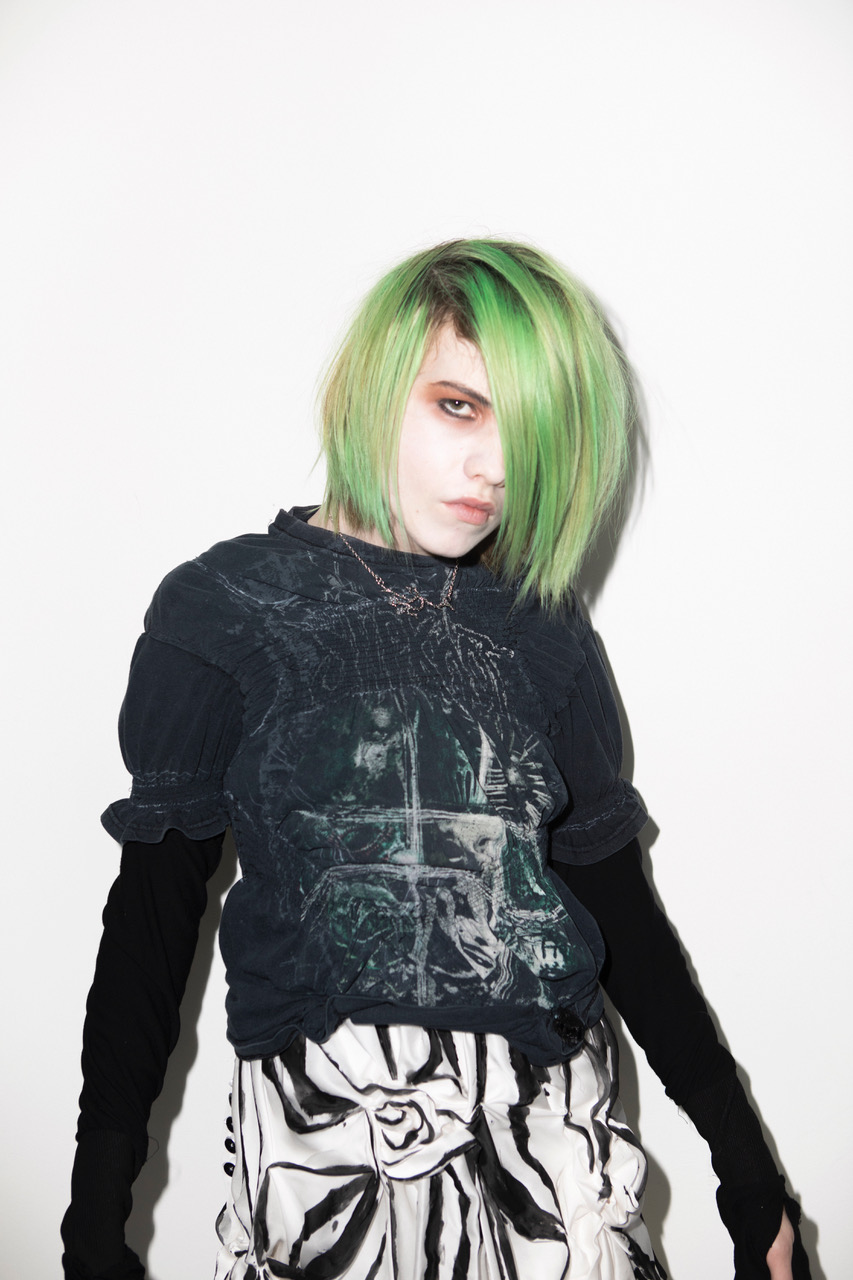 ―What brands or artists are you interested in at the moment?


Sarah : In terms of fashion brands, I really love fellow CSM MA graduates Nensi Dojaka – who makes darkly seductive and extremely delicate lingerie inspired pieces, and John Alexander Skelton, a sustainable menswear who has a strong Victoriana influence.
Musical subcultures are a key inspiration to my work, and I'm currently very by artists that combine contemporary hip-hop/rap and trap with 1990's death metal and early 2000's Emo, such as Ghostmane, Lil Peep and Kim Dracula. As well as their music, their visual style and way of dressing I find very influential currently.


- What are your plans, what do you want to do after graduation?


Sarah : I am looking for a Junior Design role at a luxury brand, ideally also in London and one with its roots in subculture such as Alexander McQueen and Charles Jeffery Loverboy. My dream would be to after that to work for the darkly elegant brands Olivier Theyskens in New York, Ann Demeulemeester in Antwerp or Yohji in Paris. I also really love what Matthew Williams is doing at Givenchy right now!
I will also continue with my own brand, it is difficult to find jobs in fashion right now, so if I have to wait a few years, I will definitely focus my energy into building my brand, making new collections, sales pieces and finding stockists.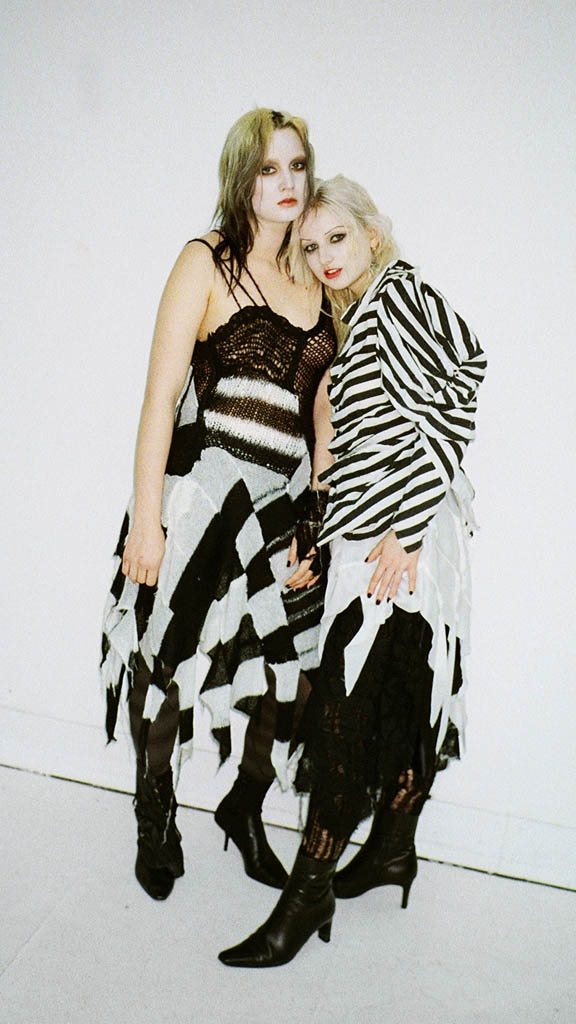 Sarah Garfield
https://mafashionshow.mafcsm.com
https://www.instagram.com/sarahgarfield__/


Photography Elliott Morgan
Styling and Art Direction Izzi Lewin
Make-Up Emma Regan
Hair Louis Souvestre
Models Jasper Leigh Vavara Shvetsova Milla Freya Walker Sam Waite-Fazio Vavara Shvetsova Milla Freya Walker
text Maya Lee