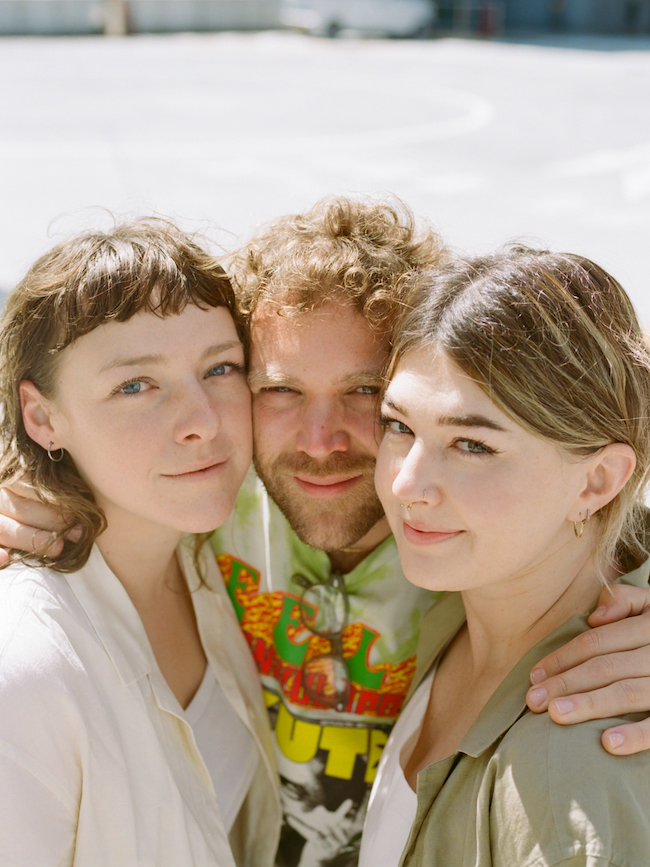 ―You released your new album in the spring and have resumed your tours. How does it feel to return to a routine as a musician?


Josh: We feel good. It was interesting not doing anything for two years and now doing lots. There was a lot of readjustment but it is incredible to come back to places like Japan and fly to see the fans. Feels great.


Christie: It feels like we have been waiting for a long time because we meant to come here in 2020 for Fuji Rock Festival. It got cancelled. We weren't sure really when we would get to come back to Japan because things kept getting cancelled. It feels quite surreal to be back here finally.


Olivia: The same with Josh and Christine. It's very surreal. It's also very overwhelming in a very nice way.


―When the pandemic started, you released your third album, 'Truth or Consequence'. With the pandemic and lockdown, was it a challenging period for you?


Olivia: We were three shows into the album tour. We played in London, D.C. and New York.


Christie: It was a shame. I feel like there was so much going on at that time and we didn't know how long the pandemic would go for. We were told that the tour had to end but we saw it as a good opportunity because everyone was at home, stuck inside maybe listening to lots of music at home. They will be listening to our album more, so there was a silver lining.


Josh: as Christie said, it took about a year to realise that we had lost that moment. At the time everything was spinning so fast. For me, it was about a year later that I began to realise that this album was defined by the time. We had some nice messages that our music was a comfort during that hard time which was a nice thought of mind.





―Your new album, 'Present Tense' is special because it is about experiencing the time you could not make music together. You spent time developing the process and approach of making music. What are your thoughts about this change and how was it reflected in the album?


Josh: While we were making the album, there was no guarantee that we were able to tour or that life would return to what it was. It made me learn to enjoy the process. I was able to make music as opposed to making it for a result. Sometimes when you are in a cycle where you put a record out to go on a tour, come out and all these things can happen. If you take away all that as a guarantee, you are left with enjoying being in the studio that day and working on things. I think it made me sink back into the process.


Christie: Normally a year in our lives would be a lot of touring and some writing and recording. It would be a balance or a mix of the two. This time it was a hundred percent focused on the new music. We had no idea when we would play live music again. We had a hundred percent focus on the music and we wanted to make sure it was the best that we could do. This was also all we could do. We paid a lot more attention to details that we normally had no time to worry about. Usually, we are busy with other things. I think it makes a big difference. We also spent time finding other musicians play, their recordings, other strings, and instrumentations that we never experimented too much with. We had so much time to do it.


―You mentioned you experimented too much. You had so many opinions and found difficulty in combining them as a band. Even at some point, you were on the verge of separation. What do you think was challenging?


Josh: I think the one difficult thing was us being separated. We all live in different cities and countries. Normally we could gather at a coffee shop and see or feel each other's energy. We could be hyping and saying "I think the chorus should be…". It gets a little harder to get to that human understanding level. I don't think that problem is just exclusive to us. People had that in their workplaces with their friendships and relationships. When you take away the ability to be together, it's just harder.


Christie: When we are normally together, we do fifty percent working on music and fifty percent being friends, hanging out, spending time together working on our friendship. It just happens like that. When you take away that aspect, all you have time for is to finish the album. Everyone is working and have their day job. I think that's what made it more difficult. It pushed us to find ways to maintain our friendship and communicate to work through those challenges.





―Is it true that each song in the album had five or seven different versions?


Christie: Some of them yes.
Josh: Yes.


Christie: I think that was when we realized that we experimented too much. We realized that how we worked in the past was not working for this album. It was too hard to communicate what we wanted ad to be on the same page. We had to make some hard decisions on what versions we choose. We had long conversations on facetime calls to decide the versions we would go with at the end.


Josh: There were lots of different versions and endless options. Sometimes just making a choice is just how it goes. You make a choice and you go down this route. We were making music in an uncertain time, where there was no guarantee that we could finish the album, it would come out if the record would say a good time to put it out.
Then you start to wonder what if 'Astral Projection' was a reggae song. Sometimes having a finish line where you can say no, "it will not be a reggae version" and continue with the indie version is important. But yes there are many different versions, similar to 'Truth Or Consequences' there are alternate versions. In the previous album, we released lots of different versions of the songs as an album.


―In this album, you utilized the cello, strings, piano and orchestral instruments for a slightly classic style. Where did this idea come from?


Josh: I think just wanting to find different textures that you're not so in control of. When you have other people play, their expression comes and they add something that you just can't.


Christie: Yes that you wouldn't think of.


Josh: I think that was the main thing. Trying things we couldn't do.


Christie: I think with this album we wanted to go into the world of real instruments, organic sounds. Olivia was playing real drums on every song. We wanted it to be less of the computer sounds and explore more real-life instruments which were naturally progressing from 'Truth of Consequences'. I think we felt that album went a bit in that direction. In 'Present Tense' we are living in a world where everything is very digital. Over time we wanted to connect with real sounds, especially when we couldn't be together and everything had to be recorded remotely. We could contact somebody at another end of the world and ask them to record something for us. It was a good way to try something new but was also a continuation of what we wanted to do from our previous album.


Josh: To make new friends as well. We were all craving new friends and new people.


Christie: The circle used to be very small. Now with every album, we find new collaborators and new people to mix and master. So it grows and it's cool.


Josh: Yes. I think this is the first album that all is Olivia's drums. There are no drum machines. We wanted Olivia to be as much part of it because we were feeling a bit robbed of 'Truth and Consequences' and touring. We wanted to come together as four people and have that reflected on the album.


Olivia: It surely made me feel like it. It's great. We had some nice moments in the studio with Josh and Charlie doing some drumming sessions on board in New Zealand.


Josh: We were able to talk to her and watch her do it. So in some ways, it was an amazing time for technology. If the pandemic happened ten years ago it would've been a much harder challenge. I think what is quite interesting about us and how we made the record was that we always loved it with heart and always had an element of remote collaboration. I think we had some of that skill set intuitively based on how we made music in the past. It didn't feel super foreign to do everything remotely. It wasn't our preference, it's always nice to have a bit of both but it served us well because we have done a bit of it in the past.


Christie: And we made it work.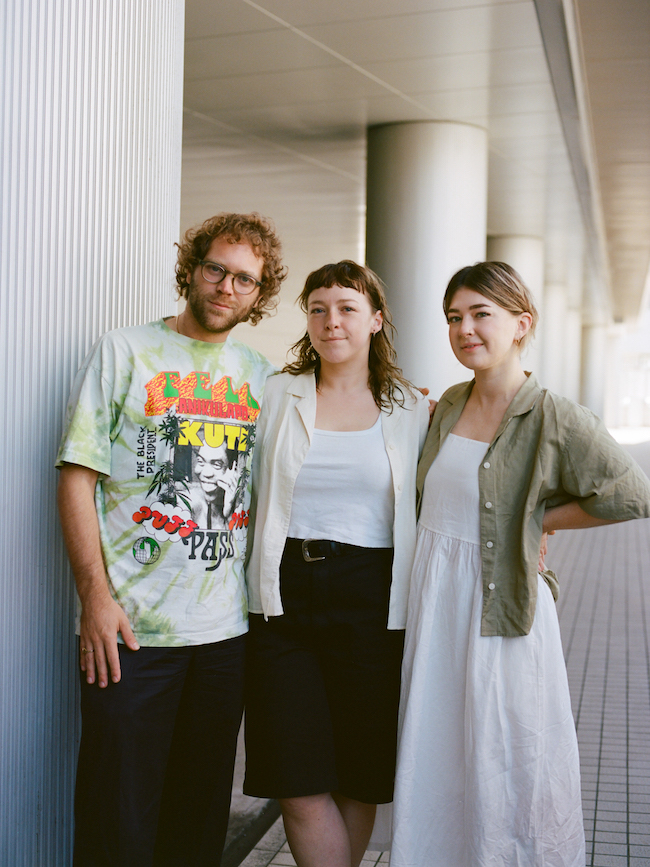 ―You mentioned texture and different sounds. Did you refer to any artists or albums in particular?


Olivia: With drums, I come back to Mickey and Rumors.


Josh: We have all been a big Arthur Russel fan. I think a lot of the saturated cello comes from there. The relationship between the voice and the cello with especially Christie's lower voice.
In the song called 'If I Had the Heart for Chasing', a lot of the cello was about bringing the organic feel. I think we always reference things we are listening to and put it all in a blender and make it into a smoothie.


―You worked with different kinds of mixers. Everyone has a unique kind of expression. Some of these people were part of Weyes Blood, Grizzle Bear and Julia Holter. Is there a reason why you picked them?


Josh: I think that's like a touch point, we wouldn't go find a heavy metal person. Ash Workman has done a lot of stuff with Metronomy and Christine and the Queens. We had that sort of element. Kenny Gilmore has done stuff with Julia Holter, Weyes Blood and Ariel Pink. Jake Aron has done a lot of our stuff in the past. What was interesting was that we thought Ash Workman mixes would be the real bangy ones but they ended up being the more organic ones. Kenny Gilmore's ones became the punch ones and Jake always kills it, he understands what we want. It was a good way to remember that you only get out what you put in. You can't put in an organic song and expect it to sound like Christine and the Queens.


Christie: To add to the point we thought if we give this song with a slightly vintage sound, the sixties or seventies-inspired song, and give that to Kenny Gilmore we expected it to come out sounding like a vintage pop feel. Instead, it came out with a modern feel. We assumed that it will be how it works because he's done that for other people with those songs. I think he picked out what he thought should come out of the mix. He is a really good sound engineer to find the best bits of the song no matter what the song is. We kind of went with a blank set. We didn't go and say what we wanted it to sound like. It was very much of "Here is the song, do what you think will sound the best". I think we gave a few notes but this is how it was. We picked them because we liked the artists they worked for but that didn't necessarily influence how it ended up sounding for us.


Olivia: It was surprising actually.





―The songwriting process changed and so did the lyrics. Before there were more romantic lyrics but for this album, they were more realistic and down-to-earth. Why do you think this shift emerged?


Christie: Interesting observation. I would say it was a product of where we were all at that time. It felt right to put out an album with lyrics about happiness and love. The times we were in were pretty serious and we all had to go through some pretty hard situations and relationships we were in. I think that just ended up reflecting on the music and wanting to put more meaning into those songs to have a more emotional depth. Music in the past for us has been about making a fun song with a bit of meaning to it. When we started this album before the pandemic, we were probably going the wrong way on the path. When we came down to finishing it during the pandemic, it felt silly or frivolous to be working on something. There was a natural desire to express those feelings and emotions we were going through.


Josh: It felt like there is nothing to lose this time. You know.


Christie: It felt like the right time to say some of the harder things and put a little bit more meaning into it.


Josh: I feel like in this record all the things we were going through were unique to us. I think there were a lot of people who had honest conversations and looked inside themselves.


Christie: It's a forfeited period, that's why. I think a lot of lyrics that we worked on were something I haven't written about. Maybe they were about past scenarios before the pandemic that was sad and hard to go through. It felt like a time of reflection. I think everybody was reflective and feeling emotional. We wanted to say what everybody was feeling and not make a point as if everything was fine. It wasn't how anyone was feeling and it was not what we felt.


Josh: We are just regular people. We have our day-to-day life and odds and stuff. In many ways, this is the most real reflection of us. Maybe our previous work was less serious and more escapist, with this is about us holding up in our way looking back.


―The song, 'In the Eyes of Our Love' was about a revolutionist, Venceremos. What did you intend to express from this reference?


Christie: This one was lyrics that Charlie had written. He loves to find little pockets of history and historical stories. He loves learning about things like this but it was the first time he had just written all these lyrics of this song about this saga that happened in the seventies, sixties Chile. When it came to putting it into the song, we felt like it wasn't the usual style but also the right thing for the song. It felt right also because of the political state of the world. Now talking about revolution, protests and fighting for what is right is what we resonated with. He found so many specific references to put in there as well. I don't know enough about it considering I'm singing about it but it's something different for us and good exposure. The song itself is a 1980s-inspired feeling, it felt perfectly classic to talk about history in the lyrics. He did that quite well actually.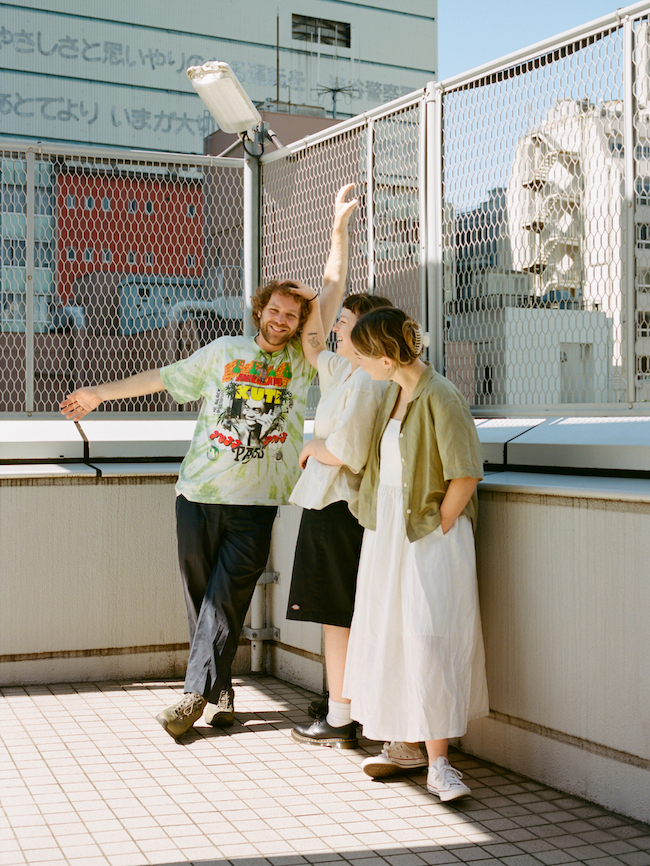 ―In the past two years of the pandemic, there have been various protests. Do you think such changes in the world have inspired your lyrics to shift away from your romantic lyrics?


Josh: I think so, I can't speak for Charlie on that but I think it's such a delicate mix. Living in the U.S. a lot of the protests is about listening. It's about putting out your own opinions. So in some ways, the song is a validation of protests being a legitimate way to express yourself. I think it's a time to be super explicit about protest music. For me, it felt like a really important time to listen as much as to speak. I think this was our way of putting validation to those protests without taking up the space for other people's voices.


Christie: I think it's an over-arching theme on the album. We didn't want to go for any messaging in our songs. It felt blank or middle of the road. Not saying one or another thing. There are lyrics on the album about hard times and certain things but there is also a counter feeling of 'give a hell'. It's about fighting for what is right with your voice rather than sitting back. I think that came out of this feeling of ourselves sitting at home and doing nothing when we could use our voices.
When we were working on this album, it became these two feelings. I would say Bruce Springsteen had an influence on some of the songs in the album. The more upbeat ones have that theme and the ones with fewer beats are more about the personal struggles we were going through. It was the two emotions we were cycling through.


―The title of your album is 'Present Tense'. How did you decide the title and what is the meaning behind it?


Josh: Tossing a lot of options. We have been shopping for a title and I just said 'Present Tense'. I think because of the double entendre of present tense being in the moment. All of us in the pandemic has been taken away from our normal context. I started to think about what is it that I enjoy and what is it that makes my life meaningful now rather than a future gain. It is also about the tension of the present moment.


Christie: That's why we liked it because it felt like we were living in a tense present at the time. It was tense for us and tense for the whole world with the pandemic and political struggles. It was also this idea that the album was made out of moments for us. It wasn't an album about what was happening right there, it was reflecting lots of moments from our past. It felt like a collage of moments in time. We wanted something that reflected moments where we were in the present moment. You are always in your present moment and trying to stay with it. Even if we were looking into the past, it was really about being in the present and behind mindful.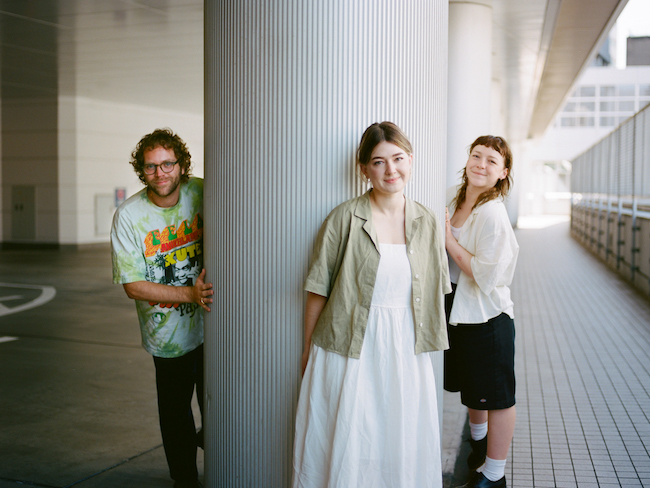 photography Marisa Suda(https://www.instagram.com/marisatakesokphotos/)
text Junnosuke Amai(TW)