On May 14th, Alabama legislators passed a bill banning abortions with very few exceptions. Not long after, sixteen other states passed similar 'heartbeat bills' that ban abortion after a fetal heartbeat can be detected. Many fear that the Roe vs Wade Supreme Court case that affirmed the access to safe and legal abortion is a constitutional right is under high risk. In a world where a women's right to choose what to do with her own body is in danger, it is not too much to say that an apprehensive world awaits for future generations to come. Sadly, a world where a woman will not be able to choose what to do with her body may become reality for the people living in Japan; a reality that we should be alarmed by.
In this months series, we would like to provide a platform for our readers to think about 'their body' by allowing them to read and learn from artists and activists that are taking different approaches towards this topic. We hope that this sparks a discussion towards what it means to love and accept ourselves as well as generate the importance of having the right to choose what we do with our bodies. Here are 5 stories which are about women who fought with stereotypes by their own vocal.





"Here to Be Heard: The Story of the Slits"


Although Sex pistols, The Buzzcocks and The Clash are known as pioneers in UK punk, few people may know the name of "The Slits" who everybody was talking about in the punk scene during that time. There are 4 features that drew attention to this band; Aggressive live performances which enthuse the audience, their unique and rare sound which incorporated techniques from a music genre highly influenced by reggae music that was uncommon at the time, known now as dub music today. Their sensitive and ingenious lyrics inspired by reggae poets and most importantly they are known to be "The world`s first female punk band". "Here to Be Heard: The Story of the Slits" is a documentary which includes interviews with the band members and exclusive footage taken from "super 8" . Made by the vocalist of the band, Ari who passed away at the age of 48 in 2010, the movie looks back on their success. In 1979, the release of their debut album "Cut" which was produced by one of the greatest producers of dub music, Dennis Bovell had a big impact on the music scene in England. The unique mixture of punk and dub became the orthodox in the post punk, new wave era and was highly evaluated for their physical expression of their "DIY" spirit which is essentially talked about in defining what punk really is. Moreover, their CD's cover art which includes a photo of the members with just a loincloth over their bodies and covered in mud was considered provocative compared to anything anyone had ever seen in the male dominated punk scene at the time. This picture pushed the female punk movement into a new era.
On the other hand, these comments were met with controversy under the punk scene. Comments such as "Women can't be punk" "They just pretend to" were commonly made. However, they stuck two fingers up in the air to the haters with their song "Typical girls" which is impressively used in the movie.
After taking a 28 year break, Ana, the vocalist of The Slits released the album "Trapped Animal" just before her death. In the album, she send a message "I am a homeless out of homelesses. We keep on staying alive". Like her message, the band fought with stereotypes as the world`s first female punk band , and their presence, music and the movie shines amongst us and will remain to do so universally.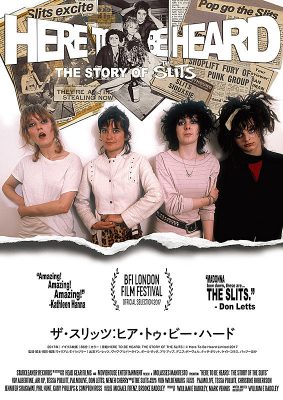 "What Happened, Miss Simone?"


Nina Simone is selected as No.29 in Rolling Stone's 100 Greatest singers of All Time. She was praised for her excellent talents in gospel, jazz, blues, R&B and fork music all around the world. In the 60s, she proudly released songs about black empowerment and played a crucial part in the civil rights movement. In the movie, the life of the legendary singer song-writer is drawn. Through the movie, viewers will be shocked to know that for Nina, known to be a legendary singer to this date, music was her best friend as well as her worst enemy. Due to her mother's influence, as a child Nina often played the piano in church. When a white teacher came across her talents she was strongly recommended to start taking lessons in classical music; a request and a genre of music that was rarely played by a colored person at the time. Her parents requested that Nina should practice piano for eight hours a day. However, her feelings of alienation grew overtime as she was shut out from both colored and white communities. (We can draw similarities to the conflict caused by the main character Don Shirley in the movie "Green Book" ). She went to New York and auditioned for The Curtis Institute of Music , whilst studying at The Juilliard School. Although her skills were exceptional, she was refused to enter because a black student was in fact an unprecedented case. After being rejected, she was forced to work as a club singer to earn money for her poor family. However, her soulful voice and the skills she acquired from he classical music days led Nina to gain recognition and later drove her to stardom. Her life with her beloved husband and children comes across at first as perfect. However her busy and abnormal schedule planned by her husband working as her manager and his daily domestic violence starts to take a toll on her mentally. She starts to question what music really means to her. The civil rights movement and her encounters with Martin Luther King, Malcolm X, Kuwame Ture from Black Panther Party who were central figures in the movement, enabled her to successfully find out the answer. As a contributor to the movement, she decides to leave her violent husband.
"Nina" is not your typical music biological film. Liz Garbus, a female director who has gained recognition and praise for her societal documentaries, focuses on Nina`s brutal life featuring scenes based on her childhood, her family and social activity and tackles the ongoing debate about what it's like to live in American society as a black woman.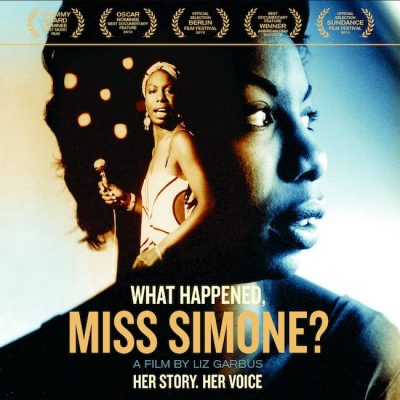 "Miss Sharon Jones!"


Sharon Jones & the Dap-Kings were nominated for a Grammy for their song, "Give The people What They Want"; a song that was released in 2014 which incorporates the groove soul music music from the 60s . The lead vocalist, Sharon Jones is a 60 years-old expert singer who is known to be the female version of James Brown. At the age of 40 , she finally released her first album, whilst working as a wedding singer. She is truly a singer from the working class, often taking up odd jobs to make a living for herself. Moving to NY, Sharon finally finds fame but learns that she has stage 1 tumor bearing cancer. Her dread locks, a staple symbol to her style were cut due to her cancer treatment and she was given hard chemotherapy. With support from her friends, close musicians and her long time manager, she battles with her cancer, dreaming of standing on a stage to sing again. Showing the camera a page of "The Village Voice" with a picture of herself on the front cover, Sharon says "I always believed that one day my music would be recognized". If I kept on singing, everybody would love my voice. People from the record company persistently told me that I was too fat, too black, too short and too old. Look at this picture of myself now. I got a little skinnier because of the chemical treatment. Although I have cancer, I am still black and also 150 centimeters tall." From these words, we can find out her cancer is not the first time for her to come face to face with adversity. She is seen to be quoting "I want to sing a song shaking my hair again? When will my hair grow back!" after losing all of the hair on her body due to the anti-cancer drug whilst laughing. Such an attitude to life expresses the true meanings of "soul music" that was built around her life faced with many difficulties. The last scene of the movie, shows Sharon successfully fighting against her illness, and her on stage with her beloved band infront of her fans.The sense of unity that is formed between Sharon and her enthusiastic audience will move mountains.
After making this movie, Sharon passed away in 2016 because of her recurring cancer.
In the very last scene she is seen, making a joke and saying "This is all Trump's fault! " and humming to music which her band members play in her room.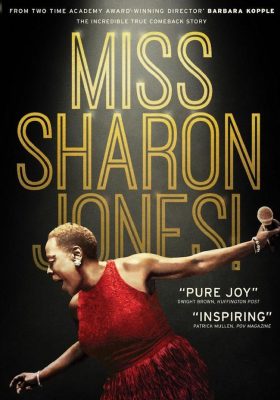 "Sonita"


Sonita is a girl who moves to Iran as a refugee from Afghanistan. She dreams to become a rapper and perform in front of a big audience. However, she is only able to secretly perform in front of the children in her orphanage because in Iran, women are not allowed to sing. As a girl with no passport and considered an illegal immigrant, Sonita's last hope was to rap. However her parents living in Afghanistan only knows of the status quo. It is an old tradition that girls have to marry men whom their parents partner up with. After learning that she was sold to her parents for 9000 dollarss, she wonders if her parents raised herself for money. Who does my life belong to? How can I sing rap in front of people? Being worried, she finally makes a decision.
This movie is interesting in that directors of documentary films or films related to journalism are generally banned from getting involved in the life of the person being documented. However, in Sorita the opposite occurs. The general principal in that directors should not commit to the person's environment and has to keep distance and neutrality is broken in the scene when the female film director Rokhsareh Ghaemmaghami visits Sonita`s parents house. In this scene,when Maghami, the interviewer talks with her mother, you will find that Maghami `s way of talking gets harsh. She asks her mother "Will you force her to marry?" "I cannot believe that you would sell your daughter" , expressing feelings of anger. Finally, her mother says "If I could get some money, I would postpone the marriage."
Although Maghami tries to give Sonita's mother some money, her shooting crew stop her and tells her that it is unethical to give that much. Maghami is really shocked by the creativity that the 16 years-old Sonita possesses when she hears that her music video was made by just a smart phone.
Following Sonita, Maghami rebels against social problems around the girl and develops feelings of sympathy for her as well as feelings of respect towards her as a woman in refuge.
This movie was later praised , acquiring many awards around the world in film festivals and was able to get more attention. Maghami who developed a new possibility for documentary works and Sonita who sings "BRIDALS FOR SALE" a song that was written about her experience when she was about to be sold as a bride by her mother overlap with the artist's image who pursues the truth and has a thirst for freedom. There is no doubt that they have opened up a new path for the next generation.











"HOMECOMING"


In 2018, "Beychella" which was performed by Beyoncé in Coachella Valley Music and Arts Festival was known to be " greater than Coachella itself" and will likely remain an unprecedented historical event. "When I decided to perform at Coachella, it was more important for me to bring our culture than to prepare the corolla" Taking her songs and arranging them to sound an afrobeat, dancehall rock n roll and bounce like way, was her way of paying homage to the African American culture that was founded and built from her ancestors. "HOMECOMING" is a documentary which will air on Netflix that includes scenes taken for eight months leading up to the big day and actual footage of the performance held at Coachella. A performance that holds a special place in Beyonce's heart.
The most memorable scene in this movie is during the time of production, when Beyoncé gathers the marching band of HBCU(The historical negro college, which was established to give black people the opportunity to get higher education ) and the dance crew which is consisted of more than 100 black dancers. She is seen uniting everyone and trying to engage and focus on each individuals past and present. She states,"I believe it is important for us to feel as if people who were not given a platform to speak out are with us on this stage today. As a black woman, I have always felt like society wanted to hide me away in a small box because black women are not valued enough even today. I want them to be proud of not only the show but also the process and the hardships. I want women to appreciate the beauty found in their cruel history and feel joy in the sadness. I want everyone to feel proud being imperfect, feel as if they had made the right mistakes and to feel the greatness in it . Thanking the curves in our body, the strength, the honesty and the freedom. There are no rules, we can create freedom and a safe space. Nobody should be alienated." Beyoncé aims to establish what it means to truly be proud of your roots and your existence, sharing her feeling amongst her crew members and the one hundred twenty thousand people in the audience. Not to mention the forty million people watching the live stream.
The audience screams "I'm a diva!".
"I was able to make people hold a big dream and show them there are no limits. We can do anything. If countrymen can do that, we can do it too"
After her performance, Beyoncé continues to give hope as she shares her own struggles as being a true African American woman.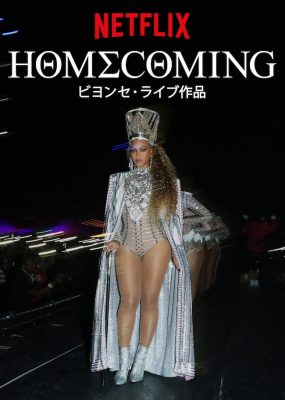 text Shiki Sugawara
edit Ryoko Kuwahara