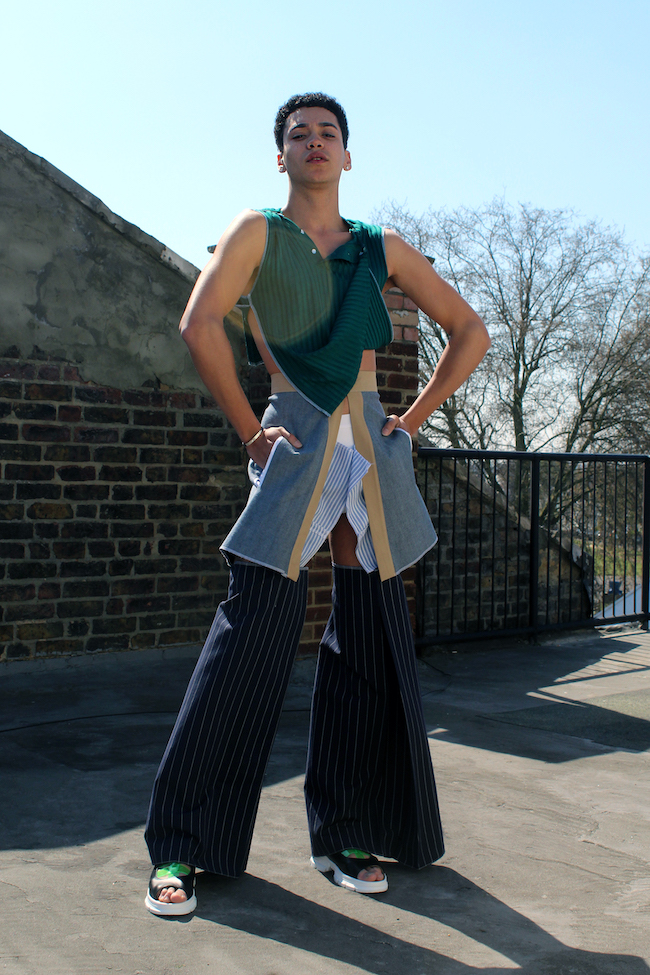 ーWhat was the reason you decided to take MA in fashion design?


Fraser : I decided to study a MA in Fashion Design because it is impossible to be taken seriously within the high-end fashion industry with a BA degree from a University outside of London. It is just the only way to be seen if you do not study within London.


ーDid you feel limited doing your final collection during the lockdown?


Fraser : I did not feel limited in the sense of being able to construct garments and have my designs come alive. It was more of a mental limitation from living and working in the same space. Motivation was hard at times because there was no physical change in location from being at "home" and being in the "studio". Having that constant uncertainty of "when will lockdown restrictions worsen?" or "are my family ok and not affected by Covid-19?" was EXTREMELY exhausting for not only me, but the whole world.


ーHow do you think doing a MA course during the pandemic prepared you for the industry? Do you think your creative process changed throughout?


Fraser : Studying my Masters during the pandemic really has helped me prepare for the fashion industry because I was always kept on my toes. I was solving problems left, right and centre and urgent changes to the manufacturing of my garments had to take precedence when lockdown restrictions altered. However, this did not change my creative process at all. I always start through fashion and concept research Then move onto working with charity shop bought clothing to cut up and inspire the collection silhouettes. Textile sampling also takes place at the same time and is inspired by the concept.


ーAt Central Saint Martins, what were two classes that changed your design philosophy/ helpful for future jobs?


Fraser : I don't think any of the classes changed my design philosophy. There was one that definitely brought out my values as a designer and how I see myself joining the industry and subverting the hold it takes on new designers. Those conversations were with Reba Maybury and she really is quite the fashion provocateur.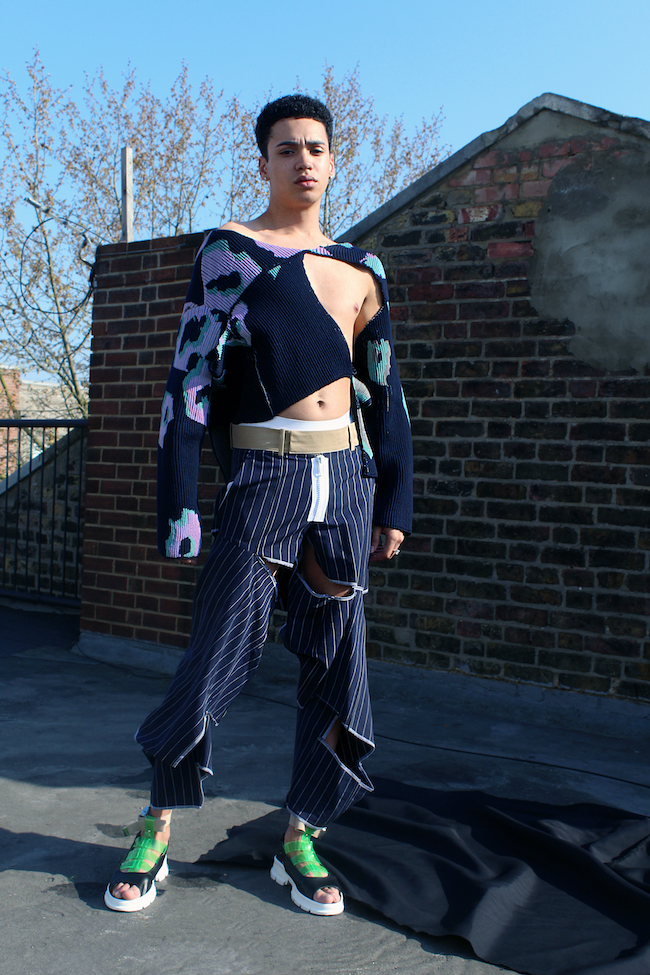 ーCan you briefly describe your graduate collection.


Fraser : My collection stands for liberation from secrecy and emancipation from one's self. My collection is for liberated minds and bodies where gender has no rules and liberation is the goal. Using the silhouette of conservative upper middle-class British fashion, juxtaposed by the British labour working-class fashion of the 80s. I hope to reveal these cultures limitations by contrasting their tropes with contemporary ideas of gendered anarchy. My silhouettes are one of my key demonstrative points. The essence of being too big or too small follow throughout. The garments never reach the lines of social appropriateness. Always marginally awkward. Queer to one's view.


ーIn your graduate collection, what did you want to show the most? (Concept, craftsmanship etc)


Fraser : In my Graduate collection I tried to show a mixture of concept and technical prowess in my knitwear. I try to not be pigeonholed as the "men's knitwear designer".


ーHow do you think the fashion industry in the UK, Europe will change, and how do you want it to change?


Fraser : I hope that the fashion industry in the UK and Europe will embrace more of a made to order approach with manufacturing garments. Or even small runs of product, rather than uncontrollable mass manufacturing that essentially leads to waste of resources and to the polluting of the earth.


ーLiving in the UK midst of Brexit, do you feel the shift in politics and lifestyle? Are there changes in the British Fashion scene?


Fraser : During these times of Brexit, I personally do not feel a change in the dynamics of British fashion. The only changes that have caused a ruckus are the new pricing of shipping outside of the UK and the loss of free movement throughout all of Europe. We still remain a very heritage and cultural focused group of designers, I feel. Politics continues to remain a group of well-read individuals arguing about menial topics in a very affluent way. The REAL topics are always tiptoed around, and the public never receive straight answers.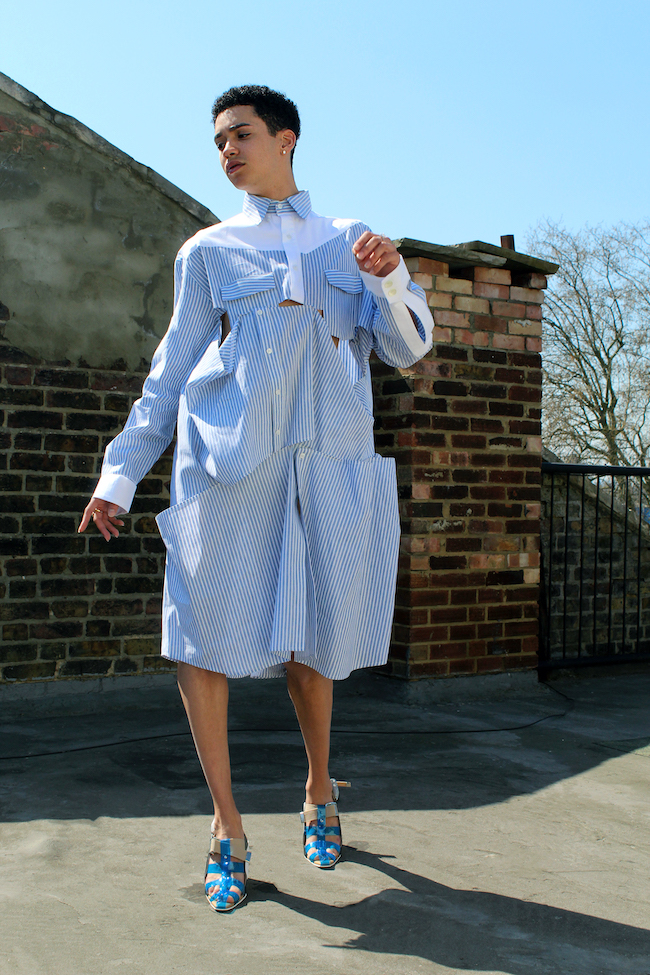 ーWhat do you think about the British Fashion scene and the role of Central Saint Martins in that industry.


Fraser : Well, we all know the role that CSM has on the fashion industry. It is the mother of all the best designers. CSM fosters a sense of exploration and happy accidents through the need of continual rule breaking. That's how. CSM breaks the old to make the new. Subversion at its best.


ーSustainability has been a big theme in the fashion industry. As the second most polluting industry, what do you think the fashion industry can do?


Fraser : Fashion IS a major contributor to the pollutants in the world and I believe that can be changed. Fast fashion should be abolished and replaced with made to order or small runs of product. Many things are being done to reduce water usage for dyeing fabrics or washing natural fibres. But we need to do more. Recycling all waste fabrics. Upcycling unwanted garments and giving them a second life. We need to move back to quality not quantity.


ーWhat brands or artists are you interested in at the moment?


Fraser : I enjoy the work from many designers at the moment. Rick Owens for his continual middle finger to the "norm". He is one designer that has his fashion eutopia set and leads the way for the rest of us. Stella McCartney is making recycling and sustainability look chic and desirable. That IS how sustainability should be marketed. Not rags that have been pulled from a corpse and dragged through a bush twice. Casey Cadwallader is leading the way in showing trans women in a beautiful, elevated and sexy light. He is really celebrating them and allowing the world to finally see these women as who they truly are, stunning!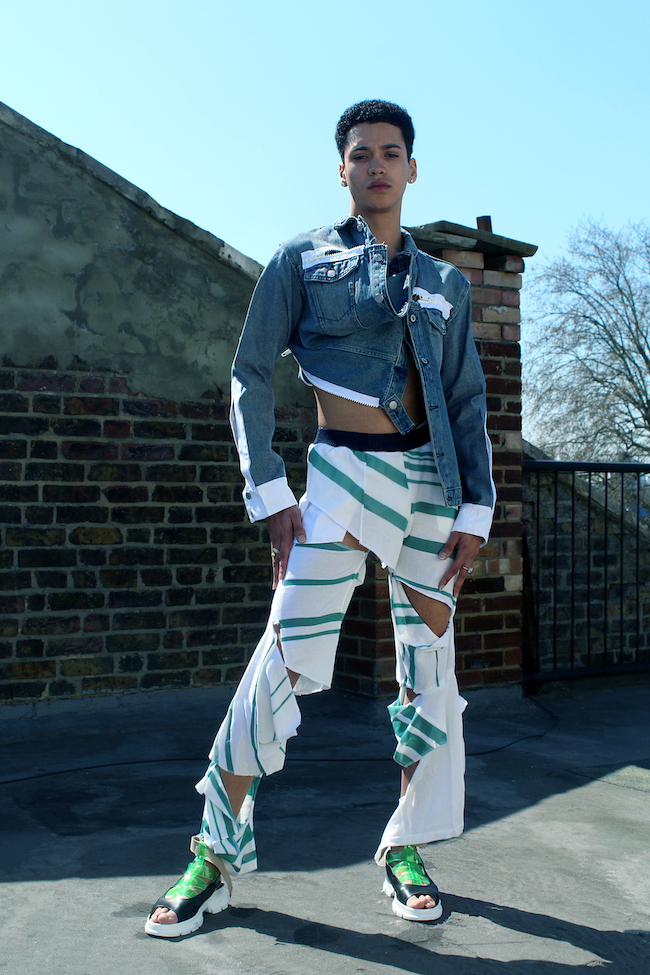 ーAs a menswear knitwear designer what do you consider when designing?


Fraser : Well, I always try to make my knitwear look as chic as possible. If it looks like your grandmother knitted it whilst watching the evening news, it's not for me. I always try to elevate the knit in such a way that from first glance you could almost believe that it is woven. I design for a man's figure; however, I do not deny any gender the right to enjoy my work. Liberation is key.


ーWhat power do you think you, as a designer, have in society?


Fraser : The power I have as a designer in society is enormous! It is through designers and their vision that society morphs and changes. There is a delicate balancing act between overexposing the secret eutopia before society is ready for it. It is all a process.


ーWhat are your plans, what do you want to do after graduation?


Fraser : My plan now after graduation is to start my own brand and begin selling 6 or 7 pieces from my collection on E-stores. I shall be showing my MA collection with an added 3 outfits at London Fashion Week in June 2021. So you have not seen the last of me yet.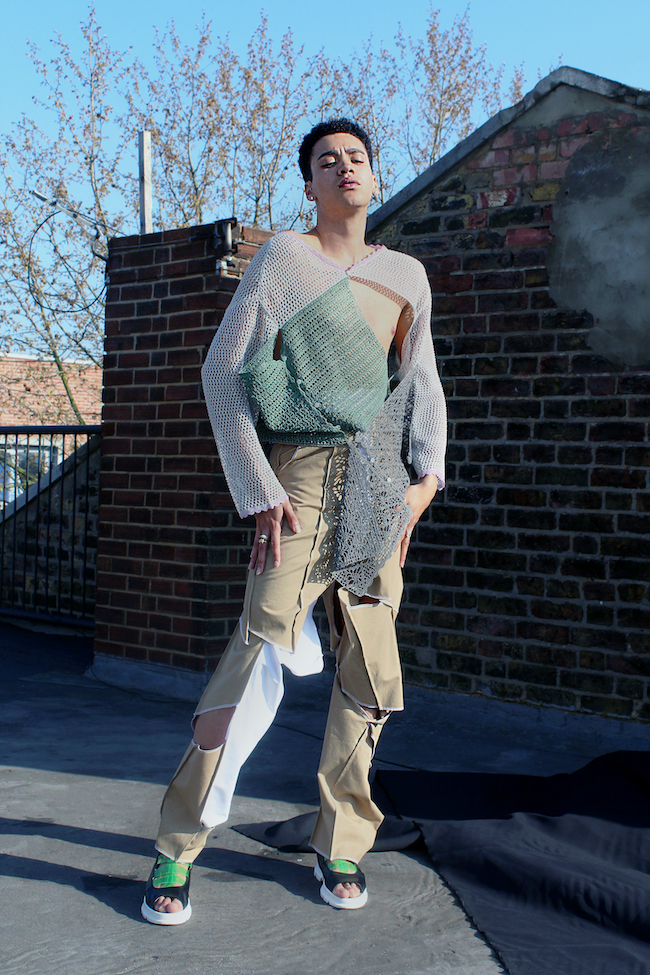 fRASER bRUCE mILLER
https://www.fraserbrucemiller.com


photography Alec Jafrato https://www.instagram.com/alecj4frato/
model Alex Guiste https://www.instagram.com/alexguiste/
text Maya Lee