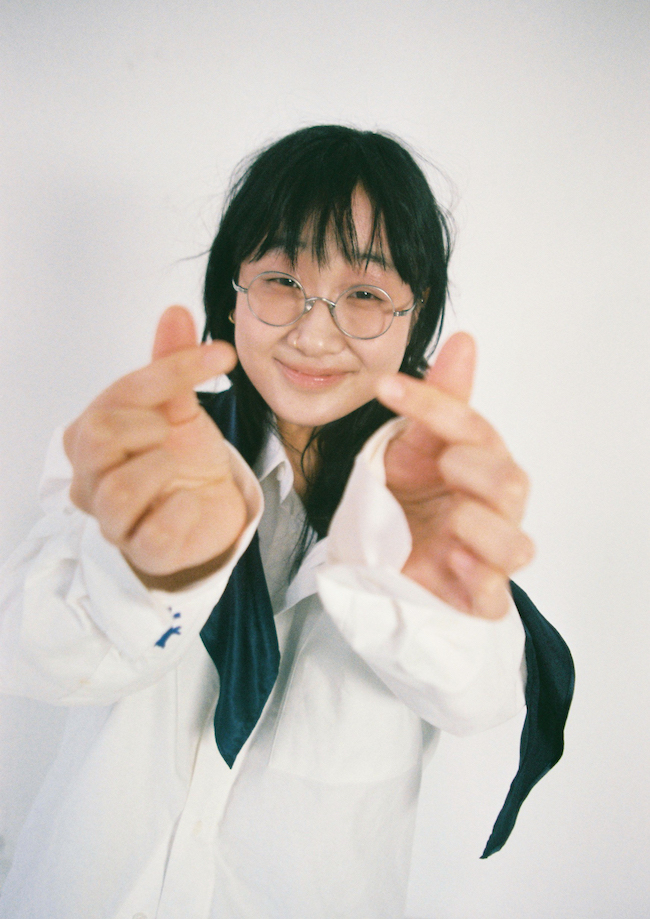 ーーYou are born in New York, and have lived in a few different countries. Can you tell us what it was like for you living in those places and how you felt?


Yaeji : I was born in Queens, NY and lived here for about 4 years. My first 4 years, I didn't retain much memory then, but shortly after we moved to Atlanta GA, which is further down south in America and we lived in the suburbs and [I] went to a public school so that was a very jarring experience for me, being the first social interaction I've had going to elementary school. I remember I was the only person of color or the only Asian for a few years. Other than…there was a girl who was Mongolian and I think there was a girl who was Korean…I can't remember but it was just really rare. So people didn't really know of Korea and there was definitely racism, so…it was a really difficult school experience.


ーーOh yeah, coming from NY it must be really different.


Yaeji : Yeah, NY is very different. And it was back in the 90s as well so it was a different time. After that, my parents decided to move back to Korea. I think part of it had to do with their work and their business and family, but it also had to do with me not speaking Korean anymore at home, so culturally they wanted me to feel a bit more balanced because they come from Korean cultures. So then we moved to Korea and I spent most of my…the rest of my elementary, middle, and high school there, but I would transfer schools a lot. In between, I lived in Japan for a year which was in middle school. And I went to Tokyo Korean School. It was interesting because in Korea, I went to American School for most of the time, and in Japan, I went to Korean School. That was the first time that I actually received Korean education, but I was living in Japan. So wherever I grew up, I feel like I grew up in interesting circumstances where I stood out or didn't fit in, but always learning something really new.


ーーWhat was the trigger that made you decide to do music as a career?


Yaeji : I think the biggest one was definitely in college when I joined the radio, WRCT. Prior to that, I obviously enjoyed music but never thought that it would be my focus in life because I was extremely into visual art my entire life. So the radio, hosting a show there, and learning how to DJ, and meeting friends that I can really relate to, but mostly through music, made me completely fall in love with music. And it was very quick and very passionate. So that's what brought me to today.


ーーCan you tell us some artists who were your big influences or the kind of music/albums that you loved listening to?


Yaeji : Growing up or recently?


ーーIt doesn't say, so it can be any time period.


Yaeji : That's always a tricky question for me because there's so much music out there. And I feel like we also listen to so much more and more, just because of how things are with streaming and what not. So it's a very grand question. If I had to choose, I was really interested, for most of my life as I can remember, R&B, hip hop, soul, jazz…all of that I've always loved. And it's true to this day and definitely has a huge influence on me. And I remember in middle or high school, because I was in Korea, American music and European music was coming in a different period, maybe a bit delayed, so I was listening to Missy Elliot and Usher and things like that on a slightly different timeline from everyone else. But also things like no one else was listening to, like Bone Thugs-N-Harmony…For some reason no one in my school was listening to hip hop and R&B like that. They were more into the popular music which I guess was rock at that time. So that's been one consistent thing. From that, I think it branched off into jazz electronica as well as Bossa Nova electronica which I know in Japan was a huge thing. I was obsessed with Shibuya-kei and all of their genres. I think for Korea, we had an artist called Clazziquai Project which was quite big at that time. It's almost like dance music but infused with Bossa Nova influences and a lot of female vocalists that sing in a specific way. I think that also really stuck with me. And then I remember in Japan, there was Fantastic Plastic Machine, and a few others that sounded similar…So that was my life in high school. I was really into that in middle and high school. In terms of dance music precursors, that definitely had a direct influence on me in college later on.


ーーI first heard you about 4 years ago on a DJ mix which was up on the DISCWOMAN's website.(http://www.discwoman.com/mixes/yaeji). You probably still have strong ties to Brooklyn's underground scene; can you tell me how you first got connected to the scene?


Yaeji : I first got connected because I was going out a lot to all the shows, all the clubs when I first moved here. I jokingly say that, which isn't even a lie…I think it's true, that I went out like 5 times out of the 7 days (laughs) and sometimes on Saturday and Sunday, I'll be going to 3 or 4 parties. I was just so passionate and eager to see different DJs, to meet different people that all loved the same thing. Because in college, that was what connected me to friends that I love and care about until this day. My friends that can actually understand me and make me feel comfortable being who I am. So I think that's how I met the community and everyone was so supportive. The community we have here is so supportive and DISCWOMAN is obviously one of them. They were one of the first people to give me opportunities to play at Bossa Nova Civic Club, which is one of the…I wouldn't say it's a big club, but it was a very important club for all of us, and it still is. And it's just various people helped me to play more gigs out and I was deeply a part of it from then on. I threw a lot of parties myself as well, and it was always a great sharing experience because everyone is always trying to uplift each other.


ーーAs an artist based in Brooklyn, what do you think of the local music scene right now? I personally think the situation changed drastically over the past few years with venues like Palisades closing.


Yaeji : Yeah this is true. Basically we repealed the cabaret law, which was a law saying that you can't dance. I believe Japan had a similar thing too, right?


ーーYes we have something very similar.


Yaeji : So once that changed, I think it was good for many, but difficult for many in that…as well as there was an event in California where warehouse space that threw a rave had burnt down a few years back…so all of these things I think contributed in the change of the New York venue spaces and what that looks like. I think the cops were definitely way more stricter about checking whether clubs were up to par with regulations, and I think it was becoming more difficult to throw DIY parties at warehouse spaces and illegal spaces. And that obviously changed the landscape of clubbing. So what happened then is a lot of new venues started opening up. And I don't think I even know all of the venues that are in Brooklyn anymore because there's a lot more, and during the same time period, I started going out less just because I got older and got more tired (laughs) and enjoyed staying home more. So I think it's hard for me to know exactly on the ground what's happening in Brooklyn now, and also because of the virus, you know. But definitely, a lot has changed and it feels like the spaces available are less DIY.


ーーYour lyrics come across as abstract yet personal. Are there any artists or poets that you're influenced by in terms of writing lyrics?


Yaeji : I definitely don't read enough poetry (laughs), so…it's hard to say that it's from poets.


ーーAny musicians or artists?


Yaeji : I would say that with lyrics, I've never turned to anything or anyone for it. It really comes from me, so it's hard to give examples. Because, I'm sure there are some things that have influenced me at some point.


ーーIt seems like you hold strong beliefs and ideologies as you've provided music for the charity compilation "Physically Sick." Can you tell us some people or events who were important in helping you become the person you are now.


Yaeji : I feel like every artist is making a difference in one way or another. It's like sharing the most vulnerable part of yourself, and it is like speaking up without speaking up. And I think people just share it differently and use it differently. For me, because my platform has grown bigger, I'm so grateful and lucky that I actually have these people that listen to me now and listen to what I have to say. And that made me realize even more that I have to act and voice the things that I care about because I am given this wonderful platform. And I should also use this platform to help other people who have something they need to say, say it. For me, maybe it's just my upbringing, I always thought of that as a no-brainer. But I will say something that pushed me even harder in that direction recently was watching the MIA documentary. I highly recommend it to anybody because it's truly more than just music. It's very political as well and I think Maya mentions in that documentary that "If you're a musician, why wouldn't you make a statement?" Like, why aren't you making music to make a statement? There's a lot of truth to that, so that definitely pushed me further in that direction as well.


ーー"What We Drew 우리가 그려왔던" is your first release from XL Recordings. Can you tell me how you ended up signing with XL Recordings?


Yaeji: I finished my mixtape and definitely felt like I wanted more support in my family. My family, because we were independent for a long time. It was my two managers, my creative director, my stylist, and a few others that are all my close friends. But we were doing a lot. A lot every single day, stretching ourselves really thin and all saw the value in teaming up with another family that feels really right, like home to us. To help develop these ideas we have further by getting an extra lift. Also personally for me, there are so many artists that I respect that have come out of XL and released on XL. And I had met [the people from XL] a few different times and visited their office in London, and they have always been so sweet and generous with us. So I think ultimately, it just felt like the right fit.


ーーYou call "What We Drew 우리가 그려왔던" a mixtape. It can be called as an album in terms of the length and volume, but can you tell us why you decided to call this a mixtape?


Yaeji : The main reason was that the process in writing this mixtape felt very loose and organic to me. I didn't start it by stating, "This is what I'm trying to say with this project" or "This is the story I'm going to tell." It was more of me just going into the studio every day and writing a song about how I felt that day or any note I had about that week or any events that had happened to me. So it's a stream of short stories, different short stories. In that way, it felt more casual and loose, and fit for a mixtape. There are some tracks in there like "Free Interlude" that are tracks I wrote while freestyling with some of my friends that don't even do music professionally. They're just my best friends and I decided to put that in there intentionally, but that made it feel more like a mixtape than without them. It's more freeing that way, I think.


ーーI think the music that you've released before this mixtape sounded more inclined towards house music, but this mixtape showcases many different kinds of music, and I thought that many of songs here sounded closer to pop songs. Was this something that you wanted to change up intentionally?


Yaeji : For me when I'm writing, I never specifically think about genres. Genres are great in that it makes it easier for us to communicate what we're talking about when we can't hear it, but when I'm making, I don't think about it so…I was unaware that my previous works sounded more house and that this sounds more pop, but I can see what that means. Based on that, I would say that I learned way more about production along the way here, to get to this mixtape and that allowed for me to try out more diverse sounds, to be a bit more adventurous, but make it work sonically. It's just that my comfort level with production is becoming stronger and I have found more ways to manipulate my voice in a way that it sounds more interesting or comfortable. I think that's how I achieved the experimental sound, maybe.


ーーThis mixtape features many guests such as Nappy Nina, Victoria Sin, and Shy One. Can you tell us how you met with these artists?


Yaeji : Nappy Nina for the track "Money Can't Buy" was really serendipitous. I was putting the final finishing touches because I finished writing it in the mixing studio with my friend who is a mixing engineer. And I had mentioned how I wanted a feature here and I wanted it to be a female rapper, but I just couldn't think of anyone in the end. And he mentioned Nappy Nina. And it turned out that we had a bunch of mutual friends. So she was available to come into the studio that day, like in a few hours, so she came in, recorded the verse really fast, it was perfect, and we really enjoyed each other's company, and kept in touch and are still in touch as friends. So that's an example of fate kind of put us together (laughs). But with Yon Yon especially, I've known her since middle school when I went to school in Japan. She is someone who, as long as I've known her, always wanted to do music. And is doing great. And when she started DJing, I also was starting to DJ myself but in America and I think we recognized that and started talking to each other more actively again. And I had her on my mind as a feature for a long time, and finally found the song that could work perfectly. So that one is almost the opposite of Nappy Nina where I just knew that I wanted to work with her. And Victoria Sin and Shy One are partners and they live in London. I met them because I did an art show at Serpentine Gallery in London two summers ago which is when I started writing for my mixtape. That's when I met Vic because they were also doing a performance at Serpentine and we were each other's fans and kept in touch and became friends. Somehow one way or another, all of us ended up becoming close friends. Either already were or became [close friends].


ーーI read that you incorporated indie rock music from Korea, as well as hip hop and R&B from the late 1990s to early 2000s which you were listening to growing up. Can you tell us specifically what kind of artists you were inspired by?


Yaeji : All of it is not going to be specific because it's more so that these people were soundtrack-ing my life personally while I was writing. So I don't know how much influence it literally had. But I was listening to a lot of Solange and I got to see her live for the first time towards the tail end of the mixtape and was absolutely blown away. I've listened to a lot of old, older Korean music my parents recommended for me, maybe even from the 80s. A lot of older…I guess it's actually a range but if it helps to give names, there is this artist/band that's called "Bom Yeoreum Gaeul Kyeoul" which is translated into "Spring Summer Fall Winter." This old Korean band is one of my dad's favorites. That's not the only band but that's similar to the era of music I tried to rediscover. I'm trying to think of what else I've been listening to. I've been listening to…no, but that's more recent. I have trouble remembering things.


ーーIt's OK, it's hard to remember all of the things that you've been listening to.


Yaeji : That's true. Oh, I listened to a lot of Moodymann but I always do because he's good house music. Is that OK?


ーーYes that's good. Thank you.Listening to the songs on "What We Drew 우리가 그려왔던" I got the impression that you were more relaxed and open compared to your previous works. Did you go through any changes, like you became more comfortable or open to showing yourself more?


Yaeji : That's definitely true. One part of it was I feel more comfortable with myself because I learned so much about myself, which I learn every day but in particular the past two years, because I had to go through so many changes, with my career I guess, but also with everything that it just helped me learn a lot. And through that process, I healed a lot. And just feel more comfortable being myself. The other part of it is that I feel less pressured to have to make specific or certain type of music. I don't know what happened but I feel completely liberated from that. It's probably because my environment is so positive and loving and supportive that I feel free to make whatever I want, and I think that shows in the music. Just the relaxed, comfortable, playful side of me.


ーーI like all of the songs on this mixtape, but I especially like "Money Can't Buy." I get an acid house vibe from this song's heavy synth bassline. Do you like acid house?


Yaeji : I enjoy acid bassline a lot but more so in general, I really love bass. Bass is my favorite thing, bass is my favorite thing to write a lot of the times, so to me that's a very sweet compliment.


ーーI couldn't help but smile when I saw the music video for "Waking Up Down" for the first time. Because it's got this 80s electro-like track in the background, with a 90s Japan animation-like visuals that reminded me of the animation series "Cooking Papa." Where did you get the idea for this video?


Yaeji : It definitely was influenced a lot by Japanese anime which I grew up watching ever since I was little because my parents were working a lot. The first show I watched was "Sailor Moon" and I was obsessed. But from then on, my love for anime as well as of my friends around me is still consistent to this day. We watch a lot of really weird experimental ones all the way to really popular ones. I just realized that I've learned so much about it through 2 decades! 2+ decades of watching anime (laughs)! Because I'm so into visual art, I've always been curious about the process of making an animated short that basically is in the style of anime. So I created a storyboard and started ideating some characters for a potential music video. And we all agreed that "Waking Up Down" would be the most fun for that. I was like "OK, maybe I can make it like the intro to an anime." And from there, luckily my roommate is a professional animator so she helped me finish it and direct it. It just helps that everyone already knows so much about it. So that was definitely our goal, to be influenced by anime and make it a bit humorous and positive for everyone who's watching.